Weekly Review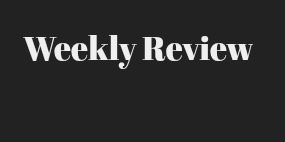 Crypto Markets Are Moving Towards Stability
Markets evolve. That's always been true, but investors tend to forget that important lesson when a new market seems to create opportunities that aren't based on the same set of rules as other markets. That's what happened with cryptocurrencies.
Markets for bitcoin and alternative currencies developed quickly, yet those markets are moving to stability. You can read more here.
Warren Buffett's Secret Way of Thinking About Stocks
Warren Buffett may be the most successful investor of all time.  But, the methods he uses are not publicized.
Fortunately, someone who spent more than a decade with Buffett shared details on his techniques and we outline those in this article.
Trade Woes Will Drive Stocks, and These Stocks Could Be the Winners
Stocks have been rallying after fears of a trade war between the United States and China eased.
Reports noted that, "Wall Street cheered news that Chinese President Xi Jinping struck a friendlier tone on tariffs in a speech Tuesday. Xi said China will seek to boost imports and take other steps to bolster international trade and China's financial markets.
To learn more about the stocks that could be winners in the current market environment, click here.
Income From Oil, Without Investing in the High Cost Oil Producers
Energy investments are appealing for a number of reasons. They are a hedge against inflation, at least in part. This is because inflation has almost always been associated with higher energy prices. This relationship still holds, for now, but may change as alternative energy sources increase production.
If you are interested in earning income from oil without breaking the bank, check out our recent article.