Winners From the Annual Consumer Electronics Show
Every year, companies attend the Consumer Electronics Show (CES) to showcase their new products and their ideas for the future. The Consumer Technology Association bills CES as "the largest global gathering of innovation."
CES began life as a "gadget show" but the consumer electronics sector has grown to include more than traditional TVs, PCs. gaming and audiophile products. Now it includes home automation, driverless and connected cars, wearables, augmented and virtual reality gear, drones, smart speakers, personal assistants and more.
The growth in attendance mirrors the growth in product areas.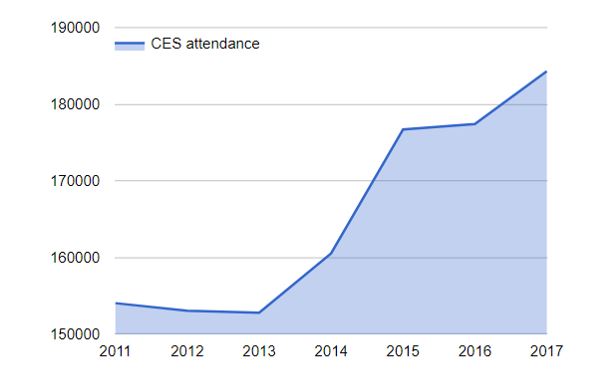 Source: Verdict
The number of attendees is now higher than the number of hotel rooms in Las Vegas. According to the Las Vegas Convention and Visitors Authority, there are 149,339 hotel and motel rooms in Las Vegas.
Among this year's attendees were rumored to be executives from Apple. Apple has long been rumored to be working on augmented reality glasses, but CEO Tim Cook and others have repeatedly denied that anything is in the works.
While that may still be the case, it appears the company's interest in augmented reality — which Tim Cook has claimed will "change the way we use technology forever" — hasn't subsided, as Bloomberg reports that the company was in attendance at CES 2018 talking to suppliers of components for AR glasses.
Apple wasn't the only one holding these discussions, as Google, Facebook and Snap were all spotted at CES. Apple is late to the AR arena. Google has Daydream View, Facebook acquired Oculus in 2014, and Snap tried and failed to breach the market with Spectacles two years ago. Apple has probably learned from the missteps of its competitors.
Wall Street Analysts Also Attend
Once, the show was attended by individuals looking for the latest audio and video technology. Now, Wall Street analysts are equally likely to be strolling the convention center. CES offers a unique gathering of researchers, manufacturers and customers.
Analysts are able to gauge the interest in new technology and assess the likelihood of successful and on time delivery through interviews with different attendees. That makes it especially valuable for analysts pressed for time and for companies looking to impress.
This year, a number of companies gave analysts favorable impressions of their plans. Among companies impressing Wall Street analysts at the show this week were Dolby Laboratories (NYSE: DLB), Nvidia (Nasdaq: NVDA), ON Semiconductor (Nasdaq: ON) and Synaptics (Nasdaq: SYNA).
Audio and video technology licensing firm Dolby showcased advances in its Dolby Vision and Dolby Atmos products at CES. It also highlighted the momentum in its business by announcing a slew of customer wins, spanning televisions, PCs, Blu-ray Disc players and sound bars.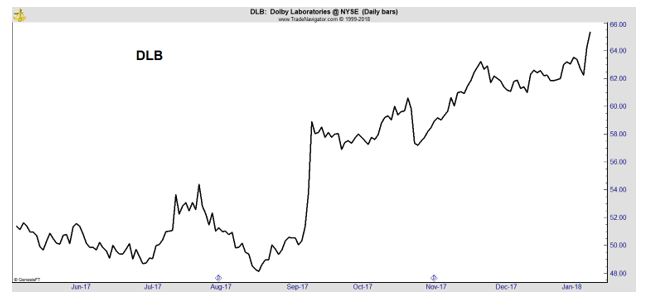 "We believe 2018 can be another solid year for Dolby's stock given revenue is forecast to reaccelerate and margins expand," William Blair analyst Ralph Schackart said in a report. He rates Dolby stock as outperform.
The stock is trading at about 25 times next year's estimated earnings. On average, over the past five years DLB has traded with an average price to earnings (P/E) ratio of 22. While analysts are bullish, individual investors might want to wait for a pull back to enter.
Graphics-chip maker Nvidia kicked off CES week with a press conference Sunday where it touted its advancements in self-driving cars, artificial intelligence and augmented reality. This stock has been among the market leaders over the past two years.
Market leaders like NVDA may not offer investors a chance to buy in a pull back. As the chart shows, the trend has been nearly straight up for some time.
"Nvidia continues to innovate at a pace that is challenging for the competition to keep up," Rosenblatt Securities analyst Hans Mosesmann said in a report. "Nvidia now is in a dominant position in the AI-based self-driving car market with a formidable 'stack' of software, middleware, and hardware."
Mosesmann rates Nvidia stock as a buy with a price target of $250.
Consumer technology publisher Digital Trends awarded its "Top Tech of CES 2018" award to Nvidia for the Xavier automotive system-on-a-chip platform, which "puts mass adoption of autonomous vehicles one step closer to reality."
ON Semiconductor stock jumped to a more than 17-year high last week.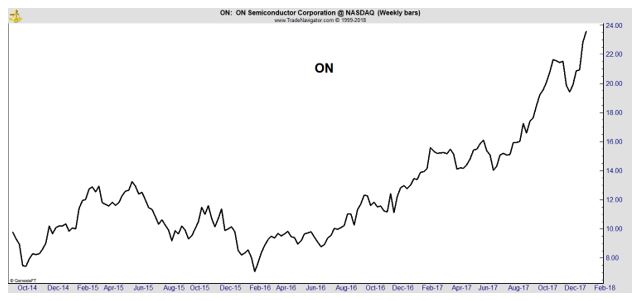 Mizuho Securities analyst Vijay Rakesh on Thursday raised his price target on ON Semi to 26 from 24 and reiterated his buy rating.
ON Semi is showing strong momentum in chips for advanced driver-assistance systems and electric vehicles, Rakesh said. It also is showing nice growth in its USB-C connector chip business, he said.
ON is trading with a P/E ratio of 14.5 based on next year's expected earnings. The stock has traded with an average P/E ratio of 28.8 over the past three years. Expected earnings growth of 27.8% a year indicates the stock could be significantly undervalued.
The PEG ratio assumes a stock is fairly valued when the P/E ratio is equal to the EPS growth rate. This valuation model recognizes that fast growing companies should trade at a premium to slow-growth companies. Applying the PEG ratio to ON provides a price target of about $46, almost double the current price of the stock.
Device interface maker Synaptics jumped on a bullish report from a Wall Street analyst. KeyBanc Capital Markets analyst John Vinh upgraded Synaptics to overweight from sector weight and set a price target of $60.
Synaptics is well positioned with in-display fingerprint sensing technology for smartphones, Vinh said. The company's business in microphones for smart speakers also is underappreciated, he said. This stock has been a market laggard and in a multiyear down trend.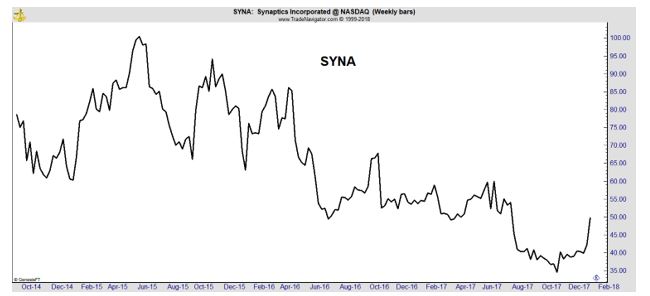 SYNA trades with a P/E ratio of about 11, just a third of its long term average. This stock could be the most attractive of the group to value investors.
Not surprisingly, press reports indicate that tech giants also had good reviews from the show.
Google Assistant made it onto virtually every manner of hardware at the show, from TVs to refrigerators to electric bike wheels. Amazon provided a list of Alexa announcements at the end of each day. And the list is a solid one, according to TechCruch.
Amazon will launch Alexa on several Windows 10 PC, effectively eating into Microsoft Cortana's one stronghold. We may learn which of the assistants is the biggest winner at next year's CES.