News Traders Can Use
Weatherford Divests US Oil-Well Unit to Schlumberger
Weatherford International, Ltd. (NYSE: WFT) has divested U.S. oil-well business to a subsidiary of Schlumberger NV SLB for $430 million in cash, scrapping the plan of a joint venture.
In March 2017, Weatherford decided to put its North American pressure pumping and well completions operations into a venture with Schlumberger for $535 million in cash and a 30% stake in the new business — OneStim. This was an attempt to be more competitive against market leader Halliburton Company HAL and fast-emerging companies such as Keane Group Inc.
Weatherford will retain the entire leading multistage completions portfolio, manufacturing capability and supply chain and will continue to take part in the growing completions markets in Canada and the United States as well as globally.
Source: Yahoo Finance
Why this news matters to traders: The stock is in a steep bear market.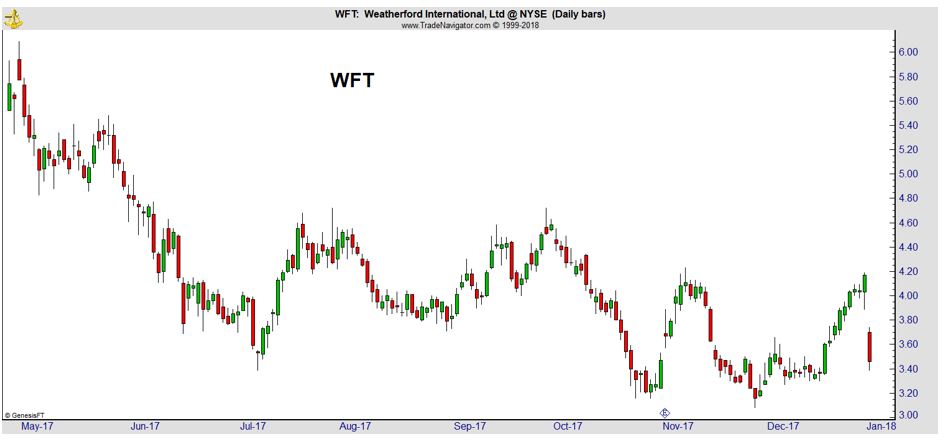 Cash can buy the company time and the stock is trading near support. Now could be an ideal time for aggressive investors to take a position in the company.
Peter Thiel's Founders Fund Goes Big on Bitcoin
The PayPal co-founder and other Founders Fund partners bought $15 million to $20 million worth of the cryptocurrency that's now worth hundreds of millions of dollars, according to a Wall Street Journal report on Tuesday that cites unnamed sources.
The report didn't say exactly when Thiel or his VC firm first bought Bitcoin, whose value has fluctuated from record highs to dramatic declines in recent months. The volatility has alarmed some economists, who worry of a bubble.
Thiel and the Founders Fund, however, don't appear to share those concerns, and are instead pitching Bitcoin to their investors as "a high-risk, high-reward wager similar to its other venture bets," the report said.
Source: Fortune
Why this news matters to traders: Bitcoin is increasingly attracting the interest of institutional investors and hedge funds. It's now possible to track the prices with an index maintained by the New York Stock Exchange.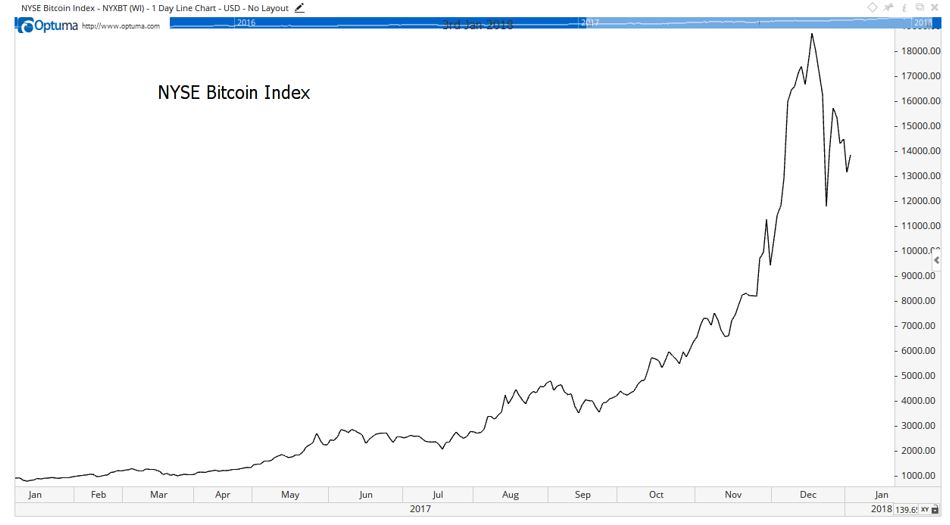 It's increasingly difficult to ignore bitcoin and investors could consider exposure through futures.
Microsoft, Google invest in precision medicine startup DNAnexus
Microsoft and GV (formerly Google Ventures) have invested in DNAnexus, which closed on a $58 million financing round with investments on Tuesday. The DNAnexus platform makes it possible for a network of enterprises to effectively gain insight from large genomic and biomedical datasets.
The investment comes as more and more major technology vendors are making moves into genomics, bioinformatics and precision medicine and hospitals IT shops are increasingly being tasked with incorporating those into the clinician workflow. 
"The financing enables further development and the launch of our translational medicine solutions, as well as expanding our footprint in cloud-based management of genomic data in clinical trials," DNAnexus CEO Richard Daly said in a statement. "The next wave of biomedical insights is coming from cross-institutional collaborations that produce rapidly increasing amounts of multi-omics data."
Source: Healthcare Finance
Why this news matters to traders: It's easy to lose sight of Microsoft as investors focus on the FANG stocks which include Facebook, Amazon, Apple, Netflix and Google (whose parent company is Alphabet). But shares of MSFT have been in an up trend as well.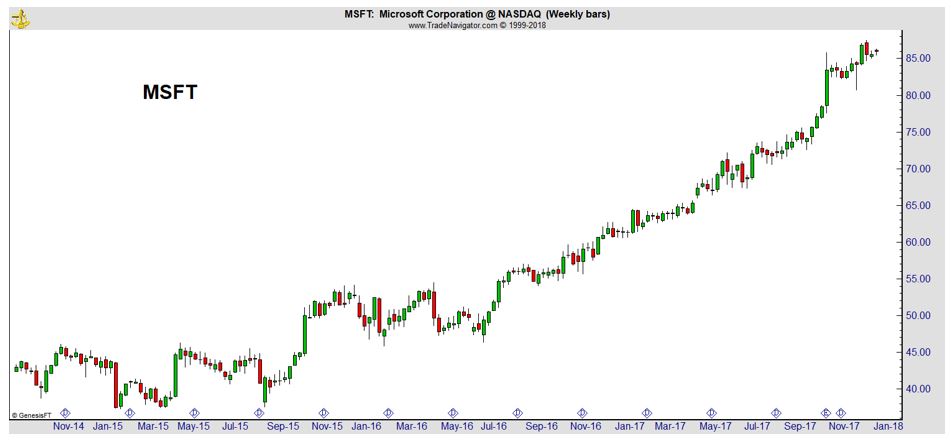 MSFT has proven that it will stay relevant over the past thirty years. The stock began trading in 1986 and moved from PC operating systems to the invention of the Office suite of products to the internet and now the cloud. MSFT is likely to maintain an industry leading position in the future.
Apple Just Bought This Canadian Software Startup
Apple just bought a Canadian startup that specializes in creating software development tools for coders.
Buddybuild, which disclosed the acquisition on Tuesday in a blog post, said its staff will join Apple's Xcode engineering group. Xcode is the name of Apple's suite of software development tools used by third-party coders to build apps for Apple products like the iPhone, Mac computers, and Apple Watch.
Financial terms of the deal were not disclosed.
Buddybuild was founded in 2015 and has about 40 employees, according to the startup's LinkedIn page. The Vancouver-based startup raised nearly $7.6 million, and its advisors include fellow Canadian Stewart Butterfield, the founder and CEO of the popular workplace chat service Slack, according to financial tracking service PitchBook.
Source: Yahoo Finance
Why this news matters to traders: Apple is also a company that has adapted to changes in the industry since it began trading in 1980, even before Microsoft's initial public offering.
AAPL has shown a pattern of attracting negative headlines and rallying. The recent battery problem is providing negative headlines. The acquisition of Buddybuild demonstrates the company is maintaining its focus.
MoneyGram plunges after US denies a proposed merger with a bank controlled by Alibaba
Shares of MoneyGram (MGI) tumbled Tuesday after the U.S. government failed to approve a multimillion-dollar merger with Ant Financial, an affiliate of Alibaba (BABA) controlled by its founder, Jack Ma. Ant Financial will pay a $30 million termination fee for the breakup of the deal, in which Ant Financial agreed to buy MoneyGram for $18 a share.
"The geopolitical environment has changed considerably since we first announced the proposed transaction with Ant Financial nearly a year ago," MoneyGram CEO Alex Holmes said in a statement. "Despite our best efforts to work cooperatively with the U.S. government, it has now become clear that [the Committee on Foreign Investment in the United States] will not approve this merger." Alibaba and MoneyGram will instead form a "new strategic business cooperation" to expand their remittance and digital payments services internationally.
Source: Yahoo Finance
Why this news matters to traders: This news had a large impact on MGI.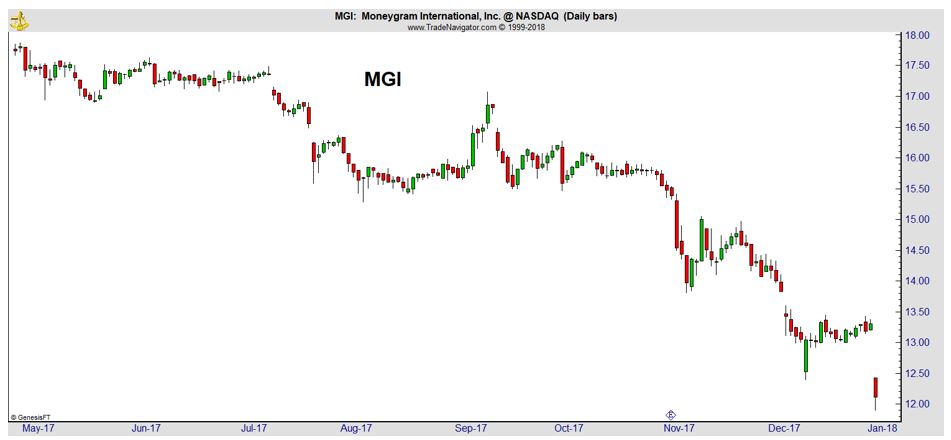 But, the New York Times highlighted the matter's importance and presented a list of "who should be worried" about this news. That list included:
Foreign companies, particularly Chinese ones, seeking to buy American counterparts. (Think also of Broadcom, which is legally headquartered in Singapore and which is pursuing Qualcomm — and has assiduously courted Mr. Trump.)
Domestic companies looking to merge in contested situations, despite having unofficial support from the president. (Think Disney and Fox, whose proposed transaction raised antitrust concerns but garnered praise from Mr. Trump.)
American companies looking to do business in China, who may now face retaliatory blowback.
Traders should understand this means no deal can be guaranteed and demand a higher risk premium on merger arbitrage investment opportunities.
Please visit our blog at InvestingSecrets.com for more market related news and services.