News Traders Can Use
U.S. to Rely on Russia for Astronaut Transportation Into 2019
NASA will continue using Russian spacecraft to take American astronauts into orbit for two more years, despite projections by U.S. government and industry officials that domestic vehicles will be ready to take over the job in 2018.
A National Aeronautics and Space Administration spokeswoman confirmed the agency had reserved three seats on Russian Soyuz spacecraft for missions to the international space station scheduled for 2019.
Boeing Co. and Elon Musk's Space Exploration Technologies Corp. have separate contracts to develop space taxis to take crews to the station. SpaceX's latest projections call for the first crewed test flight in August 2018, and Boeing is targeting its first crewed test flight for November. The plan is to quickly start ferry flights afterward.
Source: Wall Street Journal
Why this news matters to traders: US-based companies could be granted incentives to make space travel more affordable. Among the companies in this sector to consider is Aerojet Rocketdyne Holdings (Nasdaq: AJRD). This company produces propulsion systems for the aerospace sector. It is the leading provider in both the solid and liquid propulsion markets.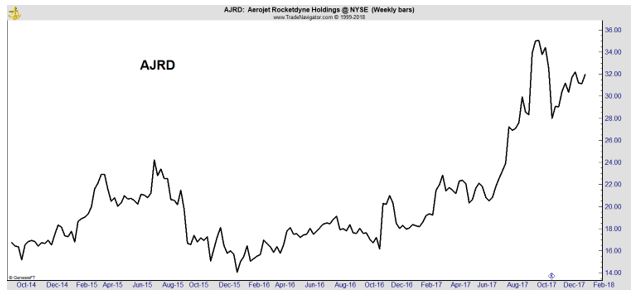 Aerojet Rocketdyne might be best known for providing the rocket motors that got the Curiosity rover to Mars, as well as the fuel that propelled it.
Sears to shutter 103 additional locations, including 1 in Houston
Sears Holding Corp. (Nasdaq: SHLD) will shutter 103 Sears and Kmart Stores — including one in Houston — in early 2018 as it looks to update its business model.
"We will continue to close some unprofitable stores as we transform our business model so that our physical store footprint and our digital capabilities match the needs and preferences of our members," the company said on its website.  
Eligible employees impacted by the store closures will receive severance and have the investment opportunities to apply for open positions at area Kmart or Sears stores. Liquidation sales at the closing stores will start as early as Jan. 12.
Source: Biz Journals
Why this news matters to traders: At this point, Sears Holdings Corporation (Nasdaq: SHLD) could be a low cost speculation for aggressive investors.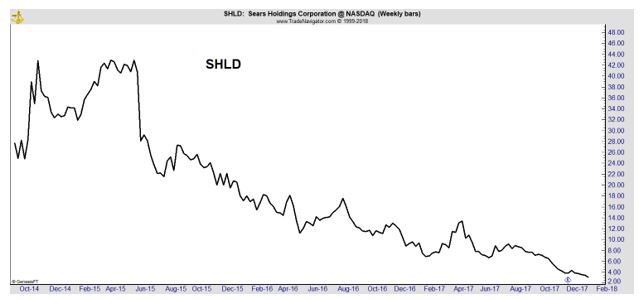 The company reports about $76 a share in assets and about $113 per share in liabilities. However, if the debt is reduced in bankruptcy, there could be equity for share holders. The trade is speculative but could deliver a large best return on investment if the company can be recapitalized.
Tesla Is Still Going Through Model 3 Production Hell
Tesla announced its preliminary December quarter delivery and production results and while it slightly exceeded its Model S and X delivery numbers the Model 3 took another hit. The biggest news was that for the second quarter in a row Tesla moved out when it plans to start producing 5,000 Model 3 cars per week.
Elon Musk, Tesla's CEO, that predicted Tesla could reach 20,000 Model 3's produced in December. However, it only managed to build 2,425 in the quarter, which was probably about 1,500 in the month of December.
A release this week included "we expect to have a slightly more gradual ramp through Q1, likelyending the quarter at a weekly rate of about 2,500 Model 3 vehicles. We intend to achieve the 5,000 per week milestone by the end of Q2."
Source: Forbes
Why this news matters to traders: Tesla Motors, Inc. (Nasdaq: TSLA) consistently misses production numbers yet the stock continues higher.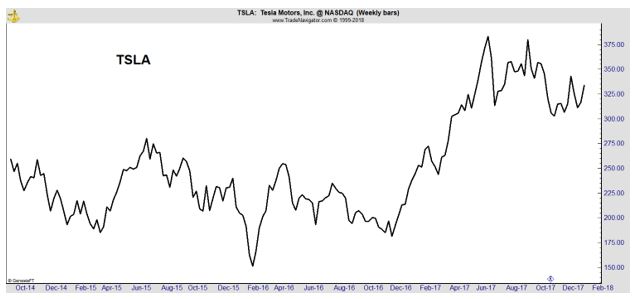 Traders are buying the company's technology which could be game changing for power storage. If TSLA succeeds in storing solar power, the stock has significant upside potential.
With Cannabis Investment, Constellation Bets on the Big Unknown
Constellation Brands Inc. isn't quite sure whether legal cannabis is friend or foe to the alcohol industry. Either way, it wants in. 
The maker of Robert Mondavi wine, Corona beer and Svedka vodka is still waiting for the chips to fall into place after entering the up-and-coming (and turbulent) marijuana industry last year by taking a minority stake in Canada's Canopy Growth. The rapid increase of the cannabis market has caused analysts to question whether drinkers could shift their spending to smoking as prohibitions on the plant's recreational use are removed.
"It's probably not worth getting in a big debate right now about whether it's cannibalistic or complementary," Constellation Chief Executive Rob Sands said on a call with analysts Friday. "There's just not enough information to really say how that's going to affect beverage alcohol generally moving forward. What we do know is it's going to be a big market worldwide."
Source: Bloomberg
Why this news matters to traders: Even without marijuana revenue, Constellation Brands Inc. (NYSE: STZ) has been a big winner in the stock market.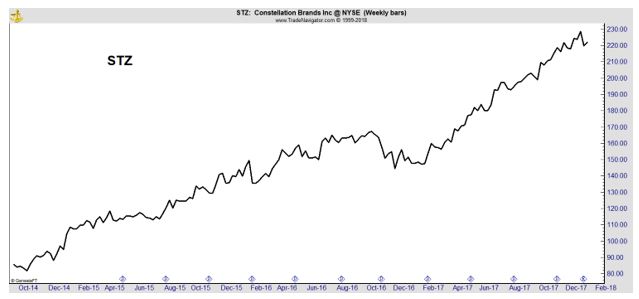 The company has consistently made money in alcohol distribution. Its distribution system could most likely be adapted to marijuana, another highly regulated consumer product assuming legal hurdles can be overcome.
Company Statement on U.S. Tax Cuts and Jobs Act
The Coca-Cola Company supports enactment of the Tax Cuts and Jobs Act because we are confident it will enhance the ability of U.S.-headquartered companies like ours to compete globally on more equal footing and better enable us to reinvest in our U.S. business system as we continue our transformation into a total beverage company.
Source: Coca Cola Company
Why this news matters to traders: Coca-Cola Company (NYSE: KO) is one of many companies to express support of tax reform. Large companies are expecting to benefit from lower rates and other changes in the law. KO is also breaking out to multiyear highs, a bullish technical pattern on the chart.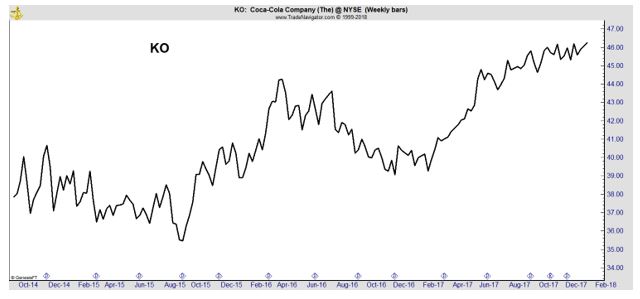 United Tech's Geared Turbofan May Finally Be Wind Beneath Earnings Wings
The Geared Turbofan jet engine from United Technologies' Pratt & Whitney unit may transform from a drag on earnings to a significant profit driver over the next decade, according to one analyst.
 In a note to clients Wednesday, RBC Capital Markets analyst Matthew McConnell wrote that initial "engine teething issues" seem to have been fixed, paving the path for a successful ramp-up in GTF production and deliveries.
"We believe the long-term growth opportunity at Pratt & Whitney is underappreciated, not just as the GTF ramps up and engine kinks are fully derisked, but also given the rich aftermarket opportunity from its large installed base of V2500s, competitive take-aways on key upcoming business jet platforms, and Pratt's sole-source position on all three Air Force mega programs," McConnell said.
Source: Investor's Business Daily
Why this news matters to traders: United Technologies Corporation (NYSE: UTX) is another company that shows a bullish chart pattern and could be a beneficiary of tax reform.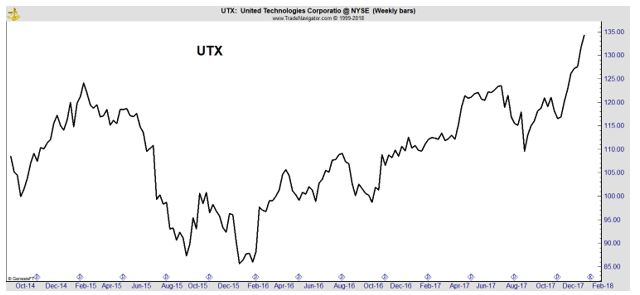 New expensing rules could benefit companies like UTX that provide expensive equipment to other companies. New products and other divisions could help UTX deliver even more earnings to investors.
Please visit our blog at InvestingSecrets.com for more market related news and services.