This Precious Metal Could Be a Buy Right Now
Gold is often considered an investment, but others might believe it is more. The Asia Times recently noted, "gold quietly shapes our world."
Gold is "very useful in medicine in the form of gold-containing drugs.
There are two classes of gold drugs used to treat rheumatoid arthritis. One is injectable gold thiolates – molecules with a sulfur atom at one end, and a chemical chain of virtually any description attached to them – found in drugs such as Myocrisin, Solganol and Allocrysin.
The other is an oral complex called Auranofin.
Gold is also increasingly being used in nanotechnology. A nanomaterial is generally considered a material where any of its three dimensions is 100 nanometers (nm) or less.
Nanotechnology is useful because it is not restricted to a particular material – any material could in principle be made into a nanomaterial – but rather a particular property: the property of size.
For example, gold in its bulk form has a distinct yellow color. But as it is broken up into very small pieces it starts to change color, through a range of red and purple, depending on the relative size of the gold nanoparticles.
Such nanoparticles could be used in a variety of applications, for example in the biomedical or optical-electronic fields.
Another exciting advancement for gold in nanotechnology was the discovery in 1983 that a clean gold surface dipped into a solution containing a thiolate could form self-assembled monolayers. These monolayers modify the surface of gold in very innovative ways.
Research into surface modification is important because the surface of anything can show very different properties than the bulk (that is, the inside) of the same material.
Gold nanoparticles have also proven to be an effective catalyst. A catalyst is a material that increases the rate of a chemical reaction and so reduces the amount of energy required without itself undergoing any permanent chemical change.
This is important because catalysis lies at the heart of many manufactured goods we use today. For example, a catalyst turns propylene into propylene oxide, which is the first step in making antifreeze."
As an investment, some analysts believe now is an ideal time to buy gold. Kitco reported,
"Gold prices holding firmly above strong support at $1280 this year, even as the U.S. dollar's strength has weakened gold's currency component, is a testament to the metal's institutional support. According to the World Gold Council, central banks added the highest level of gold reserves in 2018 in over 50 years.
China's central bank also increased its gold reserves to 60.62 million ounces in March from 60.26 million in February. China has previously gone long periods without revealing increases in gold holdings.
When the central bank announced a 57 percent jump in reserves to 53.3 million ounces in mid-2015, it was the first update in six years. The latest pause was from October 2016 until December last year.
… the fundamental and technical factors I have mentioned in recent missives could still propel the gold price higher by later this spring."
Barron's noted that silver could be the better investment.
"It is difficult to be pessimistic about silver at these levels," with prices that don't provide an incentive to boost supply, says Maria Smirnova, senior portfolio manager at Toronto-based Sprott Asset Management.
"We expect silver to outperform gold," says Smirnova. "Silver has lacked retail investment demand, so a sustained rally in gold will lead to the speculators coming and buying silver."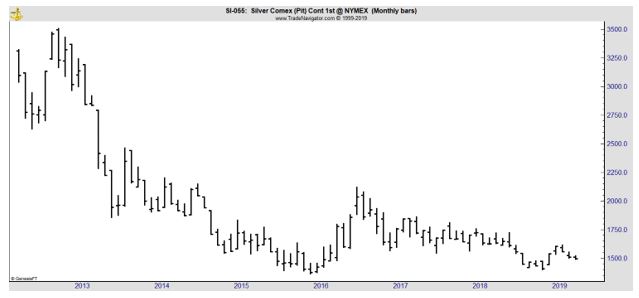 Total physical demand for silver rose 4% last year, to a three-year high of 1.03 billion ounces, according to the Silver Institute's World Silver Survey, compiled by a team at financial data and analytics provider Refinitiv.
The report … showed that global industrial silver demand fell 1% last year, to 578.6 million ounces. All told, silver's physical market posted a "minor deficit" of 29.2 million ounces in 2018 which is considered to be close to in balance.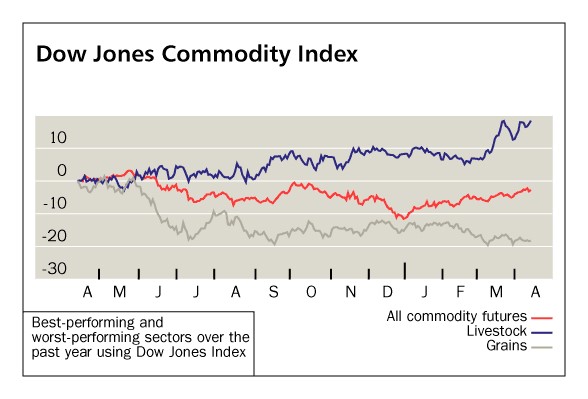 Source: Barron's
Smirnova expects industrial demand to "remain stable, despite slower [economic] growth." A recent forecast from the International Monetary Fund revealed expectations for global economic expansion of 3.3% this year, down from an estimated 3.5% in January.
"Silver does not represent large components of end products," Smirnova explains, pointing out that electronics, cars, and medicines don't use a lot of the metal per unit, so an economic slowdown probably won't have a big impact on it. Its use in solar applications is also "insulated from economic growth" because that market is "more driven by government incentives and the need for renewable energy." Instead, it's the "return of retail investment demand [that] will be the driving force behind an increase in the silver price," Smirnova predicts.
The World Silver Survey found that global investment in silver bars and coins grew 20% last year, with bar demand alone up 53%. The study also revealed a third consecutive annual decline in global production of the metal. It fell 2% in 2018, to 855.7 million ounces.
"Silver is cheap, at $15 [an ounce] as it is not encouraging new supply," says Smirnova. "Primary mines are not generating a lot of cash at these levels or are losing money."
Still, some analysts urge caution. Adam Koos, president of the Libertas Wealth Management Group, believes that silver is a "wait-and-see game" right now. However, he has recently detected "momentum [for gold] waning in favor of silver."
Given that, he wouldn't be surprised to see a "changing of the guard at some point in 2019, putting [silver] in the lead." Koos adds, however, that he'd want to see prices break above $16 before risking any "serious capital."
Investors seeking exposure to physical silver can consider Sprott Physical Silver Trust (ticker: PSLV), which Smirnova manages. Those interested in silver stocks might want to look at the Ninepoint Silver Equities Class funds, which are subadvised by Sprott Asset Management.
Exchange-traded funds focused on the metal include the iShares Silver Trust (SLV), as well as Global X Silver Miners (SIL) and Aberdeen Standard Physical Silver Shares (SIVR).