This Industry Could Lead the Market Lower
Source: Intel.com
Stock prices have been volatile in the past few weeks and we could be in the early stages of a bear market. The news is bearish and recent consumer sentiment polls are also increasingly negative. Investors are becoming concerned and those concerns could lead to more selling.
This is in line with the teachings of Ben Graham, Warren Buffett's business school professor. Graham said that in the long run, the stock market is a weighing machine but in the short run, the market is a voting machine.
What this means is that in the long run, stock prices reflect value. But, in the short run, prices move on emotion and can become significantly disconnected from the underlying value of the stock. When sentiment turns negative, we could see sharp declines in the stock market as the voting machine registers sells.
News Reflects the Mood
When investors are in a bearish state of mind, news takes on an added emphasis. Recent news of a fatal accident involving a self driving car are an example of how news can overwhelm fundamentals. A self-driving Uber vehicle crashed and killed a woman in Tempe, Arizona earlier this month.
This is the first fatality in a promising industry. Less than two years ago, the cars were expected to have the potential to save lives. Each year more than 30,000 people die on the road in the United States, with the vast majority of those fatalities attributed to human error.
Now, the question is how safe are driverless cars? And, the answer is really that it's too soon to tell. As the Washington Post noted,
"Motor vehicle fatalities are measured in terms of "vehicle miles traveled," which is just what it sounds like. In 2016, there were 1.18 fatalities for every 100 million miles that Americans drove. Since Americans drove nearly 3.2 trillion miles that year, that still added up to tens of thousands of deaths.
To know whether self-driving cars are safer than the traditional kind, you'd have to know how many miles they traveled before incurring this first fatality. And the answer is "fewer than 100 million" — a lot fewer.
Waymo, the industry leader, recently reported logging its 4 millionth mile of road travel, with much of that in Western states that offer unusually favorable driving conditions. Uber just reached 2 million miles with its autonomous program. Other companies are working on fully autonomous systems but adding them all together couldn't get us anywhere close to 100 million."
But, traders are selling rather than waiting for the answer after more test results are available.
Technology Leaders See Selling Pressure
Uber is not a publicly traded company and it's impossible to see how the accident impacted the company's valuation. But, Nvidia (Nasdaq: NVDA) is one of the companies that supplies the technology. The stock dropped nearly 8% after the fatal crash.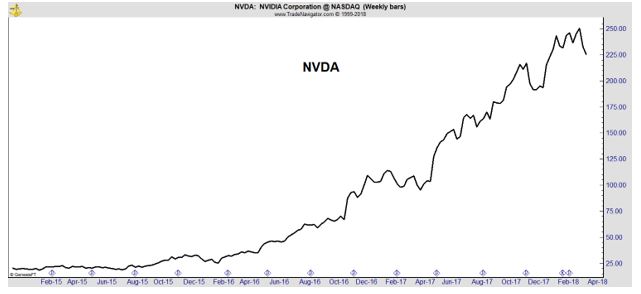 News reports indicated that Nvidia will suspend self driving car tests. Nvidia does its own testing of self driving technology in Japan, Germany, New Jersey and Santa Clara, California.
Tesla also uses Nvidia chips for computers that automate the driver-assisted control system.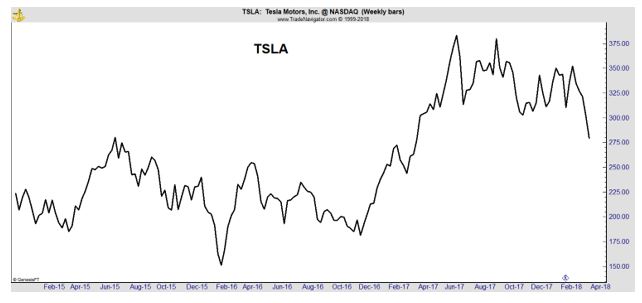 Tesla has had several problems with self driving technology. One of the company's cars was also involved in a fatal accident this month but it was unclear if Tesla's automated control system was driving the car.
The accident involved two other cars, the National Transportation Safety Board (NTSB) and police said. The California Highway Patrol said the electric-powered Tesla Model X crashed into a freeway divider on Friday and then was hit by a Mazda before colliding with an Audi.
The Tesla's lithium batteries caught fire, and emergency officials consulted company engineers before determining how to extinguish the battery fire and move the vehicle safely. NTSB said the issues being examined include the post-crash fire and removing the vehicle from the scene.
Tesla vehicles have a system called Autopilot that handles some driving tasks. Tesla's Autopilot allows drivers under certain conditions to take their hands off the wheel for extended periods. Still, Tesla requires users to agree to keep their hands on the wheel "at all times" before they can use Autopilot.
This is the second NTSB field investigation into a Tesla crash since January.
In January, the NTSB and U.S. National Highway Traffic Safety Administration sent investigators to California to investigate the crash of a fire truck and a Tesla that apparently was traveling in semi-autonomous mode. The agencies have not disclosed any findings.
The NTSB did, however, fault Tesla in a prior fatal Autopilot crash.
In September, NTSB Chairman Robert Sumwalt said operational limitations in the Tesla Model S played a major role in a May 2016 crash in Florida that killed a driver using Autopilot. That crash raised questions about the safety of systems that can perform driving tasks for long stretches but cannot completely replace human drivers.
Tesla later added improvements to Autopilot, adding new limits on hands-off driving.
One Potential Leader to Buy
While NVDA and TSLA are under pressure, another player in the sector may be unscathed by the news.
Officials with Mobileye said its computer vision system would have detected the pedestrian who was killed in Arizona. The company called for a concerted move to validate the safety of autonomous vehicles.
Amnon Shashua, chief executive officer of Mobileye, the vision system company owned by Intel Corp (Nasdaq: INTC), in a blog post also criticized "new entrants" in the self-driving field that have not gone through the years of development necessary to ensure safety in the vehicles.
Mobileye said it took the dashboard camera video released last week by police and ran it through Mobileye's advanced driver assistance system (ADAS), a building block of even more sophisticated full self-driving systems that is currently found in 24 million vehicles around the world.
Despite the low quality imaging from the police video, Mobileye's ADAS technology was able to detect the pedestrian, Elaine Herzberg, and the bicycle she was pushing across the road.
"Experience counts, particularly in safety-critical areas," Shashua wrote in a veiled reference to Uber, which only began to develop its self-driving program in 2015.
Mobileye's CEO has previously argued for a formal model for "provable safety assurances" that all self-driving companies could use to validate the safety of their systems and ensure their vehicles do not cause accidents.
"I firmly believe the time to have meaningful discussion on a safety validation framework for fully autonomous vehicles is now," Shashua wrote.
Those high standards could be helping push INTC higher.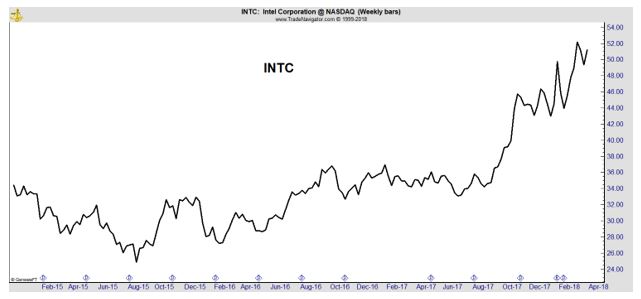 Traders will find opportunities and risks in self driving cars. INTC may pose the least risk, for now.
You can read other market related articles, here.