This Could Be the Time to Buy a Home
If you are renting and considering buying a home, now could be the time to make the move based on recent data. If you're looking at adding an investment property to your portfolio, this same data could also support that decision.
The news, according to CNBC is that the median monthly rent in February rose to $1,472, an increase of 2.4 percent compared with February 2018, according to Zillow. For the typical renter, this means about $400 more per year.
The news site noted, "Home prices may be cooling off right now, but rents are heating up yet again."
After taking a breather in 2018, due to new supply on the market, rents for both single-family homes and multifamily apartments are now rising at the fastest pace in nearly a year, according to Zillow.
"The rental market spent part of last year catching its breath after several years of breakneck growth," said Zillow economist Jeff Tucker.
"Landlords are now coming to terms with the fact that rent cannot grow faster than income forever, and after that short correction we can expect a much more vanilla, slow-growth market going forward. As we enter the 2020s, the demand for rentals is projected to fall as many millennials move on to homeownership."
Rents slowed for much of last year because of robust construction in the apartment market. Much of the new supply was on the high end, and some were concerned that vacancies would rise. Demand, however, remained strong, and now the supply is leveling off.
"Consistently, apartment occupancy growth has nearly kept pace with supply growth, as demand for apartments has been robust throughout 2018," noted Barbara Denham, senior economist at Reis, in a December report.
"Not only has job growth supported apartment demand, but the weaker housing market has also benefitted the apartment market."
Home sales have yet to rebound so far this year, and home prices are still gaining. Mortgage rates, however, dropped at the end of last year and continue to fall this month, signaling potential strength in the spring market.
More robust sales could take a little heat out of the rental market, but there is still a very low supply of entry-level homes for sale, meaning some potential first-time buyers will continue to rent, whether they want to or not.
Local Prices Vary
Of course, all real estate is local, with rents now significantly higher than a year ago in:
Orlando, Florida (+7.0 percent),
Phoenix (+6.8 percent),
Riverside, California (+6.2 percent),
Tampa, Florida (+5.5 percent) and
Pittsburgh (+4.9 percent).
According to Zillow, "the priciest major metro in the country remains San Jose, Calif., at $3,547 in February, up 1.4 percent from a year earlier.
It's followed by San Francisco at $3,448 a month (up 1.6 percent), Los Angeles at $2,835 a month (up 3.5 percent), San Diego at $2,643 a month (up 4.2 percent) and New York at $2,419 (up 1.2 percent).
The lowest rent prices among major metros in February were Pittsburgh at $1,100 a month (up 4.9 percent), St. Louis at $1,155 a month (up 1.6 percent), Cleveland at $1,162 a month (up 1.7 percent), Detroit at $1,225 a month (up 2.3 percent) and Indianapolis at $1,234 a month (up 2.7 percent)."
Nationally, the trend could be worrying for renters.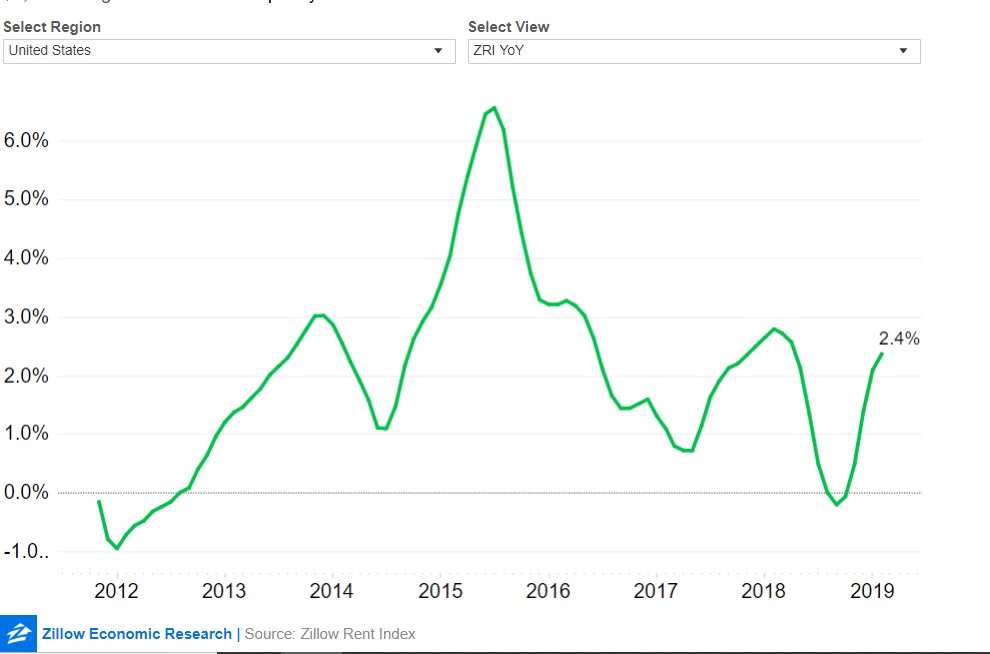 Source: Zillow
The recent increases have pushed rental prices to a level that makes rent almost unaffordable for many.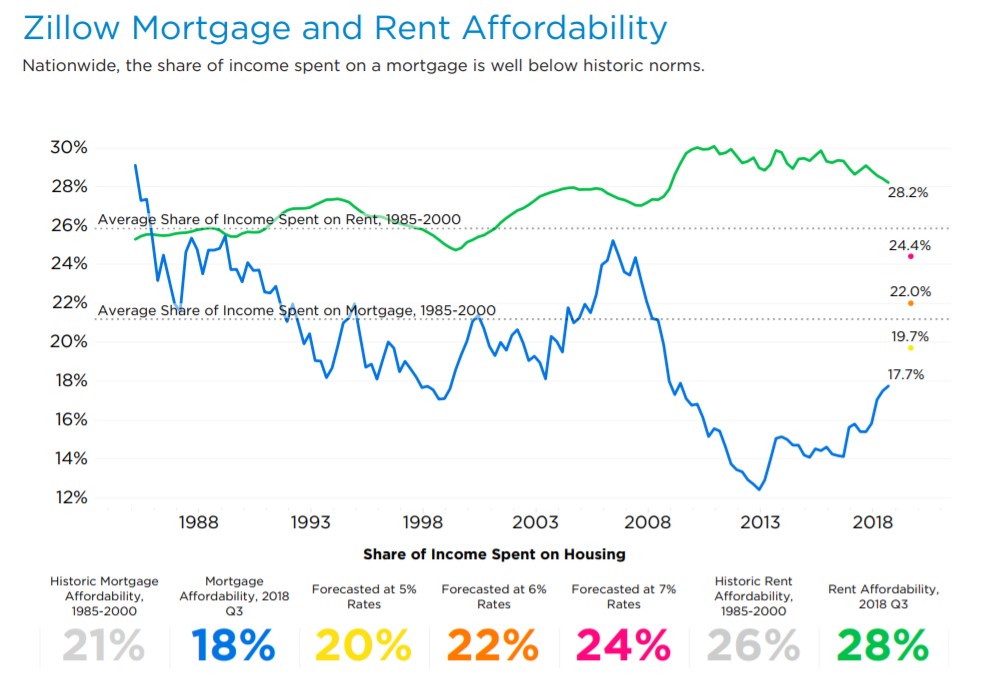 Source: Zillow
This could mean rates of increases will slow in the future and be in line with changes in wages. As the chart shows, the average share of income spent on rent, 28.2%, is well above its historic average of about 26%.
Wage growth is about 3.4% according to data provided by the Atlanta branch of the Federal Reserve. This could indicate that the average share of income spent on rent could remain relatively elevated as wages increase gradually.
Owners May See Slower Gains
MarketWatch cited reason for caution in the real estate market, "Meanwhile, home value appreciation dropped to its lowest rate since December 2017. The median U.S. home value, as measured by Zillow, was $226,300 in February, up 7.2% from the previous year.
The cool down in home values was most notable in San Jose, Calif., and San Francisco. That's down from a 7.8% annual rate of home value appreciation in January.
One major reason why home values aren't rising as fast any more is that the inventory of homes for sale increased 1% year-over-year last month, making it the fifth out of the last six months in which inventory increased."
The trend in prices is shown in the next chart.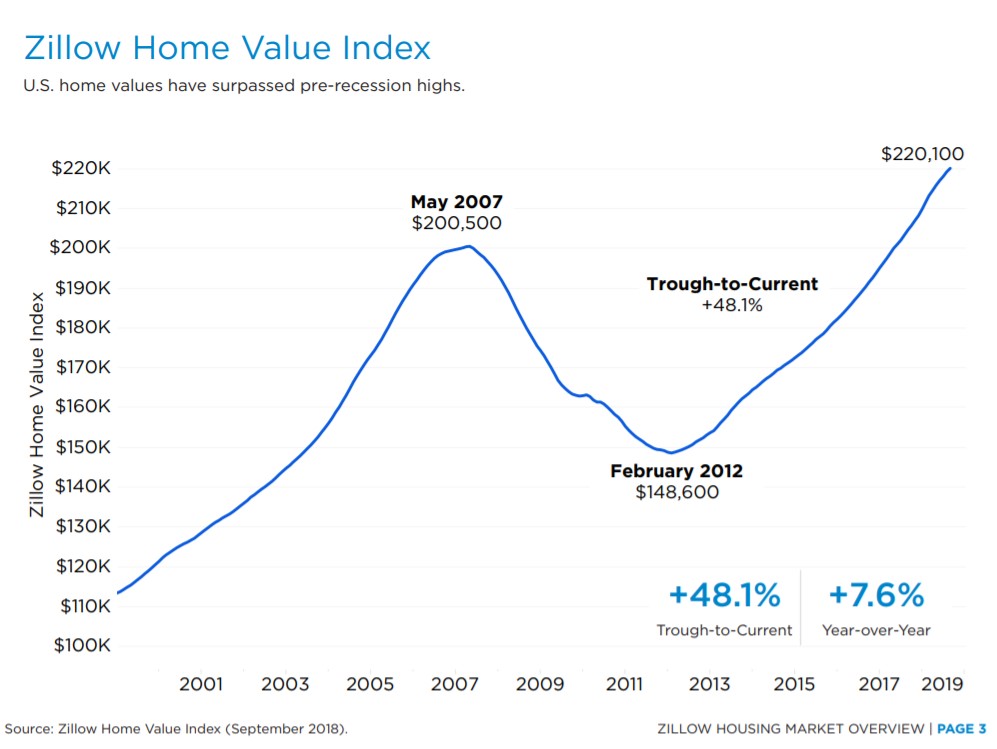 Source:  Zillow
As this chart shows, prices are at new all time highs and the pace of recent gains has been high, but rather steady and not indicative of a bubble as we saw in many markets in the early 2000s. One reason for that could be slower construction activity which is in contrast to the rapid pace of building in the bubble.
Analysts note that zoning restrictions and costs of construction could serve to limit new homes for some time. Limited supply could support higher home prices, even if the appreciation in prices falls to levels that are closer to their long term average which is in line with the rate of inflation.
The outlook is for slower gains, "U.S. home values are growing at a steady pace, and have surpassed pre-recession highs nationally and in a number of large markets. Driven largely by limited inventory and high demand, home values are growing fastest at the bottom end of the market.
Regionally, markets in the Pacific Northwest, Texas, Florida and parts of the Southwest continue to outperform slower-moving markets in the Midwest and Mid-Atlantic."
Given the trend in prices, now could be an ideal time to consider a home, while rates are low, and prices are on the rise. This could benefit owners who reside in the home who could benefit from appreciation or owners who rent and could benefit from slightly higher rents in the next few years.
Did you know that dividends have rewarded investors for at least 100 years, at least since John D. Rockefeller said, "Do you know the only thing that gives me pleasure? It's to see my dividends coming in."
We have prepared a special report about dividends that you can access right here.