This Beaten Down Sector Could Be a Buy
News can often affect a stock's price. That is especially true when the news is related to earnings and the company either beats or misses earnings by a significant amount. But there are other kinds of news that can move stocks.
Recently, political news has proven to be market moving and this is especially true for one sector, as Barron's recently noted,
"The specter of Medicare for All continued to haunt health-insurance stocks after one of the strongest proponents of the idea, Sen. Bernie Sanders (Ind., Vt.), got a surprisingly good response to the idea at a Fox News town hall on Monday night in Bethlehem, Penn.
Industry leader UnitedHealth Group (NYSE: UNH) saw its shares decline [recently] despite reporting better-than-expected first-quarter earnings of $3.73 a share, up 23% over the year-earlier period and 13 cents above the consensus estimate.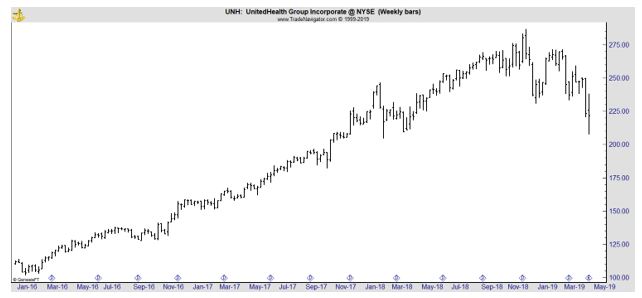 UnitedHealth shares hit a 52-week low of $215.82 during the session [after earnings were announced].
Among other health insurers, Cigna, Anthem, and Humana all fell more than 5%. The managed-care stocks were among worst performers in the S&P 500 last week.
"Despite a strong quarter and guidance raise, shares of UnitedHealth Group gave up early gains and are now selling off again, along with all the MCO [managed-care organization] names and most provider stocks," wrote RBC Capital Markets analyst Frank Morgan in a client note earlier Tuesday.
UnitedHealth sees 2019 earnings of $14.50 to $14.75 a share, slightly higher than the previous $14.40 to $14.70.
"We heard nothing materially negative on the UNH call this morning that would warrant the reversal," Morgan wrote.
"We continue to believe shares are trading on fears of Medicare-For-All rhetoric, in a sector that was a crowded long favorite for many years. The selloff has expanded into our services provider coverage universe under the same Medicare-For-All premise."
Sanders, who is running for the Democratic presidential nomination, tweeted: "Fox News tried to prove that people like our dysfunctional, profit-driven health care system. But they couldn't hide the truth: the American people want Medicare for All."
The managed-care stocks could be under a cloud until after the 2020 election due to the risk of Medicare for All, which could severely curtail or eliminate the role of the companies.
The stocks might get a boost if the Democratic presidential nominee—or the emerging front-runner this year—proves to be more moderate than Sanders and prefers to keep the current health insurance system largely intact.
On UnitedHealth's earnings conference call Tuesday, CEO David Wichmann warned that Medicare for All would "destabilize the nation's health system."
Valuations have come down for the managed-care stocks, with UnitedHealth now trading for 15 times projected 2019 earnings while Anthem and Humana (NYSE: HUM) trade for about 13 times estimated 2019 earnings. HUM is shown below.
That highlights a potential opportunity for investors.
Looking for Value
Barron's also noted that, "Investing in health insurers today amounts to a bet against the Medicare for All proposal championed by Sen. Bernie Sanders and other Democrats running for president, which could eliminate a role for private insurers in the medical-care system.
Yes, the stocks have been battered. But given the long odds of an industry-killing plan becoming law, shares of the leading insurers look appealing.
"Anyone who has a 12- to 18-month horizon and a value mind-set should be buying," says Ana Gupte, an analyst with SVBLeerink. She puts only a "generous" 5% chance of Medicare for All getting enacted.
Patience is required because the insurers could be under a cloud until the 2020 presidential election—unless a Democratic front-runner emerges and distances himself or herself from the Medicare proposal.
Even if that doesn't happen—and if Democrats sweep the White House and both houses of Congress in 2020—any major overhaul of health care would probably not happen until 2023. From now until then, the health insurers would be producing significant earnings, Gupte maintains.
In any case, it isn't going to be easy for the Democrats to win everything in 2020.
 President Donald Trump is seen as having close to a 50% chance of being re-elected, and the odds of Democrats winning control of the Senate, which would be crucial for passage of Medicare for All, are less than one in three, according to Dan Clifton, Washington analyst at Strategas Research Partners.
Ross Margolies, founder and chief investment officer of Stelliam Investment Management, compares Medicare for All to another progressive proposal, the Green New Deal: "It's very aspirational, but there's no way to implement it."
He's bullish on industry leader UnitedHealth. "It's one of the great growth companies selling at a value multiple," Margolies argues. UnitedHealth recently reported a 23% rise in adjusted first-quarter earnings, to $3.73 a share. It trades for 15 times projected 2019 profits of $14.70 a share—a reasonable valuation, given longer-term expected annual earnings growth of 13% to 16% a share.
Gupte favors Anthem, Humana, and UnitedHealth, which are less leveraged than CVS and Cigna. Both completed major debt-financed acquisitions last year. CVS bought Aetna; Cigna purchased Express Scripts.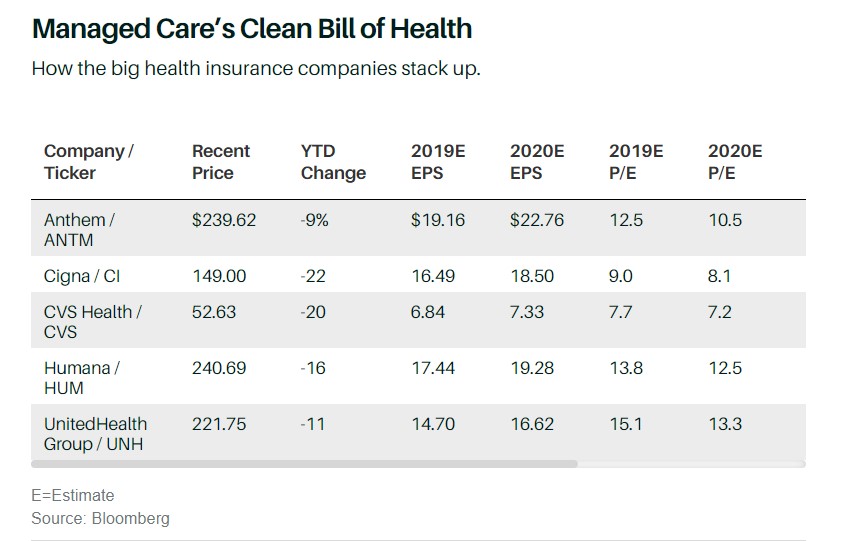 Source: Barron's
Bulls could agree with UnitedHealth CEO David Wichmann who blasted the idea on an earnings call.
"The wholesale disruption of American health care being discussed in some of the proposals," he said, "would surely jeopardize the relationship that people have with their doctors, destabilize the nation's health-care system, and limit the ability of clinicians to practice medicine at their best."
Sanders didn't let up. The Vermont senator tweeted that UnitedHealth's "greed is going to end" when "we are in the White House."
But investors should tune out Sanders and his tweets according to the bulls. Despite the noise, Medicare for All looks like a long shot. That means the stocks could be considered buys and investors buying them could have to stomach volatility since the news is likely to include fodder for both bulls and bears in the coming months as election rhetoric heats up.
However, in the long run, value often does prove to be the biggest factor in investment success, for investors who can ignore short term dips.