These Crises Could Drive a Deep Bear Market
Investors are wondering whether or not stocks will continue moving lower. Many are seriously considering the possibility. But others are highlighting that the stock market has frequently pulled back and this could be just another buying opportunity in a bull market.
That argument ignores several important developments. The bull market began in March 2009 and is now almost ten years old. It can't continue forever, if history is a guide, and the news from around the world is increasingly bearish.
Europe Could Be a Problem
The bull market has been driven in part by easy monetary policy of central banks around the world.
An easy money policy is defined as a monetary policy that increases the money supply usually by lowering interest rates.
It occurs when a country's central bank decides to allow new cash flows into the banking system. Since interest rates are lower, it is easier for banks and lenders to loan money, thus leading to increased economic growth.
The most immediate effect of easy money, if implemented when the economy is below capacity, may be increased economic growth. In addition, the value of securities rises in the short term.
If prolonged, the policy affects the business sentiment of firms and can reverse course over fears of rampant inflation. This is an effect of forward-looking expectations.
That could all be changing now. Reports indicate the European Central Bank needs to keep its monetary policy easy while tightening slowly as underlying inflation in the euro zone remains weak and global risks such as protectionism loom, ECB policymaker Olli Rehn said recently.
"Core inflation is still rather weak in the euro zone at around 1 percent, as it has been for the last couple of years, so an accommodative monetary policy is still needed in Europe," Rehn said. This could reverse a long down trend in interest rates.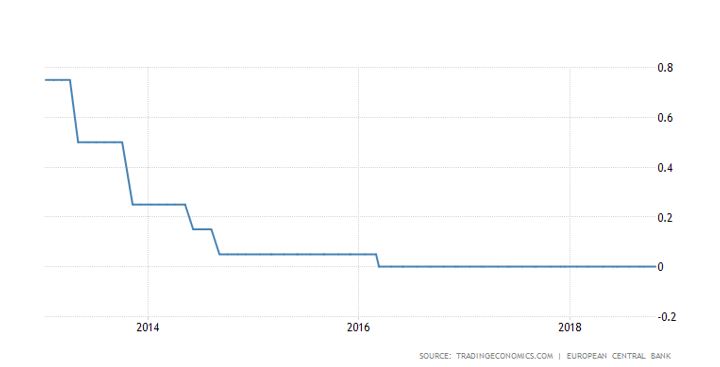 Source: TradingEconomcis.com
Higher rates in Europe or an end to quantitative easing could have a bearish impact on stock prices.
Brexit Could Roil Markets
Brexit, according to the BBC, "is used as a shorthand way of saying the UK leaving the EU – merging the words Britain and exit to get Brexit, in the same way as a possible Greek exit from the euro was dubbed Grexit in the past." 
Britain leaving the European Union after a referendum – a vote in which everyone (or nearly everyone) of voting age can take part – was held in June 2016 to decide whether the UK should leave or remain in the European Union.
Leave won by 51.9% to 48.1%. The referendum turnout was 71.8%, with more than 30 million people voting.
After months of negotiation, the UK and EU have agreed on a deal. It comes in two parts.
There is a 585 page withdrawal agreement. This is a legally-binding text that sets the terms of the UK's divorce from the EU.
It covers how much money the UK owes the EU – an estimated £39bn – and what happens to UK citizens living elsewhere in the EU and EU citizens living in the UK. It also proposes a method of avoiding the return of a physical Northern Ireland border.
There is also a 26 page statement on future relations. This is not legally-binding and sketches out the kind of long-term relationship the UK and EU want to have in a range of areas, including trade, defense and security.
The UK cabinet agreed the withdrawal agreement text on 14 November, but there were two resignations, including Brexit Secretary Dominic Raab and there was an, as yet unsuccessful, attempt by Brexiteer MPs to force a confidence vote in Theresa May.
The next step is for MPs to vote on the deal, which will take place on 11 December after five days of debate. If they pass it, the European Parliament will get a vote before Brexit day next March.
There are concerns about Brexit and it is affecting stocks in the United Kingdom as the next chart shows.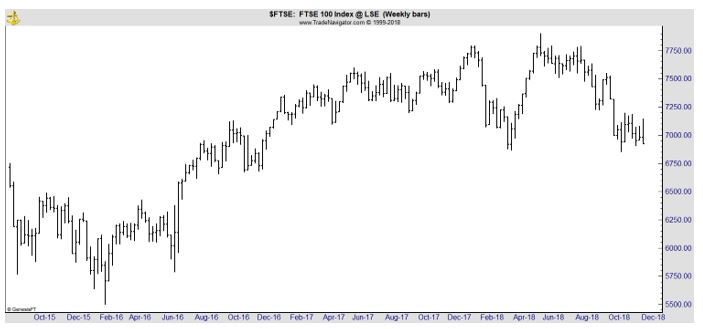 After rallying on the referendum and then stalling, prices of the FTSE 100, a benchmark index, are now falling.
France Is Another Concern
Europeans and traders around the world are also watching France where thousands of demonstrators, according to NBC News, known as "Yellow Jackets" due to their fluorescent garb descended into the streets across France over the weekend to protest planned tax hikes on gas.
In Paris, the rallies turned violent recently with blazes set on the world-famous Champs-Élysées avenue while masked protesters waved the French flag. Police responded to skirmishes with water cannons and tear gas. More than 100 people were arrested.
Motorists have blocked highways across the country since Nov. 17, setting up barricades and deploying conveys of slow-moving trucks. Around 280,000 protested in the streets across the country that day, with 106,000 people attending rallies in Paris.
On Jan. 1, the tax on gasoline will go up by around 12 cents per gallon and on diesel by approximately 28 cents per gallon, according to Transport Minister Elisabeth Borne.
Gas taxes will go up by another 5 cents per gallon by 2020, with diesel jumping an additional 2 cents.
On Monday, gasoline cost around $6.26 per gallon in Paris, while diesel was around $6.28 a gallon.
Macron has so far refused to reconsider the hikes, which he says will help reduce France's dependence on fossil fuels. By raising the cost of diesel, the French government hopes to convince more people to buy less-polluting vehicles.
But he did agree to a six month delay in its implementation.
While the protests were sparked by the looming increase in fuel prices, experts say they have become an outlet for people to express their discontent with the high cost of living in France and with Macron's presidency more generally.
A poll published on Friday found that only 26 percent of French people have a favorable opinion of Macron.
Joseph Downing, an expert in French politics at the London School of Economics, agreed that the protests were about "much more" than taxes on gas.
"It's this entire idea of the squeezed middle or the squeezed upper working-class person who feels an entitlement to an ever-increasing standard of living but is something that no politician can deliver," he said. "This is where we've seen disenfranchisement with Sarkozy, with Hollande and now with Macron."
This is also a potential factor for stocks as the chart of the CAC 40 benchmark index shows.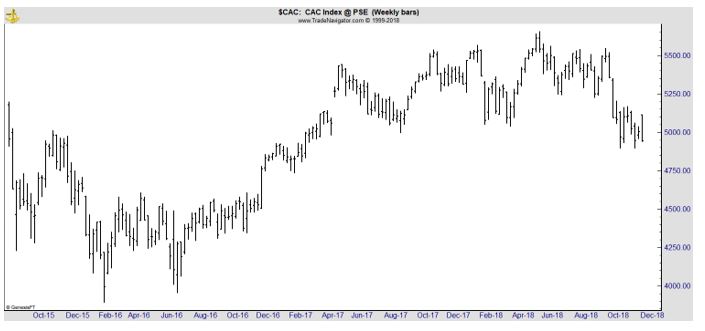 The question is whether these factors can end the long bull market. Investors should consider that possibility and begin preparing defensive strategies.