The Next Big Trend for Traders Is Another Sin Industry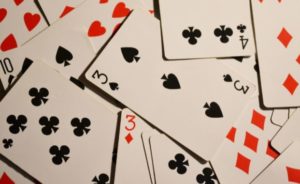 Among the biggest trends in the stock market in recent years has been marijuana. It has been legalized in many states and in Canada, to varying degrees and legalization created business opportunities. Those businesses largely discovered what analysts expected.
Consumers wanted marijuana. That meant there was demand for retail operations, producers of products related to the plants, growers and associated supply chain businesses. Governments at all levels wanted taxes, and they found a way to tax the businesses.
It turned out to be a boom for many businesses, and communities have benefited to varying degrees from a new source of tax revenue. It wasn't that long ago that significant law enforcement resources were dedicated to eradicating the use of marijuana.
The Next Boom Could Be In Gambling
Many of the stocks of marijuana companies have delivered large gains. Now, investors are looking for the next big development that could create a similar opportunity. Smart traders are watching the Supreme Court which could create the next big boom when it issues a ruling in the next couple months.
Court watchers call it, New Jersey Thoroughbred Horsemen's Association Inc. v. National Collegiate Athletic Association, a case that has been consolidated with Murphy v. National Collegiate Athletic Association.
It was argued in December and involved New Jersey's challenge to a 1992 federal law that bars states from allowing sports gambling. The state wants to allow betting on sports games. This would include professional and college sports.
One expert summarized the proceedings, "The National Collegiate Athletic Association and the four professional sports leagues countered that the law is perfectly constitutional, because it doesn't require the states to do anything; it simply bars them from authorizing sports gambling. After an hour of spirited debate today, a majority of the justices seemed inclined to agree with New Jersey."
For now, betting on sports in some form is legal in four U.S. states, though only Nevada allows full sports books where customers can wager on individual games. That business is growing.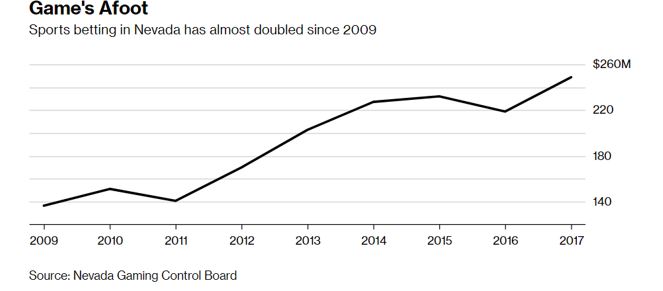 Source: Bloomberg
The Future of Gambling
Nevada betting parlors may be showing us how the process will work if the Supreme Court allows gambling to spread.
In Nevada, fans at University of Nevada basketball games or Golden Knights hockey games, for example, can place bets by cellphones. Legal gambling on the Super Bowl was up 15% compared to a year ago.
Gamblers can place bets while a game is being played. If the team a fan originally selected to win is losing, they can gamble at halftime on a different outcome and perhaps recoup their losses. Another type of wager, called a proposition bet, lets customers put money on outcomes other than the winning team, such as who the most valuable player will be.
One fan told Bloomberg, "a lot of times you find value in the game."
According to experts, the most likely winners from a favorable court decision will be existing operators — casinos, horse tracks and lotteries. Many of these companies, and their suppliers, are already getting in position.
European operators are staking a claim on the U.S. market.  These companies have extensive operations with legal gambling, especially in the United Kingdom.
William Hill Plc, a London-based operator of betting shops, already has a 30% share of the sports betting market in Nevada, where it runs sports books for casinos such as Binion's Gambling Hall and the Hooters Hotel.
GVC Holdings Plc, an online betting operator in Europe, provides software to sports books through its Stadium Technology subsidiary. Paddy Power Betfair Plc runs the TVG network and plans to build another studio in the building, this time for a TV channel devoted to betting on football, basketball, baseball, hockey and soccer.
U.S. companies could also be winners.
Specific Gambling Trades
Investors could target specific companies or take a position in an exchange traded fund, or ETF, that targets the industry, VanEck Vectors Gaming ETF (NYSE: BJK). This ETF has more than $50 million in assets and provides exposure to gaming stocks around the world.
The stock has been trading in line with the broad market over the past few weeks, pulling back after reaching new highs.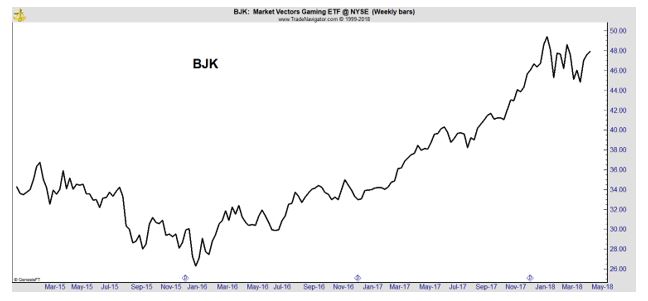 BJK's largest holdings are some other stocks to consider. U.S. gambling giants such as Wynn Resorts (Nasdaq: WYNN) and Las Vegas Sands (NYSE: LVS) are potential buys as are MGM Resorts International (NYSE: MGM), Caesars Entertainment (Nasdaq: CZR) and Boyd Gaming (NYSE: BYD).
All of these stocks could be expected to bounce higher on news of a favorable ruling from the Supreme Court. If a trader is considering a position for that potential ruling, a smaller stock could be better positioned to deliver a large gain than a large cap company.
Boyd Gaming has a market cap of less than $4 billion and a chart pattern similar to the overall industry.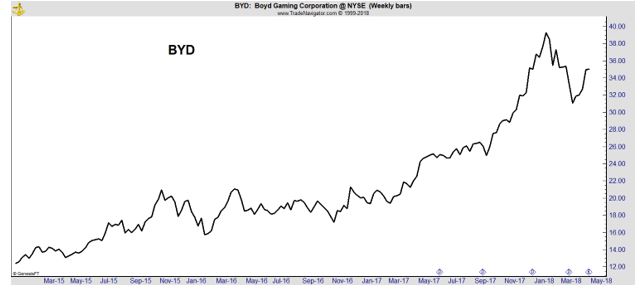 WYNN has a much larger market cap, more than $20 billion, and may not see as large a bounce on news that a smaller company would.
Now, if you are considering the gaming industry as an event driven trading opportunity, the risks should also be considered. The most important risk to consider is the possibility of an adverse ruling from the Supreme Court that maintains the status quo and prohibits the expansion of gaming.
In that case, it is likely that these stocks could fall. One company preparing for the possibility of a ruling either way is online gambling giant The Stars Group (Nasdaq: TSG) which this week announced a $4.7 billion deal to acquire U.K. firm Sky Betting & Gaming.
This deal creates the largest online gambling company and provides exposure to the United Kingdom market where gambling is legal.
One analyst told Bloomberg if the U.S. allows sports betting in more states, it would be the "icing on the cake" for the combined companies. But, the deal could pay off for investors even with an adverse ruling.
Gaming industry stocks provide a unique opportunity for investors. This could be the next boom, delivering gains similar to those seen in the marijuana industry. Or, the industry could provide an opportunity for quick gains if the Supreme Court decision boosts the industry.
Traders have a chance to prepare for these events now and should consider risks and the possibility of large rewards.