The Next Big Thing in Biotech and How You Can Trade This Development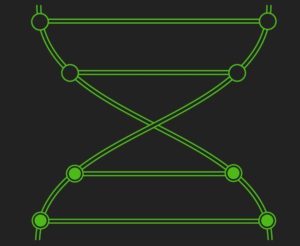 Investors never get to sit back and think about success. They are always on the lookout for the next thing, the next trade that can deliver a big gain. They frequently scour industry reports from the tech sector because that's where the gains have been in the past and where research is focused.
Among the promising technologies is gene therapy, a treatment that modifies the functions of a gene to override a mutation. According to the National Institute of Health:
"Gene therapy is an experimental technique that uses genes to treat or prevent disease. In the future, this technique may allow doctors to treat a disorder by inserting a gene into a patient's cells instead of using drugs or surgery. Researchers are testing several approaches to gene therapy, including:
Replacing a mutated gene that causes disease with a healthy copy of the gene.
Inactivating, or "knocking out," a mutated gene that is functioning improperly.
Introducing a new gene into the body to help fight a disease.
Although gene therapy is a promising treatment option for a number of diseases (including inherited disorders, some types of cancer, and certain viral infections), the technique remains risky and is still under study to make sure that it will be safe and effective. Gene therapy is currently being tested only for diseases that have no other cures."
While the therapy is risky, traders know that the biggest rewards in the market are found in the riskiest sectors.
Analysts Are Noting Successes in Gene Therapy
ARK Invest analyst Manisha Samy recently shared some of her favorite ideas in the sector with Investor's Business Daily. She started by noting that gene therapy is nothing new.
"We've been working on it for decades," she said. "We're finally seeing advances in gene therapy. Now, we can accelerate based on technical advances in genome reading. Modifying the DNA will serve as a steppingstone to (treating) more complex genetic disorders."
One company in the sector is Sarepta Therapeutics (Nasdaq: SRPT).
Last month, Sarepta presented strong results of one gene therapy in three young boys with a muscle-wasting disease called Duchenne muscular dystrophy. To cap the presentation, all three stepped on stage, showcasing their improved ability to walk.
"You're talking about kids, so it was emotional," JMP Securities analyst Liisa Bayko told Investor's Business Daily. "Anybody with a heart would feel for what these people have been through. People have risked a lot to go on gene therapy."
The results were also dramatic for Sarepta stock, which rocketed almost 37% on June 19. It hit a record high above $176, before dropping back below $140.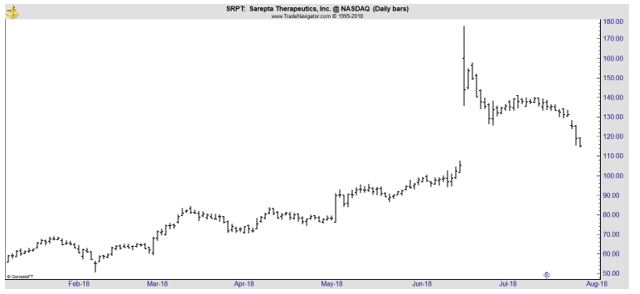 While the drug is promising, there are risks. One of the biggest risks is the cost of the drug. For Sarepta's gene therapy, a treatment for a form of Duchenne muscular dystrophy, RBC Capital Markets analyst Brian Abrahams estimated a net cost of $1.5 million per patient. JMP's Bayko expects a cost of $5 million.
Those costs could be justified if the drugs cure the diseases. In addition to the impact a cure would have on a patient's quality of life, the drugs would save money in the long run. Some treatments for rare diseases can cost between $350,000-$700,000 annually and are needed for life.
That means that even at $5 million, the drugs could be a bargain for the insurance companies that are funding the costs for patients. Those savings, of course, are nothing compared to the benefits the patients receive.
Looking Forward
Of course, the stock of SRPT has already made a big move, and the drug hasn't even been formally approved yet.
The Food and Drug Administration approved the first gene therapy drug in the United States in December. Sarepta's drug is still in testing.
The therapy, from Spark Therapeutics (Nasdaq: ONCE), is for an eye disease that generally progresses to complete blindness.
The drug is called Luxturna and for now it is the only treatment for the inherited retinal disease.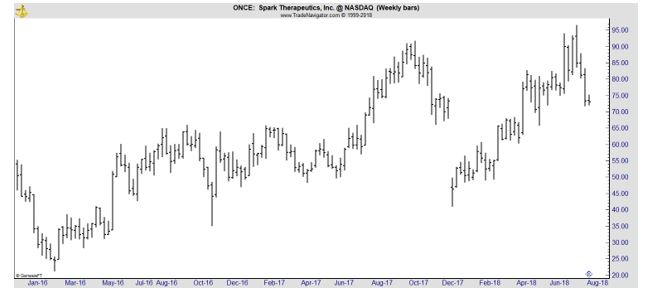 Solid Biosciences (Nasdaq: SLDB)  is also working on a gene therapy to treat Duchenne muscular dystrophy. This stock has a relatively short trading history.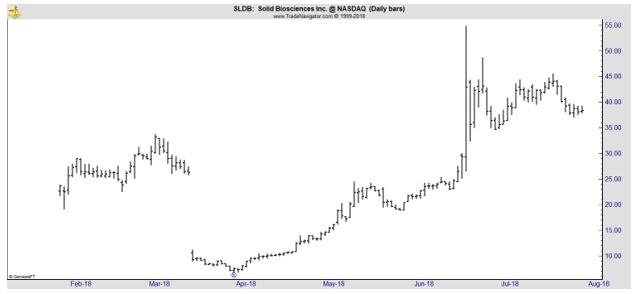 Another area analysts like is in treatments for hemophilia A and hemophilia B, ARK's Samy said. BioMarin and Spark are working in hemophilia A. UniQure targets hemophilia B. Spark also has a partnership with Pfizer in hemophilia B.
"By 2025, we believe (hemophilia) will be over a $26 billion market opportunity," she said. But the ultimate opportunity in gene therapy will "vary by disease indication."
But, smaller markets could also deliver gains. Ultragenyx is attacking two rare diseases using therapies acquired from Dimension Therapeutics. Audentes is pursuing a treatment for a muscular disease called X-linked myotubular myopathy.
Some markets are actually big enough for multiple gene therapy companies, Instinet's Marai said. He notes Sarepta, Solid and Pfizer are working on rival treatments for Duchenne muscular dystrophy. Now, Sarepta is looking to move into limb-girdle muscular dystrophy.
Of all gene therapy companies, Marai is most bullish on Sarepta. Sarepta has a partnership with Nationwide Children's Hospital, giving it access to the most pre-eminent minds in gene therapy.
"If you look at who has the best gene therapy program in the world in terms of opportunity and knowledge, data set, manufacturing and understanding, it's unequivocally Sarepta," he said. "AveXis has very quickly been eclipsed by Sarepta."
Raymond James analyst Laura Chico singled out BioMarin Pharmaceutical (BMRN), one among a slew of gene therapy companies working in hemophilia A. Preventive treatment is frequent and costly. Plus, those patients still won't have normal levels of specific clotting protein.
"With a single gene therapy administration, compared to three times per week dosing (of clotting protein replacement) dosing, you're going to be lifting a burden on patients that is not trivial," she told Investor's Business Daily.
This is a new technology and it is not risk. There will be big winners in gene therapy and there will also be big losers. Investors could consider owning several of the companies as a way to reduce risk.