Tariff Talk Could Move These Sectors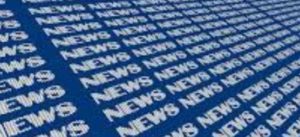 Stocks reacted with a sell off on what traders are calling "the tariffs announcement." Last week, President Donald Trump suddenly announced that the United States would impose a 10% tariff on aluminum imports and a 25% tariff on steel imports.
The news came without any warning, catching both government officials and traders by surprise. According to The New York Times, the legal review of the tariffs was not completed prior to the announcement and a White House spokesman indicated a decision was weeks away.
The lack of preparation can explain why there were no leaks ahead of the announcement. Leaks can help traders prepare for news and the reaction to the news can then be muted as news is already factored in before formal announcements.
The sudden announcement that the US would impose tariffs was followed by news that European Union plans would include retaliatory tariffs on Harley-Davidson motorcycles and Kentucky bourbon and challenges to the US action at the World Trade Organization
Some analysts found the moves surprisingly specific, targeting key leaders in Congress as well as manufacturers based in the US. Roughly 95% of all bourbon comes from the home of Senate Majority Leader Mitch McConnell. House Speaker Paul Ryan is from Wisconsin, home to Harley-Davidson.
Jean-Claude Juncker of the European Commission noted, "It's actually a stupid process that we must to do this, but we have to. We can also do stupid"
China and South Korea remained largely silent as the news unfolded, with officials saying they would be negotiating to avoid tariffs. The chart below shows how various countries could be affected by the news.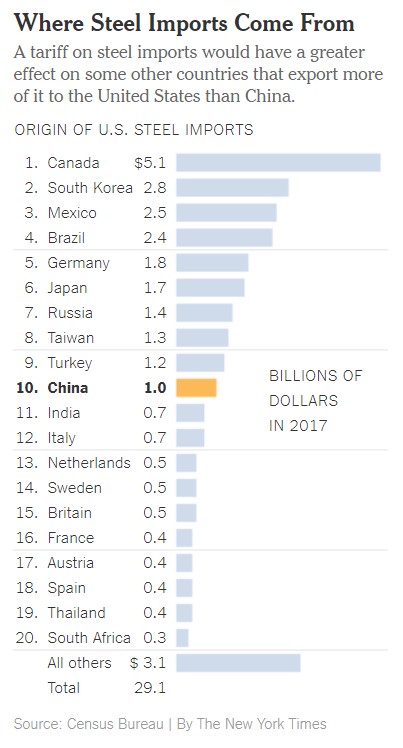 Source: The New York Times
Relations with Canada are already strained as the country is working with the US and Mexico to make revisions to the NAFTA trade agreement. It's possible Canada, or any other country, could be exempted from tariffs, raising the prospect of last minute changes to the decision.
The only certainty with tariffs is that there will be winners and losers. Other countries are likely to respond to the US action by imposing tariffs on US exports including, potentially, agricultural products.
Steel Could Be a Winning Sector
Steel stocks rose on the news. Among the day's biggest winners was United States Steel (NYSE: X) which ended the day up almost 6% on heavy volume which indicates the buying was most likely broad based.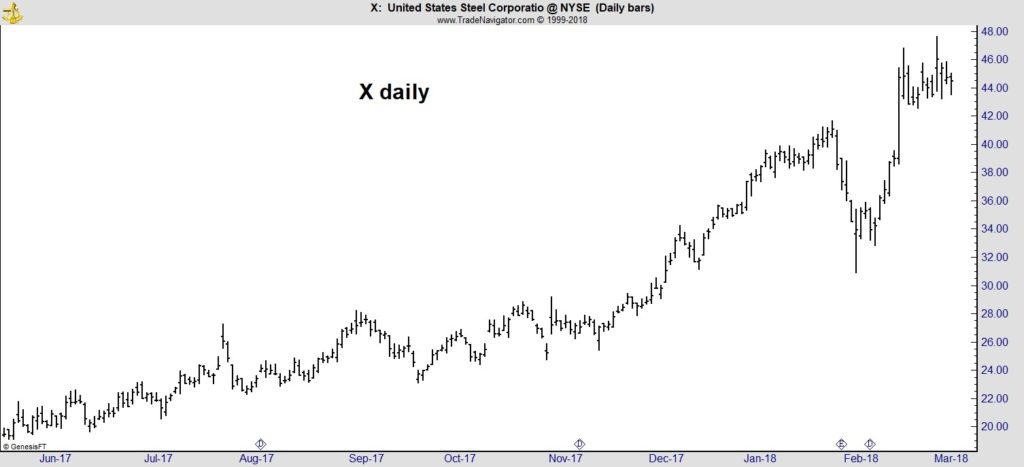 The move follows earlier gains in X that came after a strong earnings report.
Steel Dynamics (Nasdaq: STLD) and Nucor (NYSE: NUE) showed similar patterns of large gains on above average volume.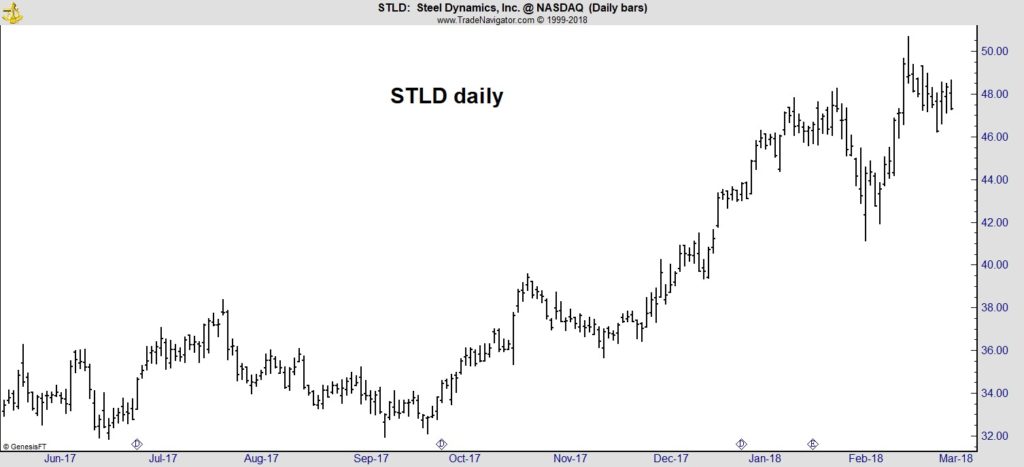 Investor's Business Daily noted that the news may be good for steel companies but is most likely bearish for the broad stock market and the economy, saying, "The broader picture held less hope. The gains in steel stocks were not widely shared. Among IBD's 197 industry groups, losers led winners by a 9-2 ratio.
If the stock indexes were showing a distaste for protectionism, they had economists on their side. Polls have shown that 93% of economists believe tariffs have an overall negative effect on the economy. And economists aren't known for reaching a consensus among themselves."
The news service also noted. "One thing to consider is that other U.S. presidents have taken protectionist measures without killing the stock market — at least not immediately.
President Reagan, for example, announced a 100% tariff on certain Japan electronics in late March 1987. The stock market then moved sideways for about six months before the crash took it down in October 1987. No one, though, has blamed the 1987 crash on tariffs."
This means a market reaction could be delayed and traders should prepare a list of sectors to consider buying, like steel, and sectors to avoid.
Losers Could Be Many
When considering potential losers, traders need to consider a variety of information. Apple (Nasdaq: AAPL) generates a significant amount of revenue in China and could be a target of retaliation. This is true for other large exporters including Boeing (NYSE: BA) and Caterpillar (NYSE: CAT).
These companies are not only larger exporters. They are also large consumers of steel and aluminum and will face higher prices for the raw materials needed to manufacture planes and heavy equipment. Auto manufacturers are also obviously affected by higher prices on raw materials.
While many traders will focus on obvious links to tariffs, less obvious links show how almost every company in the country could be affected. New vehicles, for example, are likely to cost more.
Consumers can delay purchasing new vehicles. If tariffs are temporary and prices drop after the tariffs expire, they would be unaffected by the trade war. Some businesses may not be able to defer purchases. UPS and FedEx, for example, need to buy new vehicles on a regular basis. So do other shipping companies.
Tariffs could raise their costs for replacement vehicles and the transportation companies might then be forced to raise their prices. This would affect the prices of goods that are transported, and it is now obvious that all goods, and all businesses would be affected by the tariffs.
This would be potentially inflationary and it could also be a factor that leads to a slowdown in the economy. Higher prices and lower production would create an economic nightmare, the stagflation scenario that the country struggled with in the 1970s.
Other news sources have noted that there is absolutely no certainty on the tariffs. "The unsettled nature of a final policy was magnified by a conversation on Sunday between Mr. Trump and Prime Minister Theresa May of Britain.
Ms. May, a person briefed on the call said, warned Mr. Trump how dangerous the tariffs would be. Mr. Trump disagreed, but concluded the conversation by telling Ms. May that he had not made a final decision on what to do."
This means traders should focus on fundamentals of individual companies as a primary factor but be prepared for the imposition of tariffs and a potential trade war. In a trade war, steel and other sectors helped by tariffs should do well while most companies will be losers.