Stocks Under $15 With Growth and Income
Low priced stocks can deliver large gains, if the company can be successful. When considering what makes a company successful, many investors turn to earnings. They might believe that increases in earnings per share (EPS) are the key to success.
But, for low priced stocks, that might not be true. EPS would, of course, be nice. But, there are many items that come before earnings on the income statement, a summary of a company's financial operations.
At the top of the income statement is sales. This could be the most important factor to success for a low priced stock. Sales are necessary to produce earnings. Sales are needed to generate cash flow from operations. In short, sales are a critical component of success for a company.
This week, we focused on sales, requiring companies to have reported sales growth of at least 25% over the past five years.
Then, we limited our search to low priced stocks.
Individual investors understand that low priced stocks could be appealing for two reasons. One reason is that the low price means they have little down side risk in dollar terms. The second reason is that low priced stocks are generally the ones that deliver the largest short term gains.
One study looked at how low priced, or cheap, stocks performed relative to more expensive stocks. The study found that cheap stocks delivered more than six times the average return of the more expensive stocks in a typical quarter.
That's why we limited our search for potential bargains by focusing on stocks priced at less than $15 per share. While we would like to see stocks at even lower prices, there just weren't many that passed our stringent screening criteria so we had to use a cut off value of $15 to ensure some degree of diversification in this screen.
Finally, we required the stock to offer a dividend that is higher than the risk free rate of return of less than 3% available on Treasury notes maturing in ten years.
One way to find stocks meeting these requirements is with the free stock screening tool available at FinViz.com. At this site, you could screen for a variety of fundamental factors, high levels of institutional ownership and bullish institutional transactions. An example is shown below.

Source: FinViz.com
Five Stocks Meet Our Strict Requirements
Remember, there is no guarantee any stock will increase in value. Also, it is important to remember when we search for stocks using quantitative measures, our goal is to identify stocks that meet those criteria. The screens we develop could be used as the cornerstone of long term investment strategies but any individual stock in the list could be a winner or loser.
Ellington Residential Mortgage REIT (NYSE: EARN) is a real estate investment trust. It specializes in acquiring, investing in and managing residential mortgage and real estate related assets.
It constructs and managing a portfolio consisting of residential mortgage-backed securities (RMBS) for which the principal and interest payments are guaranteed by the United States Government agency or the United States Government-sponsored entity (Agency RMBS) and, to a lesser extent, RMBS backed by prime jumbo, Alternative A-paper manufactured housing, and subprime residential mortgage loans (non-Agency RMBS).
Its Agency RMBS include residential mortgage pass-through certificates, collateralized mortgage obligations (CMOs) and to-be-announced mortgage pass-through certificates (TBAs). Its non-agency RMBS include investment grade and non-investment grade classes.
Infosys Limited (NYSE: INFY) provides business information technology services comprising application development and maintenance, independent validation, infrastructure management, engineering services comprising product engineering and life cycle solutions and business process management.
It also performs consulting and systems integration services comprising consulting, enterprise solutions, systems integration and advanced technologies; products, business platforms and solutions to accelerate intellectual property-led innovation, including Finacle, its banking solution, and offerings in the areas of Analytics, Cloud and Digital Transformation.
Its segments are Financial Services and Insurance, Manufacturing and Hi-tech, Energy & utilities, Communication and Services, Retail, Consumer packaged goods and Logistics, and Life Sciences and Healthcare.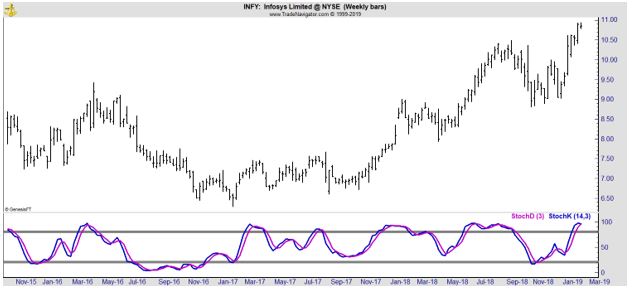 Jupai Holdings Limited (NYSE: JP) is a third-party wealth management service provider. The company focuses on distributing wealth management products and providing advisory services to individuals in People's Republic of China (PRC).
JP serves as a one-stop wealth management product aggregator and is engaged in developing and managing in-house and third party products. It provides asset management services in the management and advisory of real estate or related funds, other fund products and funds of funds.
It offers its services to entrepreneurs, corporate executives, professionals and other investors through a network of 72 client centers in 46 cities of China.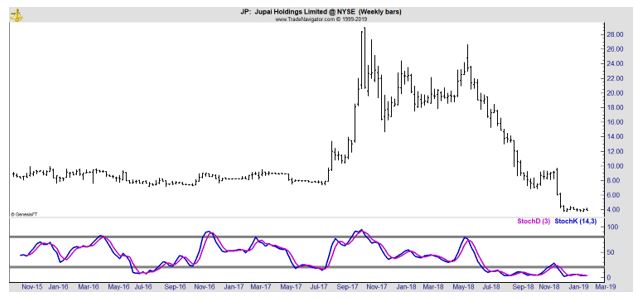 Orchid Island Capital, Inc. (NYSE: ORC) is a specialty finance company that invests in residential mortgage-backed securities.
The company's business objective is to provide attractive risk-adjusted total returns to its investors over the long term through a combination of capital appreciation and the payment of regular monthly distributions. Its portfolio consists of two categories of Agency RMBS: pass-through Agency RMBS and structured Agency RMBS.
ORC invests in pass-through securities, which are securities secured by residential real property in which payments of both interest and principal on the securities are generally made monthly. The mortgage loans underlying pass-through certificates include fixed-rate mortgages, adjustable-rate mortgages (ARMs) and Hybrid ARMs.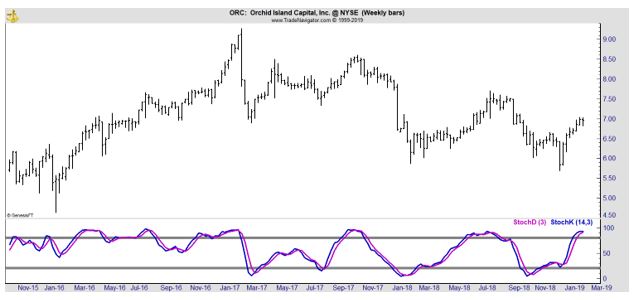 Tarena International, Inc. (Nasdaq: TEDU) provides professional education services, including professional information technology (IT) training courses and non-IT training courses across the People's Republic of China.
TEDU offers courses in various IT subjects and several non-IT subjects. It also operates two children education programs. It offers an education platform that combines live distance instruction, classroom-based tutoring and online learning modules.
The company complements the live instruction and tutoring with its learning management system, Tarena Teaching System (TTS). TTS has over five core functions, featuring course content, self-assessment exams, student and teaching staff interaction tools, student management tools and an online student community.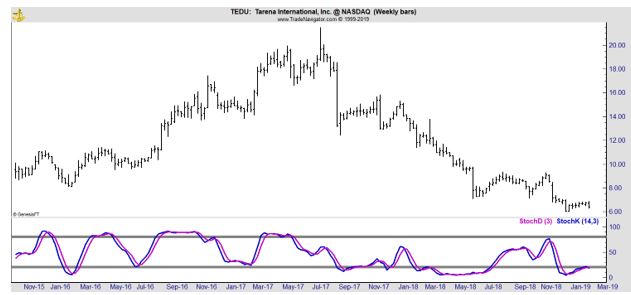 Any of these stocks could be a potential winner and all worth further research. However, each of these stocks also carries a degree of risk and that should also be considered. Based on the charts, momentum investors may find EARN and INFY most appealing.
Did you know that dividends have rewarded investors for at least 100 years, at least since John D. Rockefeller said, "Do you know the only thing that gives me pleasure? It's to see my dividends coming in."
We have prepared a special report about dividends that you can access right here.