News Traders Can Use
Teva Pharmaceutical Industries Ltd (ADR) Exclusively Launches Generic Version of Reyataz Capsules in U.S. HIV Market
Teva Pharmaceutical Industries Ltd (ADR) (NYSE:TEVA) has been hit with recent negative sentiment on its home front in Israel, as the company deals with protests from a workforce none too pleased that under the helm of new Danish CEO Kare Schultz, 14,000 employees of the beleaguered biotech giant around the world and 1,700 within Israel are facing layoffs.
Yet, perhaps the Israeli pharma company hopes its news today will center the media buzz around something a little more positive: the forthcoming exclusive launch of a generic version of Reyataz (atazanavir) capsules in the U.S.
Atazanavir sulfate capsules are a protease inhibitor indicated for use in combination with other antiretroviral agents for the treatment of HIV-1 infection for patients 6 years and older weighing at least 15 kg.
"The exclusive launch of our generic version of Reyataz marks our fifth generic product offering for the treatment of HIV-1 infection," said Brendan O'Grady, Executive Vice President, North America Commercial at Teva. "Antiviral medications continue to be a focus for Teva Generics, and this is an important addition to our portfolio."
Source: Yahoo Finance
Why this news matters to traders: With nearly 600 generic medicines available, Teva has the largest portfolio of FDA-approved generic products on the market and holds the leading position in first-to-file opportunities, with over 100 pending first-to-files in the U.S. Currently, one in seven generic prescriptions dispensed in the U.S. is filled with a Teva generic product.
The stock has been in a strong down trend but is challenging resistance.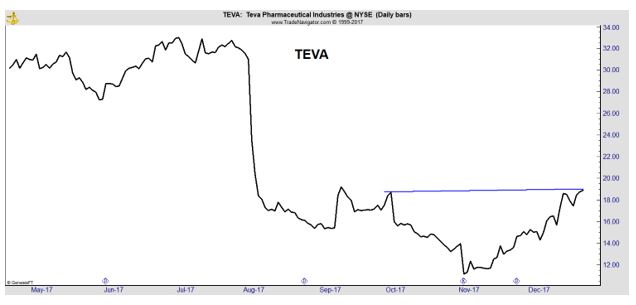 A break out the up side could be the beginning of a significant rally in the stock from a technical perspective.
Yeti sues Walmart — again — for allegedly selling knockoff products
Yeti Coolers LLC filed a lawsuit against Arkansas-based Wal-Mart Stores Inc., IPWatchdog reports. It alleges patent, trademark and copyright violations. Yeti claims Wal-Mart is selling products that look strikingly similar to its own but are actually knockoffs.
The suit, filed in the Western District of Texas, continues an earlier legal skirmish: Yeti had sued Wal-Mart in 2016 alleging intellectual property infringement but the two sides settled in March of this year.
Now Yeti says Wal-Mart has breached the settlement agreement by continuing to sell the similar products. The products include 20- and 30-ounce Rambler cups as well as a Koozie that keeps canned drinks insulated. Go here to download a copy of the suit.
Wal-Mart (NYSE: WMT) has not yet responded to the latest suit but the two sides agreed to dismiss all of Yeti's claims against the giant retailer in the March settlement, as long as Wal-Mart stopped selling the infringing products and provided proof to Yeti by Nov. 15. Yeti claims in the new suit those conditions have not been met.
Source: Biz Journals
Why this news matters to traders: WMT has been in a strong up trend as it challenges Amazon for retail dominance.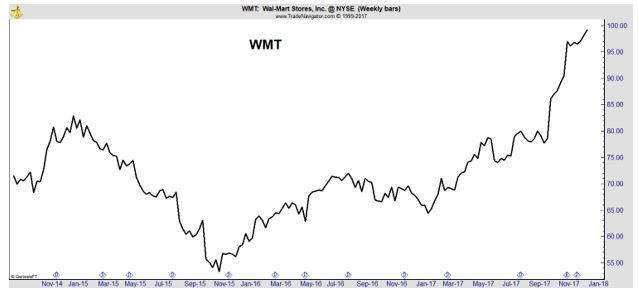 But, this lawsuit illustrates an important difference between the two companies. Wal-Mart can face liabilities that Amazon doesn't, since Amazon often serves as a market place rather than a traditional retailer. Although the lawsuit is unlikely to have a material impact on Wal-Mart's finances, it is worth watching to see if the retailer is able to break bonds with suppliers that create these issues.
Oil hits $60 a barrel for the first time in 2.5 years
Libya's state-run National Oil Corporation said the explosion jeopardized output by up to 100,000 barrels a day. The cause of the blast was unclear, the agency said. U.S. crude oil prices spiked up to 2.5% Tuesday to more than $60 a barrel, the highest level since June of 2015. Last month, oil prices jumped after the Keystone pipeline shut down following an oil spill.
Still, prices remain low compared with $100-a-barrel prices three years ago. There's been a glut of oil in recent years, forcing the Saudi-led OPEC cartel to cut production to lower supply. Oil crashed in 2014 and 2015 and reached a low of $26 a barrel in 2016. Prices slowly rebounded after the 14-member OPEC group agreed to limit production. OPEC agreed in November to extend those cuts until the end of 2018.
Libya is one of two countries in OPEC that doesn't have a cap on oil production because of unrest.
OPEC originally tried to flood the market with cheap oil in the face of the U.S. shale boom, but backpedaled on the strategy as it became clear it was waging a losing battle.
Source: CNN Money
Why this news matters to traders: Saudi Arabia is targeting a price of $75 a barrel and the news from Libya demonstrates the fragile nature of the market makes that target possible.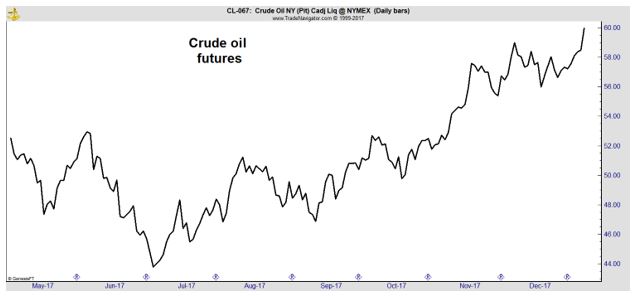 Higher oil prices could slow global economic growth and choke off market rallies around the world. A decisive breakout to the up side should be considered a warning for stock market investors.
Is the iPhone X a disappointment? Investors think so
Shares of Apple and its suppliers tumbled this week after multiple industry analysts predicted weak demand for the new flagship iPhone. Apple's (Nasdaq: AAPL) stock sold off on the reports/
The radically redesigned iPhone X was supposed to give Apple a boost following a couple years of sinking sales. Early sales reports were positive, and Morgan Stanley reported last week that the iPhone X is especially hot in China.
But the first wave of demand among Apple fanatics seems to have passed, and analysts are skeptical that more casual iPhone customers will upgrade to the iPhone X. Citing the iPhone X's super-high $1,000 price and confusing features, a Sinolink Securities analyst predicted that Apple will ship just 35 million iPhone X devices in the first three months of 2018, roughly 10 million fewer than previously expected.
JL Warren Capital now estimates Apple will deliver just 25 million iPhone Xs. Jefferies is slightly more bullish, expecting Apple to ship 40 million.
Source: CNN Money
Why this news matters to traders: Apple is the largest stock in the market and an important component in major indexes. A breakdown in the stock could doom the bull market.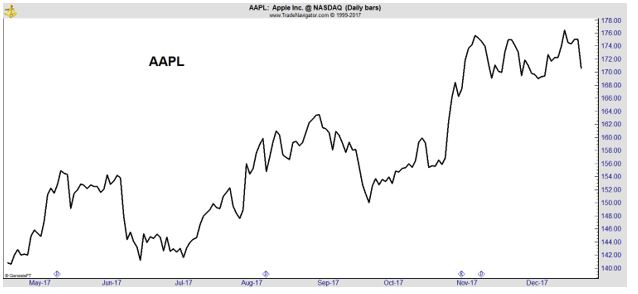 Traders should watch for a recovery in AAPL or be prepared to take defensive measures of resistance holds for the stock.
Workhorse Group Announces Intention to Spin Off SureFly Business
Workhorse Group Inc. (Nasdaq: WKHS), an American technology company focused on providing sustainable and cost-effective electric mobility solutions to the transportation sector, has announced its intention to spin off its aviation division, which includes its SureFlyTM personal helicopter, into a separate publicly traded company named SureFly, Inc.
SureFly, Inc. is currently an indirect wholly owned subsidiary of Workhorse. In conjunction with the overall spin-off plan, Workhorse expects to retain a portion of SureFly, Inc. common stock and will distribute a portion of such common stock pursuant to a dividend to existing Workhorse shareholders.
Third party investors, bringing new capital, will likely constitute the balance of the ownership of SureFly, Inc. 
Source: Yahoo Finance
Why this news matters to traders: WKHS has struggled since going public nearly two years ago.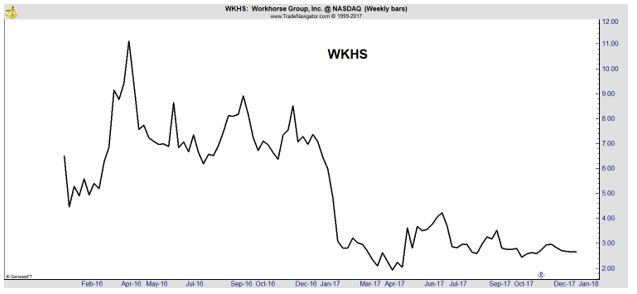 But, spinoffs can unlock value and this initiative could push the stock out of the bottoming formation seen in the chart for most of 2017.
RBS to pay $125 million to settle California mortgage bond claims
Royal Bank of Scotland Group will pay $125 million to resolve claims that it made misrepresentations while selling mortgage-backed securities to two large California pension funds, the state's attorney general has announced.
The settlement announced on Friday by California Attorney General Xavier Becerra was the latest by RBS aimed at resolving claims stemming from its sale of mortgage-backed securities, which were at the heart of the 2008 financial crisis.
Becerra's office said those securities were typically backed by thousands of mortgage loans of varying quality in which the buyer relied on the assurance that those mortgages were carefully screened and were not overly risky.
Source: CNBC
Why this news matters to traders: Settlements continue to lift the outlook for bank stocks.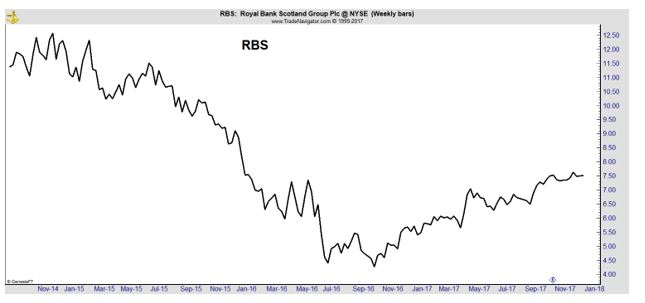 RBS is a potentially cheap play on Brexit and the ongoing recovery in Europe.
Please visit our blog at InvestingSecrets.com for more stock related news and services.