News Traders Can Use
CVS is reportedly buying Aetna for $69 billion
Aetna's (AET) board of directors has reportedly agreed to approve the sale of the health insurance giant to pharmacy chain CVS Health (CVS) in a $69 billion deal.  In recent weeks and months, Aetna CEO Mark Bertolini and CVS CEO Larry Merlo have both separately spoken publicly about problems in US healthcare and they both advanced solutions they've had in mind. The two, who are 'good' friends, even acknowledged that they talk to each other.
Their own words would suggest a merger between CVS, the drugstore retailer that also operates walk-in clinics and a pharmacy benefit manager, and Aetna, the nation's third-largest insurer, could the beginning of falling healthcare costs. "We are talking with CVS who has 9,000 stores within 3 miles of 80% of the American public," Bertolini said at a Fortune magazine event this spring. "Should [CVS] be in the business of seasonal items or DME? Why can't they be first stop outside the home in the community for healthcare when they are right around the corner?"
Source: Yahoo Finance
Why this news matters to traders:  The deal values Aetna at about n a cash-and-stock deal that values Aetna at about $207 a share and includes $145 in cash and 0.8378 shares of CVS. Traders could benefit from the deal, if it goes through, by taking positions in AET which is priced below that price.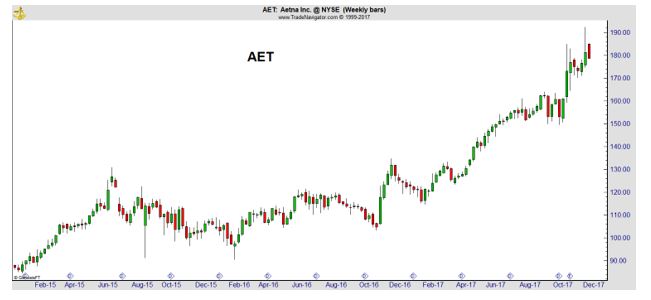 The steep discount indicates traders have significant doubts the deal will close.
AMD and Qualcomm Technologies to Support Always Connected PCs on Ryzen™ Mobile Platforms
AMD, today announced that they are working with Qualcomm Technologies, Inc. (QCOM) to bring smooth and fast PC connectivity solutions to AMD's high-performance Ryzen™ mobile processors, featuring the world's fastest processor for ultrathin notebooks1. With Qualcomm®  Snapdragon™ LTE modem solutions, AMD and Qualcomm Technologies will help make it easy for the leading global PC companies to create premium computing platforms with Always Connected, Gigabit LTE speeds alongside the AMD Ryzen mobile processors' blazingly fast performance, fluid graphics rendering, and optimal efficiency.
"Both AMD and Qualcomm have shown a consistent commitment to delivering products that redefine next-generation mobile user experiences," said Kevin Lensing, corporate vice president and general manager, client computing, AMD. "OEMs around the world will now be able to combine the recently announced AMD Ryzen mobile processors with Qualcomm Technologies' leading wireless solutions via their Snapdragon LTE modem family to achieve new levels of performance, connectivity and capability for ultrathin notebook PCs." 
"Qualcomm Technologies believes the Always Connected PC is the future of personal computing, and we are working with AMD to bring each company's expertise to bear for these exciting products," said Alex Katouzian, senior vice president and general manager, mobile, Qualcomm Technologies, Inc. "Combining AMD processors with our cutting-edge LTE connectivity technology results in Always Connected Client Notebooks for consumers in a mobile-first future." 
Source: Yahoo Finance
Why this news matters to traders: Qualcomm has been under assault from Apple and this partnership could provide a significant boost to the company.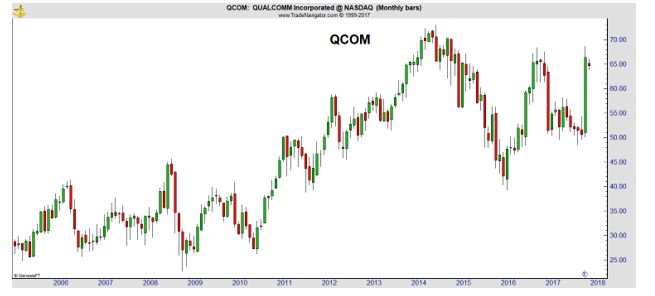 The stop is also the target of a buyout at $70 a share. That price could limit the upside of the stock for some time.
U.S. trade gap soars as imports from China hit record high
The U.S. trade deficit jumped 8.6 percent in October as imports from China and other suppliers hit a record high ahead of the holiday shopping season, a Commerce Department report released Tuesday showed. The monthly trade gap totaled $48.7 billion, the highest level for a full month since President Donald Trump took office on Jan. 20.
Imports of goods and services hit a record high of $244.6 billion as the U.S. economy continued to strengthen and suck in more goods from abroad. Imports totaled $48.2 billion from China, $39.4 billion from the EU and $28.7 billion from Mexico — all record highs.
U.S. exports totaled $195.9 billion in October, unchanged from September. However, exports to China hit $13 billion, the highest since December 2013. During Trump's recent visit to Beijing, U.S. companies signed contracts valued by the Commerce Department at around $250 billion. But it could be months before any of those transactions are reflected in U.S. trade data.
Source: Politico
Why this news matters to traders: A trade war has no winners according to economists. But, there is a risk of a trade war or at least sanctions against China. This could be traded with iShares FTSE China Index Fund (NYSE: FXI).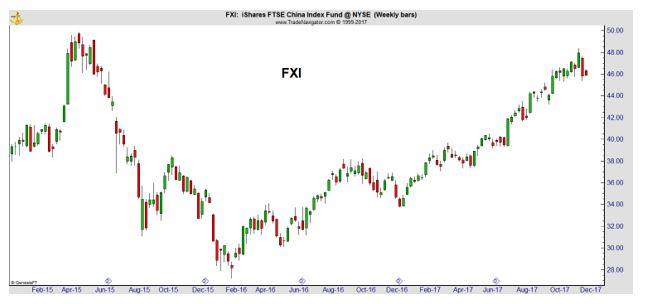 Put options could deliver gains if share prices drop.
Student Loan Debt Is Now As Big as the U.S. Junk Market
U.S. student loan debt now equals the size of the $1.3 trillion U.S. high-yield corporate bond market, presenting investors with a whole different range of risks.
"Delinquency rates on student loans are much higher than those on auto loans or mortgages, due to loose student loan underwriting standards, the unsecured nature of student debt, and the inability to charge off non-performing student loans in bankruptcy," Goldman Sachs Group Inc. analysts Marty Young and Lotfi Karoui wrote in a note Tuesday. "The substantial majority of student loan default risk is borne by the U.S. Treasury." 
While the trend of rising defaults on student loans doesn't pose "systemic financial risks," it does impact household behavior as the debt load itself hurts home ownership rates, Young and Karoui said. The share of student loan debt that is securitized, meaning it's backed by assets and known as asset-backed securities, is about $190 billion, according to Goldman Sachs. Of that, about $150 billion is linked to loans where the repayment of the principal is guaranteed by the U.S. government.
Source: Bloomberg
Why this news matters to traders: Student loan servicing companies like SLM Corporation (Nasdaq: SLM) could be among the biggest winners from this news.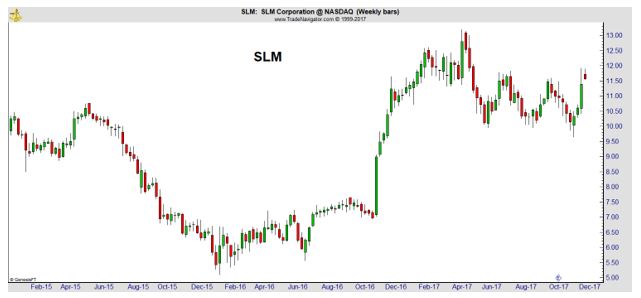 The chart shows that SLM has been forming a basing pattern over the past year. After the pattern is completed, technical analysts expect a price move that is at least equal to the depth of the pattern. This points to a price target near $16 and a potential gain of about 25% for SLM.
Mueller Subpoenas Trump Deutsche Bank Records
Special prosecutor Robert Mueller zeroed in on PresidentDonald Trump's business dealings with Deutsche Bank AG as his investigation into alleged Russian meddling in U.S. elections widens. Mueller issued a subpoena to Germany's largest lender several weeks ago, forcing the bank to submit documents on its relationship with Trump and his family, according to a person briefed on the matter, who asked not to be identified because the action has not been announced.
"Deutsche Bank always cooperates with investigating authorities in all countries," the lender said in a statement to Bloomberg Tuesday, declining to provide additional information. Deutsche Bank for months has rebuffed calls by Democratic lawmakers to provide more transparency over the roughly $300 million Trump owed to the bank for his real estate dealings prior to becoming president. Representative Maxine Waters of California and other Democrats have asked whether the bank's loans to Trump, made years before he ran for president, were in any way connected to Russia. The bank previously rejected those demands, saying sharing client data would be illegal unless it received a formal request to do so. Trump has denied any wrongdoing.
Source: Yahoo Finance
Why this news matters to traders: Mueller's probe has proven to be market moving. On the day retired Lt. Gen. Flynn pled guilty, stocks suffered a sharp selloff.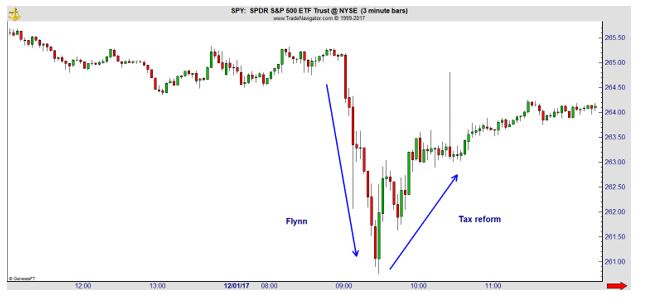 Later that day, news of tax reform led to a partial recovery. But, the danger of this investigation should not be underestimated by investors.
Please visit our blog at InvestingSecrets.com for more stock related news and services.