News Traders Can Use
UK approves OTC version of Pfizer's Viagra
The U.K. has become the first place in the world to allow Viagra, U.S. drug giant Pfizer's (NYSE: PFE) mega-selling erectile dysfunction treatment, to be sold over the counter and without a prescription. Men seeking out the little blue pill will be able to buy Viagra Connect—which has the same central ingredient as regular Viagra—for about £19.99 for a pack of four pills and £34.99 for an eight-pack at the pharmacy.
Pfizer has been fighting to get Viagra an over-the-counter designation in the U.K. for a while now. In fact, it made its first request for direct pharmacy sales of Viagra in the U.K. nearly a decade ago and has also tried to get the European Union to approve a change from prescription to over-the-counter status. Beginning in spring 2018, Pfizer says, the OTC version of Viagra will be available to consumers (as long as the pharmacist thinks it's okay for the individual).
Source: Fortune
Why this matters to traders: PFE has been in an up trend and this news could push the stock even higher.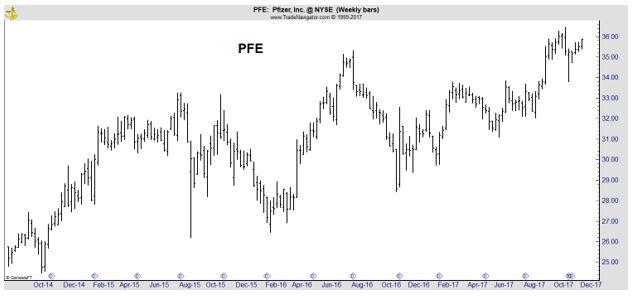 Even at a lower price, the OTC drug could add significantly to the company's sales and profits.
Hasbro-Mattel Merger Could Produce Big Profits
Hasbro (NASDAQ: HAS) is not playing around. One of the largest companies in the toy industry is looking to acquire major competitor Mattel (Nasdaq: MAT) according to a report from The Wall Street Journal. Mattel reportedly rejected Hasbro's first offer, but I could still see more effort to make a deal happen.
This is not the first time Hasbro and Mattel have considered a combination. The two sides have failed to come to terms in the past, but conditions today make a deal more appealing than ever. The toy industry has been thrown into a state of uncertainty over the past few years for a number of reasons, including:
The precipitous decline in revenue and profitability for Mattel
Increased competition from a number of different sides
Shifting trends among distribution partners
A Hasbro/Mattel merger could address some of these concerns and create significant profit growth opportunities through cross-licensing, increased bargaining power, and cost control.
Source: Forbes
Why this matters to traders: Mattel recently showed signs of bottoming.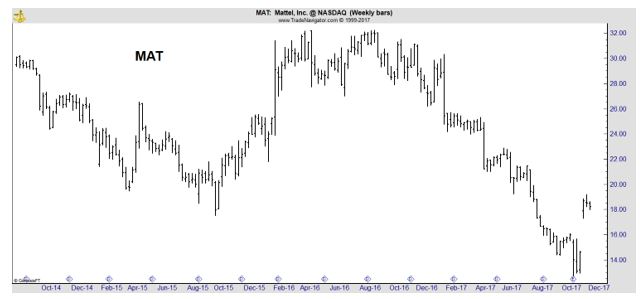 A merger is likely to involve a premium to the current price and that could set up a profitable trading opportunity in call options of MAT for aggressive traders.
Financials lead rally as GOP tax bill moves toward full Senate vote
Senate Republicans moved closer Tuesday to passing a bill to overhaul the nation's tax system after leaders began winning over potential opponents through a series of deals to resolve their concerns.
For Tennessee Sen. Bob Corker, worried that the tax bill would increase the federal deficit, it was the promise of a legislative "trigger" that would repeal the tax cuts if deficits appeared.
For Maine Sen. Susan Collins, it was the promise that separate legislation would be considered to offset the increase in health insurance premiums that is expected if the tax bill eliminates a key provision of the Affordable Care Act.
Senate Republicans emerged from a one-hour meeting with President Trump feeling optimistic that the tax-reform bill would pass in the next few days but acknowledged that the vote will likely be close.
Source: USA Today
Why this matters to traders: Financials tend to be market leaders and a rally in the sector is a sign that the bill market could continue for some time.
Financial Select Sector SPDR Financial ETF (NYSE: XLF) offers exposure to the sector.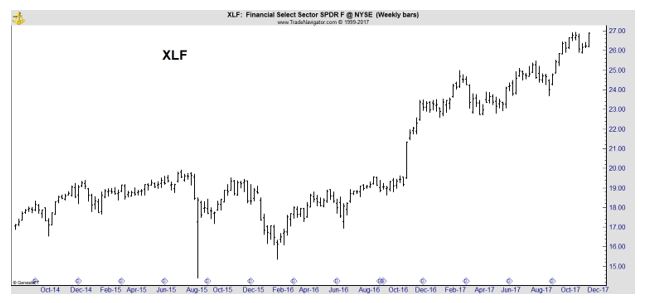 XLF is in an up trend and could provide additional gains as financials rally.
Warren Buffett's Biggest Winner in 2017 Is This Surprising Under-the-Radar Stock
Berkshire's largest holdings have been a mixed bag in 2017. Its biggest winner was the under-the-radar Moody's (NYSE: MCO), up a staggering 59% this year.
Buffett has owned Moody's for decades. He toughed out a major drawdown in 2008 and was rewarded with a huge (more than 870%) rebound since. It took improved earnings and a tripling of MCO's P/E to accomplish that feat.
Source: The Street
Why this matters to investors: MCO shows that large cap stocks can deliver extraordinary gains. From low to high, the stock gained more than 1,000% in less than ten years.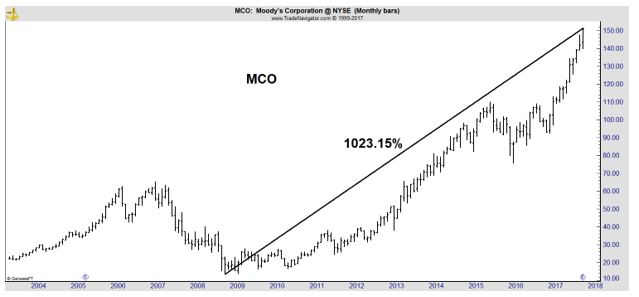 This lesson could be applied to Wells Fargo (NYSE: WFC), another beleaguered Buffett holding, in the future.
Dow's Merck Announces $10 Billion Buyback, Increases Dividend
Dow stock Merck (NYSE: MRK ) announced a $10 billion stock buyback Tuesday and will raise its quarterly dividend by a penny to 48 cents, citing its "strong balance sheet" and consistent performance. The board increased the quarterly dividend from 47 cents per outstanding share paid last quarter. Merck will pay the dividend on Jan. 8 to shareholders of record at the close on Dec. 15.
Merck last announced a dividend increase in November 2016 when the board upped the payment to 47 cents from 46 cents per common share. The board also authorized an additional $10 billion of treasury stock purchases with no time limit for completion, according to a press release.
Source: Nasdaq
Why this matters to traders Buybacks have been a bullish factor for the stock market and MRK's buyback program could be a significant factor in the stock's price for some time. The stock has been in a decline for the past few weeks and this news could provide support.
Income investors could find MRK attractive at this level.
Cyber Monday becomes largest online shopping day in US history
Digital transactions on Monday reached a record $6.59 billion, Adobe Insights unveiled Tuesday in its final update on the holiday weekend. That marks a 16.8 percent increase from a year ago and makes Monday the largest online shopping day in U.S. history.
Mobile also had a record day, Adobe found, saying smartphones have become the "de facto device" for on-the-go shopping. Mobile sales on Cyber Monday reached $2 billion for the first time. A record $5.03 billion was spent online during Black Friday, an increase of 17 percent when compared with last year, Adobe found. Top-selling items that day included the Nintendo Switch, Hatchimals, L.O.L. Surprise and ride-on cars for kids.
"People are really figuring out how to use their mobile devices," Mickey Mericle, vice president of Adobe's Marketing and Insights division, told CNBC's "Squawk Alley" Monday afternoon. "And retailers are figuring out how to optimize … for mobile," she added. "We're seeing the two come together."
Source: CNBC
Why this matters to traders: Finding winners and losers in the sector can be difficult. SPDR S&P Retail ETF (NYSE: XRT) could provide a low risk way to trade the sector.
XRT has been beaten down and appears to be forming a bottom. The ETF could be attractive to value investors.
North Korea Fires a Ballistic Missile
North Korea fired an intercontinental ballistic missile on Tuesday that flew both higher and longer than previous such launches, a bold act of defiance against President Trump after he put the country back on a list of state sponsors of terrorism.
The president reacted cautiously to news of the launch, stating, "It is a situation that we will handle."
But Defense Secretary Jim Mattis expressed greater concern, emphasizing what he said were technical advances on display in the 53-minute flight, which began when the missile was launched northeast of the capital, Pyongyang, and ended nearly 600 miles to the east, when it landed in the Sea of Japan.
"It went higher, frankly, than any previous shot they've taken," Mr. Mattis said in the White House, where he was taking part in a budget meeting with the president and Republican congressional leaders.
Source: New York Times
Why this matters to traders: North Korea's aggressive actions could roil South Korean stocks. The market appears to be overextended after a rally.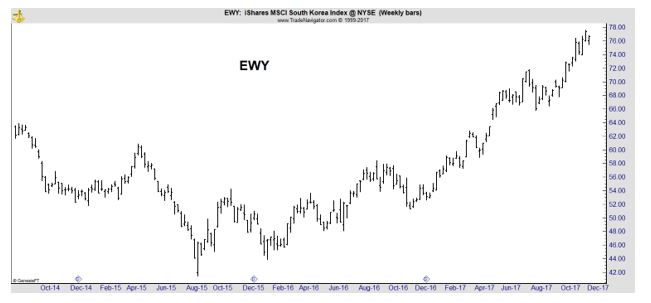 Put options on iShares MSCI South Korea ETF (NYSE: EWY) could provide a profitable opportunity if the situation in North Korea remains tense.