News Traders Can Use
Venezuela seeks to restructure debt
Venezuela's Nicolas Maduro has announced plans to make one final $1.1B principal payment today for a bond issued by state-owned oil company PVSDA. The country would then aim for a restructuring and refinancing, although it has few avenues to do so because of U.S. sanctions. Estimates of Venezuela's total outstanding debt vary, with some analysts putting the figure between $100B-$150B.
Source: Reuters
Why this matters to traders: Goldman Sachs (NYSE: GS) is known to have some exposure to the country's bonds. Goldman Sachs' asset management division is likely to be nursing a multimillion-dollar paper loss on a controversial Venezuelan bond purchase it made this summer after the country abruptly announced that it was seeking to restructure its foreign debts.
Ricardo Penfold, a senior portfolio manager at Goldman Sachs Asset Management, earlier this year swooped on a big slice of a bond issued by PDVSA, Venezuela's state oil company, people familiar with the matter say. Mr Penfold paid $865m for bonds with a face value of $2.8bn — a price of just under 31 cents on the dollar — reflecting the elevated risks of a default even at the time.
While GSAM has since sold off chunks of the bond, it was still listed as the single biggest overall owner of the PDVSA bond maturing in 2022, with a face value holding of $1.3bn at the end of the third quarter. The bond is now trading near 25 cents on the dollar, down from 29 cents at the start of last week. That would translate into a paper loss of $54m in just five days if GSAM has not reduced its stake since the end of the third quarter.
What's the Cost When Two Big Hurricanes Hit the Power Grid? $2.5 Billion
The nation's power utilities are just beginning to understand the costs of Hurricanes Irma and Harvey. NextEra Energy, the owner of the largest utility in Florida, estimated $1.3 billion in damages last week. Duke Energy estimated $500 million in damages in Florida, Southern Co. estimated $150 million. NRG Energy put their costs at $40 million and Texas' American Electric Power Co. put their costs at $250 million to $300 million. All told, about $2.5 billion.
Source: Bloomberg
Why this matters to traders: Utilities are among the most undervalued sectors in a stock market that is increasingly overvalued. The Utilities Select Sector SPDR ETF (NYSE: XLU) ETF has a price to  earnings (P/E) ratio of about 9.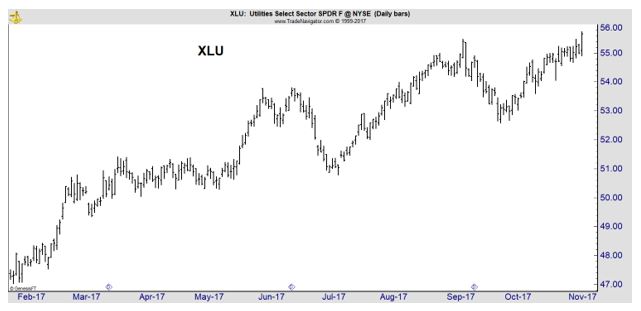 The stock chart shows signs of a breakout from a technical perspective making this an attractive sector for value investors to consider.
Gulf Stocks Lose $6.8 Billion in 72 Hours Amid Saudi Purge
Saudi Arabia's anti-corruption purge and deepening feud with Iran have spurred a selloff across Gulf stock markets to the tune of almost $7 billion, a sign of the volatility to come as governments in the region push ahead with reforms. The decline cut the combined market capitalization of bourses in the six-nation Gulf Cooperation Council to $910.7 billion, the lowest level in a year, according to data compiled by Bloomberg. Most major stock indexes in the region retreated on Wednesday, led by a 1.9 percent drop in Dubai's DFM General Index, the steepest in a year.
Source: Bloomberg
Why this matters to traders: There could be a strong recovery in the stock market if this matter is resolved. iShares MSCI Saudi Arabia Capped ETF (NYSE: KSA) offers exposure to the country.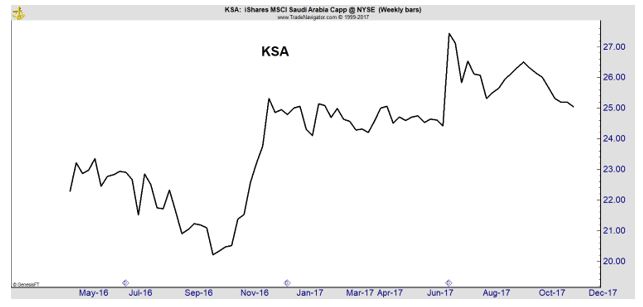 This ETF has just a limited trading history and is relatively small and illiquid so it may be difficult to trade.
China, Goldman Sachs to invest $5 billion in U.S. manufacturing
China Investment Corp., better known as CIC, asked Goldman Sachs (NYSE: GS) to partner with it on the private-equity fund, which will deploy money into manufacturing, industrial, consumer, healthcare and other U.S. businesses, the source said. It's not clear how much each firm will contribute to the fund. Goldman declined to comment, while CIC was not immediately available. News of the partnership, first reported by The Wall Street Journal, comes as Goldman Sachs CEO Lloyd Blankfein and other American business leaders join Trump this week in China and other Asian nations.
Source: CNN
Why this matters to traders: Traders could get direct exposure to US manufacturing with ETFs like iShares US Industrials ETF (NYSE: IYJ).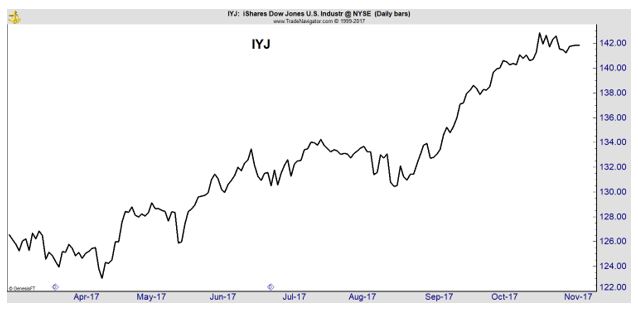 Over the past three years, this ETF has been more volatile than the broad market making it a possible option for conservative investors concerned about a pullback.
WeChat owner takes a big stake in Snapchat
Chinese tech giant Tencent has amassed a $2 billion stake in Snap NYSE: SNAP). The parent company of Snapchat said in a regulatory filing on Wednesday that Tencent and its affiliates have purchased over 145 million of its shares. That works out to a stake of just over 10%. Snap said in its filing that Tencent, which developed the hugely popular messaging platform WeChat, had informed the American firm that it "looks forward to sharing ideas." Tencent is one of China's biggest tech success stories. China Literature, an e-book company in which Tencent owns a majority stake, soared as much as 100% in its Hong Kong IPO on Wednesday.
Traders have been selling Snap after the company reported user growth is slowing and the Q3 loss more than tripled from a year ago. On a conference call following earnings, CEO Evan Spiegel revealed that Snapchat is working on a significant app overhaul even though it might be "disruptive to our business in the short term."
Source: CNN
Why this matters to traders: The stock sold off more than 15% on the earnings news.
Bargain hunters might be tempted but options could be the best strategy to use with SNAP in order to limit risk.
Twitter changes character limit
After experimenting with longer tweets in September, Twitter (NYSE: TWTR) is now doubling its longstanding 140-character count to all languages where "cramming" was an issue. "In addition to more Tweeting, people who had 280 characters received more engagement, got more followers, and spent more time on Twitter," the company said in a blog post. Users will see the change roll out over the next few days.
Source: Tech Crunch
Why this matters to traders:  The stock is beaten down and could be attractive to value investors.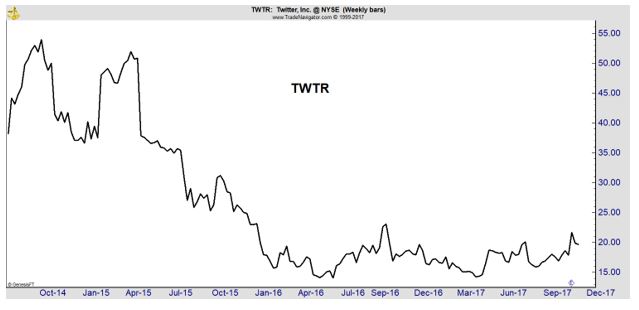 Once again, options should be considered to limit the risks of the trade. This is a stock that has fallen sharply and shows signs of a potential bottom but is subject to risk that advertising could drop. The increase in character limits could change the use of the platform and alienate some users, a risk the company has taken in pursuit of growth.
Lowe's
Lowe's has unveiled plans to launch so-called stores within its stores, in a partnership with software-powered retailer b8ta, to sell and educate shoppers on smart home products. In addition to the 70 Lowe's (NYSE: LOW) stores getting a complete "smart home" outfit, 1,000 locations will launch smart home displays ahead of Black Friday and the holiday shopping season.
Source: CNBC
Why this matters to traders: This move could boost sales at the retailer.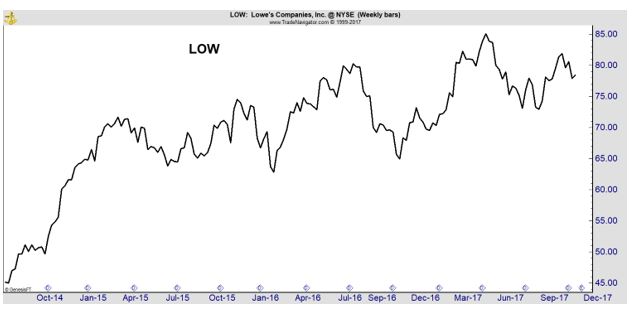 With the stock in an up trend, the news could be a catalyst to push prices to new all time highs.
UPS Joins Top Alliance To Create Blockchain Standards For Logistics
Blockchain may be well on its way to becoming the future of shipping and logistics after UPS (NYSE: UPS) joined the Blockchain in Trucking Alliance. "The technology has the potential to increase transparency and efficiency among shippers, carriers, brokers, consumers, vendors and other supply chain stakeholders," said Linda Weakland, UPS director of enterprise architecture.
Source: UPS
Why this matters to traders: UPS has stalled in the past few weeks after a strong up trend.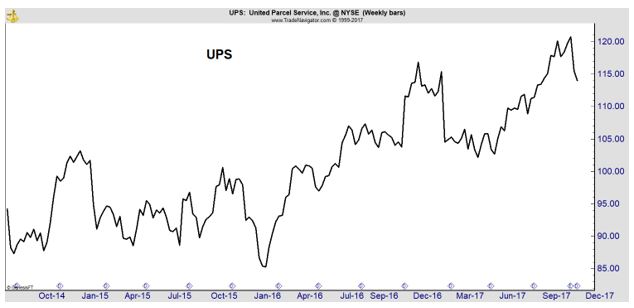 It's possible a significant change to operations could give the stock a boost in the next year.