News That Traders Can Use
Toshiba Considering Options for Selling Its Chip Unit
Toshiba Corp. investors approved the sale of its memory chip unit and backed the appointment of new board members over the objections of proxy advisers. Toshiba hopes to complete the sale of the chip unit by March, helping the company avert a capital deficit that could lead to its delisting.
The deal is being challenged by manufacturing partner Western Digital Corp. (NYSE: WDC) and still needs to receive regulatory approval. Toshiba is considering alternative options in case the sale doesn't close according to company officials.
Source: Bloomberg
Why this matters to traders: This deal has weighed on shares of WDC this year. The chart below shows that WDC has been in a trading range.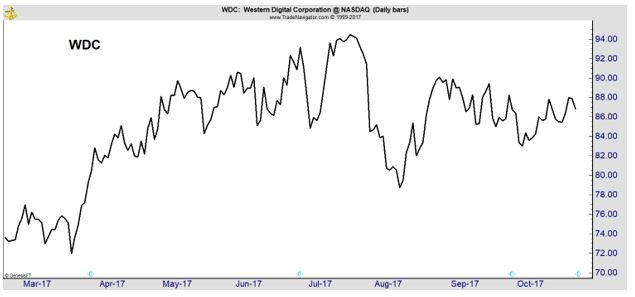 WDC also offers value. The stock trades at less than 8 times this year's expected earnings and could move sharply higher when this issue is resolved.
Tesla to build factory in China
Electric-car maker Tesla Inc. (Nasdaq: TSLA)  reaffirmed that it was speaking with the Shanghai municipal government to set up a factory in the region and expected to agree on a plan by the end of the year, but it declined to comment on a report that a deal had been reached.
China levies a 25% duty on sales of imported vehicles and has not allowed foreign automakers to establish wholly owned factories in the country, the world's largest auto market. Those are problems for Tesla, which wants to expand its presence in China's growing market.
Source: BusinessInsider
Why this matters to traders: TSLA's success could depend on China which is moving quickly to eliminate gas-powered vehicles. The stock needs a catalyst to break out of its trading range.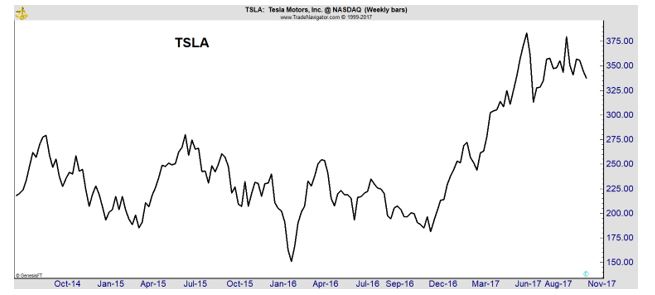 News from China could provide that catalyst, up or down. For now, it looks like a downside break is possible and TSLA could deliver quick gains for traders after a breakout.
Sprint's quarterly loss narrower than estimated; merger expected
Sprint Corp (NYSE: S) reported a narrower loss than analysts estimated as it added subscribers, and the wireless carrier declined to hold a post-earnings conference call amid expectations of a merger with rival T-Mobile US Inc (Nasdaq: TMUS).
Sources told Reuters this week that T-Mobile and Sprint were laying the groundwork for special committees of their boards of directors to decide on a merger between the third and fourth largest U.S. wireless carriers.
Sprint and T-Mobile are expected to announce an agreement in the first half of November to create a company with more than 130 million U.S. subscribers, just behind Verizon Communications Inc and AT&T Inc.
Source: Reuters
Why this matters to traders: This deal has been discussed for months. If it happens, there could be a big move in the stocks. For now, TMUS has the more bullish chart pattern and could be the best choice for traders.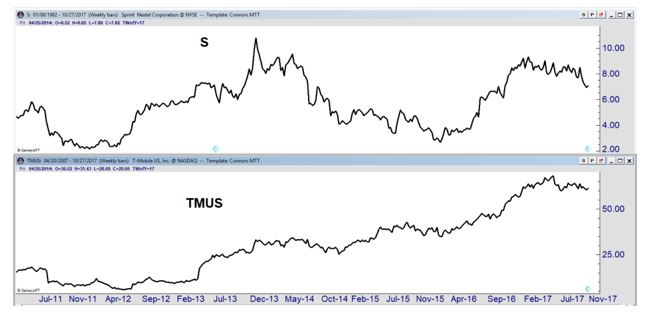 This may be a surprise given that rumors indicate S will be bought at a premium. The chart shows strength in TMUS and the possibility the premium may not materialize.
Walgreens beats Street 4Q forecasts
A drawn-out acquisition bid dented Walgreens' fourth-quarter profit, but the nation's largest drugstore chain topped expectations and it introduced a 2018 forecast that exceeds analyst predictions.
Walgreens Boots Alliance (Nasdaq: WBA) blamed termination fees and costs related to its pursuit of rival Rite Aid Corp. for a 22-percent drop in fiscal fourth quarter earnings, which fell to $802 million from $1.03 billion.
The company first announced a plan to buy Rite Aid in 2015, but regulators were reluctant to embrace a combination of the nation's largest and third-largest drugstore chains, and the $9.4 billion bid languished for more than a year before Walgreens ended it in June. The company agreed to pay a $325 million termination fee to Rite Aid and another $25 million to Fred's Pharmacy after it also ended a related deal.
Source: Associated Press
Why this matters to traders: Walgreens' stock price has stalled as investors awaited completion of the Rita Aid Deal.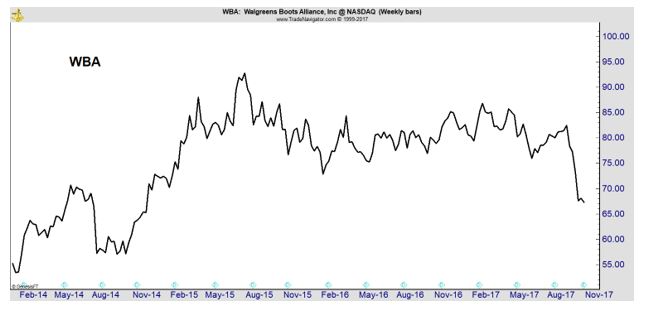 This earnings report and the strong guidance for 2018 could be an indicator the company is focused on the business it has rather than acquisitions. That could be bullish for the stock.
McDonald's Rolls Out Successor to Dollar Menu
McDonald's Corp. (NYSE: MCD), the world's largest restaurant chain, facing heavy competition in the U.S., will launch a new value-priced menu nationally next year. The lineup will offer items for $1, $2 and $3, the company said on Tuesday.
The rollout will provide a long-awaited replacement to the Dollar Menu, which was popular with customers but less so with McDonald's franchisees. The company has experimented with various discounts — including McPick 2 for $5, which let customers choose two items — in a bid to find something that wasn't too hard on the profit margins of restaurant operators.
Source: Bloomberg
Why this matters to traders: This news comes on the heels of a better than expected earnings report and indicates McDonald's management remains focused on providing the low cost meals that seem to be important to its customers.
This should allow the stock to continue climbing higher assuming the menu is well received by customers.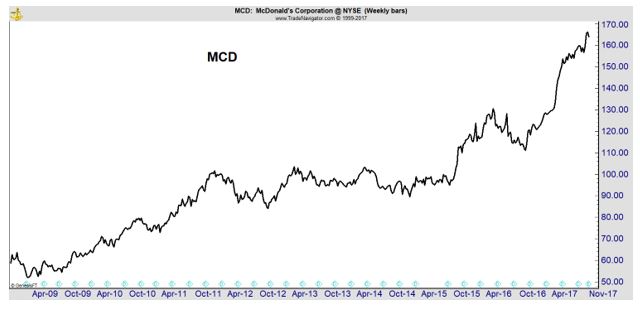 After a 48% gain in the past year, the stock could pull back but traders could use any weakness as an opportunity to build a long term position in the fast food giant.
China congress: No heir apparent as Xi reveals top leadership
China has revealed its new senior leadership committee, breaking with tradition by not including a clear successor to President Xi Jinping.
The omission cements Mr Xi's grip on leadership for the next five years, a day after his name and his teachings were written into the constitution. But it raises questions over whether Mr Xi, 64, intends to rule beyond 2022.
Source: BBC
Why this matters to traders: Xi's position is now secure and his policies seem likely to be maintained even after he leaves his leadership role. This indicates China could continue to grow as it has under Xi. That should be bullish for stocks.
Investors looking to China should consider ETFs like iShares FTSE China Index Fund (NYSE: FXI) which appears to be breaking out of a multiyear trading range.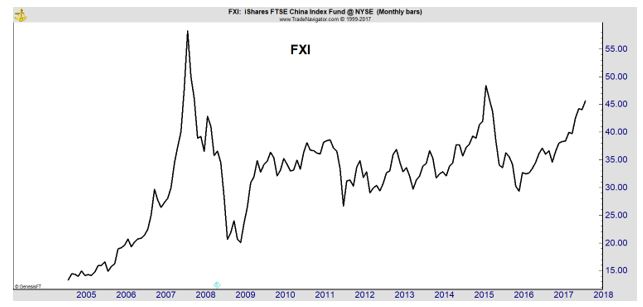 Japan's Shinzo Abe hails landslide victory in snap election
Japanese Prime Minister Shinzo Abe's ruling coalition won a clear majority with more than two-thirds of Parliament's 465 seats. His Liberal Democratic Party now holds a majority even without its coalition partner.
"We were able to earn the powerful support of the Japanese people, well surpassing our goal," Abe said at a press conference after Sunday's vote.
The win puts him on course to be post-war Japan's longest-ever serving prime minister, and Abe is expected to use his new mandate to push for overhauls to the country's defense strategy and pacifist stance.
Source: CNN
Why this matters to traders: Japanese stocks are trading at 21-year highs. This is shown below in the chart of the benchmark Nikkei 225 Index.