It Could Be Time to Reconsider Bitcoin
Not that long ago, bitcoin was considered the next big investment. According to NewsBTC.com, a crypto industry news site,
"In September 2017, Bank of America Merrill Lynch had asked 200 institutional investors what they believed was the most popular investment. A majority of them responded with "Long Bitcoin." That does not mean that participants were actively investing in the digital currency.
But it allowed a nascent market to realize its potential in Wall Street."
Many may recall that bitcoin was doing well at that time. Futures were being introduced and the chart below shows bitcoin at that time.
But the good times didn't last.
The Crash Could Signal New Opportunities
"A price boom and its subsequent crash later, the Bitcoin market is still waiting for the same thing: institutional investment. As it does, it has also experienced a glimmer of hope in various instances."
The longer term charts shows both the boom and crash.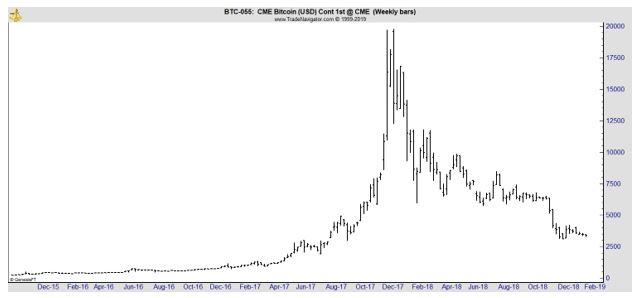 Now, there could be renewed interest in the cryptocurrency market. "Established financial institutions have started laying down the first foundation of mainstream bitcoin market. There is Fidelity, one of the world's largest asset manager, that will launch its cryptocurrency custody and trading services in Q1 2019.
There is Intercontinental Exchange which is close to starting the first physical bitcoin futures exchange dubbed as Bakkt. Meanwhile, the endowments of prestigious American universities (Harvard, MIT) feature crypto funds. The accomplishments go on."
These developments could be bullish for cryptos.
"Despite the strong fundamentals, the bitcoin market reflects tiny bullish sentiment these days. Following a crash action during November 2018, the Bitcoin-Dollar exchange rate had broken below $6,000-support, which many believe was the entry level for institutional investors.
However, the BTC/USD rate is now struggling to float above $3,000. No institutional investor is anchoring market whales. In short, the bitcoin hype is cracking.
Regulations Could Help Cryptos
One of the most significant issues preventing bitcoin's penetration into the mainstream is the lack of sophisticated infrastructure. According to P.A.ID Strategies, 68% of bitcoin exchanges across the US, and Europe is not KYC compliant."
KYC stands for know your customers and the rules associated with that are important to financial institutions.
Wikipedia explains, "Know your customer, alternatively known as know your client or simply KYC, is the process of a business verifying the identity of its clients and assessing potential risks of illegal intentions for the business relationship.
The term is also used to refer to the bank regulations and anti-money laundering regulations which govern these activities. Know your customer processes are also employed by companies of all sizes for the purpose of ensuring their proposed agents, consultants, or distributors are anti-bribery compliant.
Banks, insurers and export creditors are increasingly demanding that customers provide detailed anti-corruption due diligence information.
Pursuant to the USA Patriot Act of 2001, the Secretary of the Treasury was required to finalize regulations before October 26, 2002 making KYC mandatory for all US banks. The related processes are required to conform to a customer identification program (CIP)."
Many brokers and banks refuse to do business with firms that are not KYC compliant.
For the crypto market, NewsBTC continues, "Many of these exchanges cannot process larger transactions due to liquidity issues. For an institutional investor, the retail platforms are not enough.
"Cryptocurrency wallets and exchanges want to enjoy the same trust as the wider traditional financial services, but for this to happen they need to rise above the sometimes-dubious reputation of cryptocurrencies' past and be seen as 'model citizens' of the economy," said John Devlin, chief analyst at P.A.ID.
That leaves cryptocurrency exchanges to do the hard work to avoid their inherent ills of poor custodianship and market manipulation.
Tony Sio, head of regulatory surveillance and marketplace at Nasdaq, revealed that bitcoin exchanges were showing more initiatives to improve their services.
Sio told Business Insider that a lot of them reached Nasdaq for its SMARTS Trade Surveillance platform. Exchanges in traditional markets, as well as broker-dealers and regulators, use the platform to supervise trading and flag possible acts of manipulation.
However, Nasdaq also puts potential SMARTS customers through a screening process. Sio revealed that many a time they found crypto startups with weaker KYC/AML procedures.
"If you are a startup, it is quite hard to set up because it requires a fair bit of work to set it up fully in place," said Sio. "That is probably one of the sticking points."
Meanwhile, some of its crypto clients gained approval to install some Nasdaq technology, whether it be surveillance, clearing or trade matching engines. It proves that exchanges are putting efforts to match up to the sophisticated standards of traditional trading platforms.
As soon as they can offer that, institutional investors could find these crypto platforms more trustworthy and attractive.
The odds appear to be in favor of Bitcoin in the long-term. After all, a majority of institutional investors did choose "Long Bitcoin" as their favorite option. All they need is a more secure gateway."
Finally, A Buy?
This means now could be the time to consider crypto again. The chart below shows the recent price action.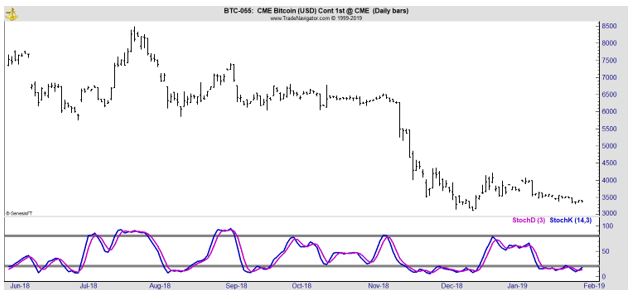 The price action appears to be consistent with a consolidation pattern that is often seen before a large move. The momentum indicator is also potentially bullish.
Momentum is shown as the stochastics indicator at the bottom of the chart. This indicator is at a low level and has been for weeks. This indicates the price level is oversold on a technical basis. Technical analysts expect oversold extremes to be followed by price moves to the up side.
Technicals argue that bitcoin could break out to the up side. This would be bullish for the crypto market since many of the currencies move in the same general direction as bitcoin.
In addition to technicals, the news supports a potential buy. Improving compliance with KYC rules could make the market more attractive to large investors. Fidelity's entrance into the markets could also boost credibility and acceptability.
It has been said many times that bitcoin looks bullish. But this time could be different and the long down trend could be near a reversal point.