Cryptos Continue to Show Signs of a Rebound
Bitcoin and other cryptocurrencies are on short term winning streaks. Bitcoin is up more than 20% from its December lows.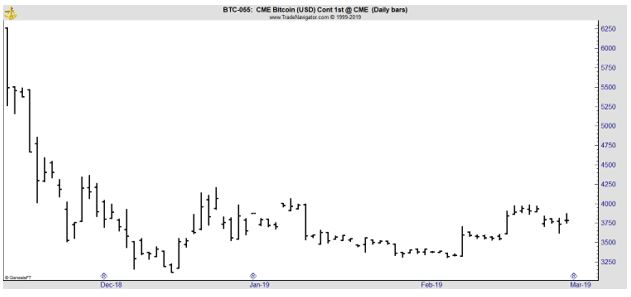 The gain comes as news about cryptos indicate more widespread acceptance of the currencies and the technology is possible.
Infrastructure Changes Improve the Market
Last week, according to MarketWatch, the ethereum network completed its latest software upgrade, known as Constantinople. The upgrade is intended to speed up processing times to address scalability issues — the ability of a blockchain to process transactions faster and more efficiently.
Ethereum is more volatile than bitcoin and is up more than 30% from the lows reached at the end of 2018.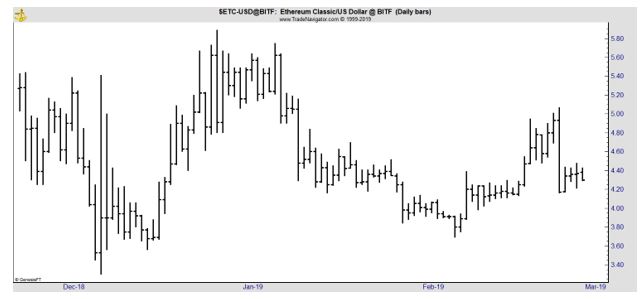 Analysts at BitOoda, a digital asset advisory firm, attributed the recent rally in Ether to the growing optimism around the upgrade, but warned investors, the euphoric rally may have come to an end.
"This event driven trade is now over, and in our eyes, it is difficult to come up with any reasonable thesis to have conviction for ETH to trade higher or lower," wrote Tim Kelly, founder and CEO of BitOoda. "We would be of the opinion to close out of this trade, sit tight, and wait for the next trade opportunity patiently."
Social Media Companies Boost the Market
Also last week, The New York Times reported that Facebook Inc. and other internet companies are planning to launch their own digital currency within the next year. Citing four people brief on the matter, the Times said Facebook had held conversations with exchanges about listing its coin.
Other companies pursing a potential digital currency are Signal and Telegram, the Times said.
"Truth is, this isn't that much of a revelation as some are making of it," wrote Mati Greenspan, senior market analyst at eToro. "The Times tells us that existing messaging platforms with a large user base have a much easier way of implementing new payment systems than those that need to start from scratch."
According to The Times, "Some of the world's biggest internet messaging companies are hoping to succeed where cryptocurrency start-ups have failed by introducing mainstream consumers to the alternative world of digital coins.
The internet outfits, including Facebook, Telegram and Signal, are planning to roll out new cryptocurrencies over the next year that are meant to allow users to send money to contacts on their messaging systems, like a Venmo or PayPal that can move across international borders.
The most anticipated but secretive project is underway at Facebook. The company is working on a coin that users of WhatsApp, which Facebook owns, could send to friends and family instantly, said five people briefed on the effort who spoke on the condition of anonymity because of confidentiality agreements.
The Facebook project is far enough along that the social networking giant has held conversations with cryptocurrency exchanges about selling the Facebook coin to consumers, said four people briefed on the negotiations."
This news is likely to have had just a small impact on shares of Facebook (Nasdaq: FB) but the stock is improving.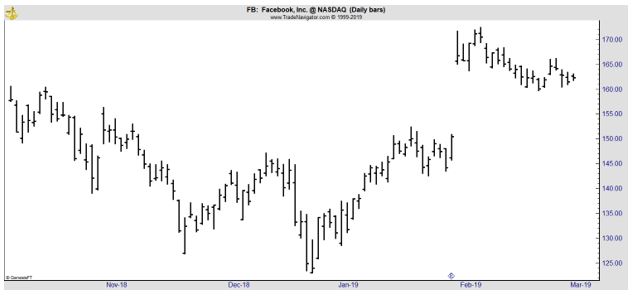 Banks Also Boost the Crypto Market
This news follows last month's announcement that big banks are also looking at cryptos. Then, The Times noted,
"In 2017, Jamie Dimon, JPMorgan Chase's chief executive, declared Bitcoin a "fraud" and said that any employee caught trading it would be fired for being "stupid."
On Thursday, JPMorgan became the first major United States bank to introduce its own digital token for real-world use, the latest step in Wall Street's evolving approach to the blockchain technology that underpins cryptocurrencies like Bitcoin and Ether.
Despite questioning Bitcoin's legitimacy, Mr. Dimon has said he recognizes blockchain's potential in the future of the global financial system. And JPMorgan has already released a blockchain platform, Quorum, that several institutions are using to keep track of financial data.
With the announcement of its coin, JPMorgan is widening its experiment and moving to make the idea of digital currencies more palatable to its typically risk-averse corporate customers.
"Clients engaged us, saying they need a way to move money onto the blockchain," Umar Farooq, who leads JPMorgan's blockchain efforts, said in a telephone interview.
The bank's token is unlikely to shake up the financial system anytime soon. Because it will be run by JPMorgan, it lacks the fundamental qualities that have made cryptocurrencies so radical: the freedom from middlemen and from regulatory oversight.
JPMorgan will control the JPM Coin ledger, and each coin will be backed by a dollar in JPMorgan accounts, giving the coins a stable value. That means JPM Coin will not be subject to the wild price volatility that has drawn speculators to other cryptocurrencies.
The bank is following in the footsteps of several smaller players that have introduced similar digital coins tied to the dollar. A consortium of European banks has been finalizing a similar product, Utility Settlement Coin, that would make it possible to move money between banks more quickly. Several cryptocurrency exchanges already have their own so-called stablecoins.
JPMorgan's version will be less useful than other similar products because it will not be possible to move it outside the firm's own systems, at least initially. What's more, it is still just being tested and is not available to clients yet.
JPMorgan's offering would be useful for big clients, but not for the smaller speculators who have typically taken an interest in cryptocurrencies.
"This is designed specifically for institutional use cases on blockchain," an analyst said. "It's not created to be for public investment."
Overall, this news all indicates that cryptos could be moving towards more acceptance and that should boost the value of the currencies.
The crisis in Venezuela also boosts the currency. The New York Times recently reported,
"The local market for Bitcoins broke a record on April 17, reaching $1 million worth on that day alone, Bloomberg reported. Venezuela has been ranking second worldwide in volume of activity on LocalBitcoins.com, after Russia.
According to Coin Dance, a website that monitors cryptocurrency transactions, during the week ending on Feb. 16, people in Venezuela traded about $6.9 million on LocalBitcoins.com, compared with about $13.8 million in Russia.
That's saying something for a country in its fifth year of a recession, whose economy contracted by some 18 percent in 2018."
Whether it's a crisis hedge or a means of commerce, bitcoin could be worth another look.
Did you know that dividends have rewarded investors for at least 100 years, at least since John D. Rockefeller said, "Do you know the only thing that gives me pleasure? It's to see my dividends coming in."
We have prepared a special report about dividends that you can access right here.