Bitcoin Isn't the Only Crypto Opportunity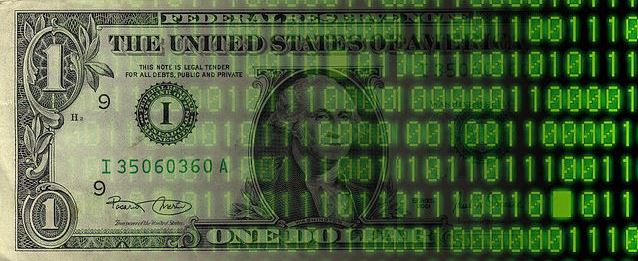 Many investors are interested in cryptocurrencies. This drives some to consider investing in bitcoin. That is the largest crypto and the one that offers the most accessible option for investors who can gain access through brokerage accounts with permission to trade futures.
Bitcoin is, of course, a possible alternative way to transact commerce. But, it has several problems that will need to be solved before it can be widely used. One is that processing transactions can take significant time, often an hour or more. This is clearly not something consumers will accept.
A Crypto Designed to Address the Processing Problem
XRP Ledger is a real time gross settlement system (RTGS), currency exchange and remittance network created by Ripple Labs Inc., a US based technology company. It is built upon a distributed open source internet protocol, consensus ledger and the decentralized native digital asset is known as XRP.
Released in 2012, XRP Ledger is designed to enable "secure, instantly and nearly free global financial transactions of any size with no chargebacks." It supports tokens representing fiat currency, cryptocurrency, commodity or any other unit of value such as frequent flier miles or mobile minutes.
At its core, the XRP Ledger is based around a shared and public database or ledger, which uses a consensus process that allows for payments, exchanges and remittance in a distributed process.
The network can operate without the Ripple company. Among its validators are companies, internet service providers, and the Massachusetts Institute of Technology.
Through Ripple's software like xCurrent or xRapid, the XRP Ledger is used by companies such as UniCredit, UBS and Santander.
The network has been increasingly adopted by banks and payment networks as settlement infrastructure technology, with American Banker explaining that "from banks' perspective, distributed ledgers like the Ripple system have a number of advantages over cryptocurrencies like bitcoin."
One reason for the acceptance is the rapid clearing time of transactions.

Source: Ripple
The System
Ripple recognizes that bitcoin is the market leader and interacts with the crypto.
The bitcoin bridge is a link between the Ripple and bitcoin ecosystems. The bridge makes it possible to pay any bitcoin user straight from a Ripple account without ever needing to hold any of the digital currency.
Additionally, any merchant accepting bitcoins has the potential to accept any currency in the world. For example, a Ripple user may prefer to keep money in USD and not own bitcoins. A merchant, however, may desire payment in bitcoin.
The bitcoin bridge allows any Ripple user to send bitcoins without having to use a central exchange such as BTC-e to acquire them. Bitstamp acts as a gateway for the Ripple payment protocol, among other exchanges.
This system is similar to the traditional payment system.

Source: Streemit.com
The Trading Opportunity
While Ripple offers a framework for transactions, it is not the trading opportunity. Traders can buy or sell XRP.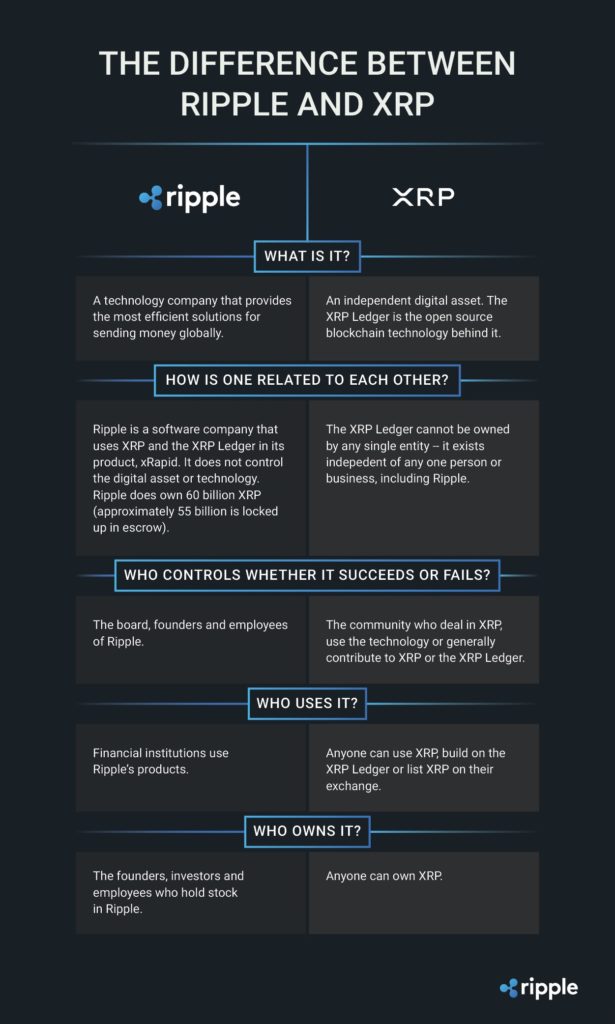 Source: Ripple.com
XRP is the digital asset native to XRP Ledger. The XRP Ledger is an open-source, distributed ledger. Ripple is a privately held company.
XRP is available for purchase on more than 60 digital asset exchanges worldwide. Every exchange has a different process for purchasing XRP. But, that is true of all cryptocurrencies.
The case to buy XRP is based on Ripple which was favorably mentioned by the Federal Reserve Bank of St. Louis, one of the 12 Federal Reserve banks which held a talk on bitcoin from a banking and economic viewpoint.
The session, entitled 'Bitcoin and Beyond: The Possibilities and the Pitfalls of Virtual Currencies', was presented by economist David Andolfatto, who is Vice President at the bank and a professor at Simon Fraser University.
Andolfatto offered some interesting insight into bitcoin from his perspective. Many aspects of the talk were positive about the digital currency, some were more negative, and overall the session was quite balanced.
Among the comments was one addressing protocols that move money digitally around the globe and Andolfatto noted, "Ripple is a currency-agnostic protocol. Ripple is the winner. It processes anything. It's quite possible this ruling benefits payment processors, rather than virtual currencies."
XRP Is Like Money
One of the reasons XRP has value in because of Ripple.
There are 100 billion XRP tokens that were issued by the Ripple company. At the moment, the company promises that this is the total number of XRP that there will ever be (though, technically, there is nothing to stop them from issuing more tokens in the future).
Ripple's hub-and-spoke design positions XRP in the middle as a tool that is fungible with any currency or digital asset, such as frequent flyer miles. According to BitcoinMagazine.com,
The value here is the Ripple network itself and its ability to move assets around the world quickly, rather than in the XRP token.
Banks are able to use the Ripple software to shift money between different foreign currencies. Currently, this is typically accomplished using SWIFT, a system that is cumbersome and relies on the banks having separate accounts in every country they work in.
Ripple says it has signed up more than 100 banks (compared to SWIFTs 11,000 financial institutions) including American Express."
With a recent market size of more than $13 billion, XRP is the third largest coin by market capitalization. It is volatile, as all crypto assets are.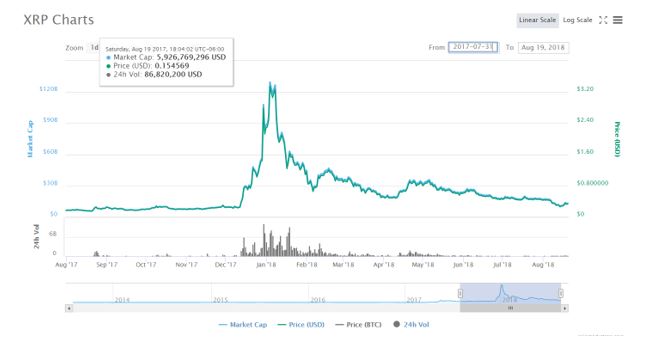 Source: CoinMarketCap.com
The chart above looks similar to the chart of bitcoin. That indicates that there is a high degree of correlation in the crypto asset class. That is true in the stock market and in the fixed income equity market. So, investors can expect similar trends in all cryptos in the short run.
But, in the long run, there will be winners and losers in the market. That is true in any new market. The winners are likely to be the largest players in the new field. For now, XRP is near the top of its field.
In addition, XRP is a bridge between the current financial system and the possible new developments that crypto assets offer. That could make XRP different and definitely worth considering for investors in this asset.