Artificial Intelligence: From Buzzword to Investment Strategy
Investment news, and even general news stories, tend to be filled with exciting buzzwords about technology. There are driverless cars in our futures, computers that are replacing humans in the decision process and robots ready to take all of our jobs. The common theme in these technologies is artificial intelligence.
Artificial intelligence is simply the idea of using computer programs to duplicate the brain's ability to learn and make decisions. We already use artificial intelligence, or AI, in many ways.
You might be reading this article after learning about it through email. That means an email made it into your inbox. But, you probably take steps to protect your inbox with a spam filter. That filter is an example of AI at work.
In the early stages of development, spam filters used simple rules like "filter out xyz." But, spammers realized that was happening and grew more sophisticated. That led to smarter filters, and then smarter spammers and a never ending battle is underway.
Spam filters need to continuously learn from the context of the message or other information contained in the email what is, and what isn't, spam. The task is complicated by the fact that the filter needs to allow emails you want to receive through the filter.
Programmers use AI for that task with great success. Google reports that, "In fact, less than 0.1% of email in the average Gmail inbox is spam, and the amount of wanted mail landing in the spam folder is even lower, at under 0.05%."
Of course, AI has more sophisticated applications and could be the theme of investment success for years to come.
Remember the Story of Levi Strauss
Levi Strauss achieved success in a memorable fashion. As the company explains:
"When news of the California Gold Rush made its way east, Levi journeyed to San Francisco in 1853 to make his fortune, though he wouldn't make it panning gold. He established a wholesale dry goods business under his own name."
Business schools can shorten the story to the simple idea that "you can mine for gold or you can sell pickaxes and blue jeans." History shows that in the Gold Rush many of the miners failed to find their fortune.
The Levi Strauss of AI includes chipmaker Nvidia (Nasdaq: NVDA) which sells AI processors to internet and tech companies engaged in cloud computing. This gives it a leading position in the AI industry while retaining steady income from its biggest business which remains producing cards for PC graphics and gaming.
NVDA has been a stock market leader for some time.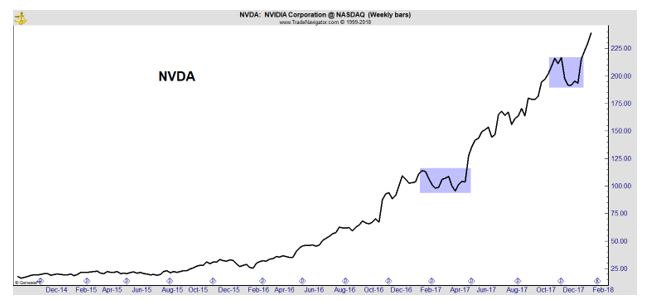 But, as the chart shows, the stock just broke out of a basing pattern which is highlighted in blue. This is similar to a pattern that formed last year, also highlighted in blue, which preceded a significant run in the stock.
"You hear Nvidia as probably the most horizontal play for AI, because it's an enabling infrastructure for processing all the data," said Derrick Wood, a Cowen & Co. analyst. "There are enablers and companies that are harnessing AI into their products, weaving it into the cloud in a way that they can monetize, like Salesforce. There's data ingestion, helping companies pull in lots of data for processing."
Salesforce Powers Businesses
Salesforce.com, inc. (NYSE: CRM) provides enterprise software, delivered through the cloud, with a focus on customer relationship management (CRM). The company focuses on cloud, mobile, social, Internet of Things (IoT) and artificial intelligence technologies.
Salesforce's Customer Success Platform is a portfolio of service offerings providing sales force automation, customer service and support, marketing automation, digital commerce, community management, analytics, application development, IoT integration, collaborative productivity tools and its professional cloud services.
This all in one tool allows companies to increase productivity. This stock has also been a market leader in the past few years.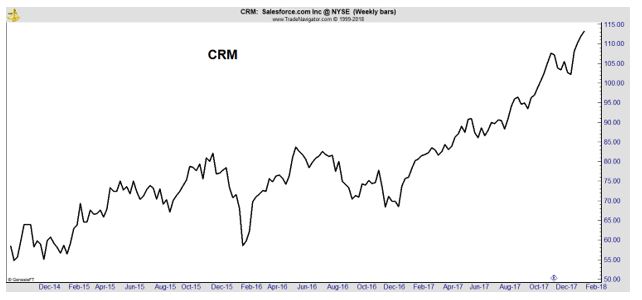 Like NVDA, the chart shows a recent breakout from a consolidation that appears to be point to more gains in the stock.
Big Blue Is Also In AI
International Business Machines Corporation (NYSE: IBM) is a leader in computer systems and has been for decades, since the computer was invented. It's not surprising the company is also finding success in AI.
IBM Watson is an AI system with multiple applications. The software platform became well known when it appeared on the television show Jeopardy! in 2011. Watson competed against former winners Brad Rutter and Ken Jennings. The AI system won the first place prize of $1 million.
To compete on the show, Watson had access to 200 million pages of structured and unstructured content consuming four terabytes of disk storage including the full text of Wikipedia. It was not connected to the Internet during the game.
In February 2013, IBM announced that Watson software system's first commercial application would be for utilization management decisions in lung cancer treatment at Memorial Sloan Kettering Cancer Center, New York City.
H&R Block also employs Watson. The technology "was used by H&R Block's tax professionals in tax season 2017 to help deliver the best outcome for each unique tax situation, while helping clients better understand how different filing options can impact their tax outcome."
IBM could be attractive to value hunters. The stock is nearing a breakout point.
The List Goes On
Investors can also obtain exposure to AI through tech companies that use AI tools to make their own products to better. Video streamer Netflix (Nasdaq: NFLX) uses AI to make program recommendations to subscribers.
Payment processor PayPal (Nasdaq: PYPL) uses AI tools in fraud detection as do credit card giants Mastercard Incorporated (NYSE: MA) and Visa Inc. (NYSE: V). Banks are also using the technology to fight fraud and improve internal processes such as loan underwriting.
Social media giants including Facebook, Inc. (Nasdaq: FB) and Twitter, Inc. (NYSE: TWTR). These companies use AI in targeted advertising and facial recognition tools which drive, among others things, photo sharing apps.
These companies are also using AI to fight the problems they encountered in recent elections where fake news stories spread quickly.
The future most likely includes large winners in AI. Cowen & Co. analyst Woods noted "But, it's very early. We haven't seen many vendors with material monetization." That means there will be losers, but potentially some very big winners in the sector.