Analysts Say Look at This Sector as Stocks Rebound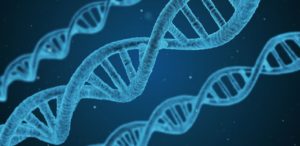 Stocks fell sharply over the past week. The S&P 500 dropped 9.5% below its all time high. The Dow Jones Industrial Average dipped 10.7% below its high and the Russell 2000 index which tracks small cap stocks declined 10.2%. These selloffs mark the first 5% decline since 2016.
Now that the pull back many investors had been waiting for is in place, it could be time to refocus on potential buying opportunities. One of the sectors that was hard hit in the sell off was the biotech sector.
The chart below shows the Nasdaq Biotech index. The index dropped 11.6% in a little more than a week as sellers seemed to panic.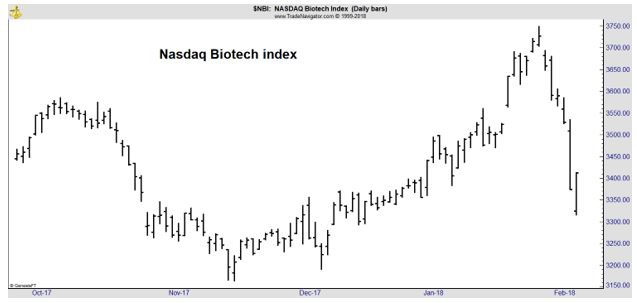 The steep decline obviously makes some stocks more reasonably valued since there were no significant changes to the fundamentals over that time. The market decline appears to have been an emotional response rather than a response to changes in the economy or earnings power of stocks.
Potential Bargains in the Sector
RBC analyst Brian Abrahams told clients that there are some "opportune entry points" for certain biotechs stocks with data and/or approvals expected in 2018. Among the stocks that analysts like in the sector are Celgene (Nasdaq: CELG), Vertex Pharmaceuticals (Nasdaq: VRTX) and Incyte (Nasdaq: INCY).
His outlook for Celgene is positive after what he noted were a "few missteps in the second half of 2017." Among those missteps was a report that sales of the company's psoriatic arthritis drug, Otezla, fell in the third quarter.
"We're very disappointed with the results of the quarter and are committed to rebounding very quickly with respect to Otezla and our overall performance," Chief Executive Mark Alles said at the time, adding the drug's problems were "a major disappointment."
Otezla sales of $308 million in the quarter missed analyst estimates by over $100 million. The company blamed slowing growth in both the psoriasis and psoriatic arthritis markets in the U.S. due to reimbursement challenges from insurers.
After that, Celegene lowered its full-year Otezla sales forecast to $1.25 billion, from a previous range of $1.5 billion to $1.7 billion.
Sales of that drug rebounded in the fourth quarter as sales hit $371 million, up almost 22% from the same period a year earlier.  But, the stock failed to recover.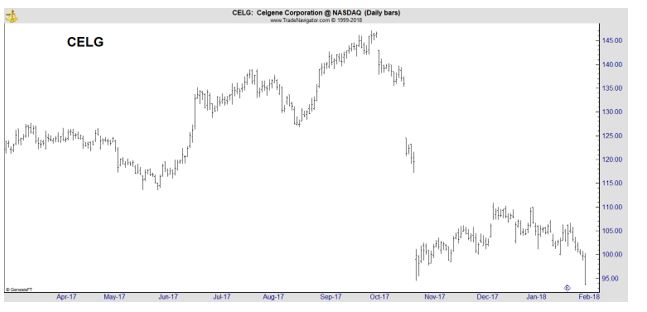 The stock now trades at about 9.2 times this year's expected earnings per share of $10.28. Historically, the average price to earnings (P/E) ratio for biotech stocks has been about 25.
The low valuation stands in stark contrast to the company's potentially bright future. Cancer drug Revlimid, the company's biggest selling drug, faces generic competition starting in 2022. To offset that risk, Celgene recently announced its plan to acquire the remainder of Juno Therapeutics.
Adding Juno to its research pipeline, Celgene is now in the CAR-T business. CAR-T therapies teach the immune system to identify and fight cancer. But, there is little urgency to replacing Revlimid which enjoys at least some patent protection until 2026,.
This year, Abrahams, the RBC analyst, sees a number of potential catalysts including additional data for Revlimid in treating lymphoma and late-stage data for drug luspatercept, a blood disorders drug Celgene is partnering with Acceleron Pharma to bring to the market.
Two More Biotech Ideas
Vertex is also on the analyst's list of potential buys.
Abrahams says Vertex was "a victim of bad timing." Vertex recently reported strong data for its triple-combination regimens in cystic fibrosis. But the data came out just as the broader markets were beginning to turn and the stock is now down 10%.
Strong effectiveness from drugs known as VX-659 and VX-445 in two triple regimens heading into Phase 3 studies support the likelihood that Vertex can expand into a tough-to-treat population of cystic fibrosis patients, he said.
It also enables "multiple additional shots on goal and sets a bar that will be difficult to match or beat — and with significant lead time — likely rendering mid-year competitive data from Galapagos (GLPG) (an overhang on Vertex shares) much less impactful."
He raised his price target on Vertex to $200, a potential gain of about 25%.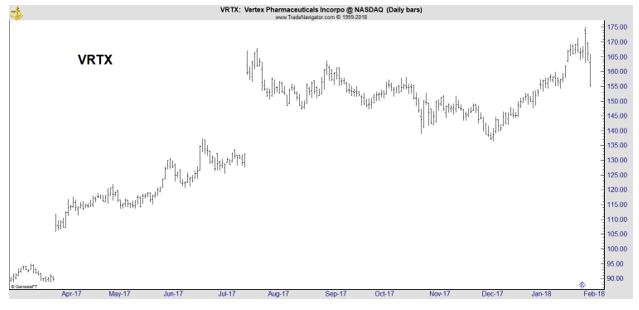 Incyte is a third possible buy candidate. Incyte is set to read out data from a Phase 3 trial known as Echo-301 in the first half of 2018. The study combined Incyte's immuno-oncology drug epacadostat with Dow stock Merck's Keytruda in late-stage melanoma.
Both drugs belong to a class known as immuno-oncology treatments. Epacadostat works to block interactions involving the IDO enzyme in the immune system. Keytruda is called a PD-1 inhibitor, which has a similar interaction with the PD-L1 protein.
Instinet analyst Christopher Marai expects the trial will read out positively and could be similar to a regimen of Bristol-Myers Squibb's drugs Opdivo and Yervoy. Bristol is also combining these drugs to treat other cancers, including advanced lung cancer.
If so, "epacadostat could become part of the standard of care in metastatic melanoma with broad adoption augmenting current anti-PD-1 use," he said in a note to clients. That could lead to peak worldwide sales north of $1 billion in melanoma alone for epacadostat.
But, that could be an optimistic outlook for the drug and that view is not shared by all analysts.
RBC's Abrahams says eventually nearly all the value for epacadostat will soon be gone from Incyte's shares. He sees $65 per share for Jakafi, which treats a bone marrow disorder, and $8 per share for Olumiant, a rheumatoid arthritis drug co-developed with Eli Lilly.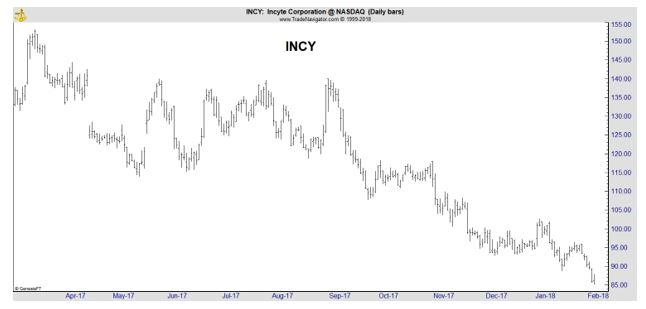 Other factors weigh into the price target for INCY but that would be a significant decline from current levels.
Implementing a Trading Strategy
That is a reminder that there is significant risk in the biotech sector and traders should never ignore risks. However, the sector does offer the potential to deliver significant gains if the stock market trading recovers, since many of the stocks in the sector are favorites of momentum investors.
Investing in stocks is a balance between the potential risks and rewards. It could be best to build a diversified portfolio, especially in biotechs where a single report on a drug trail could move the stock significantly in moments.
Options also offer a way to trade the sector. Call options on CELG and VRTX could be paired with put options on INCY, for example. This trade would be less expensive to open, carries defined risk, and could provide gains whether the market goes up or down in the coming weeks.