Amazon Could Be the Next Walmart
Amazon (Nasdaq: AMZN) has been a great stock market performer and great performance often leads to skepticism. Investors become concerned that the growth cannot continue. That can be a healthy attitude for investors to maintain. Not all companies can continue to grow rapidly even after delivering growth.
These concerns could be overblown in the case of Amazon. The company's operating profits are shown below and the trend appears to be moving in the right direction.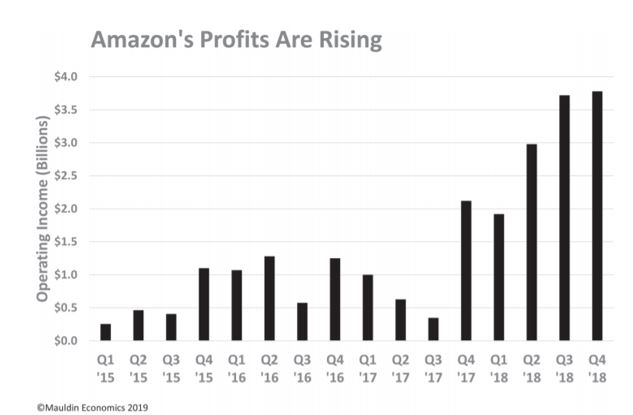 Source: Mauldin Economics
Of course, this chart shows past growth. To continue growing in the future, Amazon could benefit from new ideas. Recent reports indicate that Amazon could be following in Walmart's historic footsteps.
Analysts note that Walmart "grew from one retail store in Arkansas in 1962, founded by Sam Walton, to the largest food retailer in the U.S. for 2010 with an estimated $188.3 billion in total food/consumable sales.
In 1987 Wal-Mart opened larger Hypermart USA stores which combined a grocery store, a merchandise market and other services such as restaurants and video rental stores.
Sales volume averaged $1 million per week at the Hypermart stores compared with $200,000 for the regular stores.
The store spread across the country like wildfire. But its first full-stocked grocery didn't open until 1988. The first Wal-Mart Supercenters opened in 1988 which combined the discount outlets and grocery stores. Hundreds of supercenters were opened during the 1990s."
The Next Move For Amazon
Now, according to The Wall Street Journal, "Amazon.com Inc. is planning to open dozens of grocery stores in several major U.S. cities, according to people familiar with the matter, as the retail giant looks to broaden its reach in the food business.
The company plans to open its first grocery store in Los Angeles as early as the end of the year, one person said. Amazon has already signed leases for at least two other grocery locations with openings planned for early next year, this person said.
The new stores would be distinct from the company's upscale Whole Foods Market brand, though it is unclear whether the new grocery chain would carry the Amazon name.
Amazon is also exploring an acquisition strategy to widen the new supermarket brand by purchasing regional grocery chains with about a dozen stores under operation, one person said.
Amazon is now in talks to open grocery stores in shopping centers in San Francisco, Seattle, Chicago, Washington, D.C., and Philadelphia, the people familiar with the matter said.
While Amazon has already signed leases, that doesn't guarantee it will open the grocery stores. Retailers sign contracts and then pull out or delay store openings if certain conditions aren't met.
The new stores aren't intended to compete directly with Whole Foods and will offer products at a lower price point, these people said. The new chain would offer a different variety of products than what is on the shelves at the more upscale Whole Foods stores.
Whole Foods doesn't sell products with artificial flavors, colors, preservatives and sweeteners, among other quality standards. Suppliers with big brands have hoped that Amazon's 2017 purchase of Whole Foods would give them new inroads into the high-end chain.
Whole Foods has gradually expanded the big brands it carries—such as Honey-Nut Cheerios and Michelob beer—but the grocer's quality standards haven't changed. A conventional grocer can carry a much larger assortment of items.
Amazon is also increasingly focused on physical retail. It has had mixed results with its food-delivery business, and the company wants to better understand how it can cater to grocery shoppers, according to people briefed on the company's strategy.
Supermarket operators Walmart Inc., Kroger Co. and others are also trying to find ways to offer delivery and pick-up to customers in a more cost-efficient manner.
Amazon has been targeting new developments and occupied stores with leases ending soon. It could also look at a portion of a vacated Kmart, for instance, a person familiar with the matter said. Stores in the new grocery brand could be in strip centers as well as open-air shopping centers, the people said.
They will be about 35,000 square feet, smaller than the 60,000 square feet for a typical supermarket, they said."
The Competition Reacts
After The Wall Street Journal reported news of Amazon's plans, the stocks of other supermarket operators fell, according to Barron's. Kroger dropping 3.6% on the day, Walmart down 1% and Sprouts Farmers Markets Inc. losing 1.1%. Amazon rose 1.4%.
Amazon's new grocery brand also comes as the retailer rolls out its cashierless Amazon Go stores in urban areas across the U.S. The company has 10 Amazon Go stores in Seattle, Chicago and San Francisco, according to the Amazon website.
A look at Walmart could be instructive for investors. The company now has over 11,000 stores in 28 countries. The stock has been a great performer. Since shares began trading in 1972, the stock has gained more than 268,000%.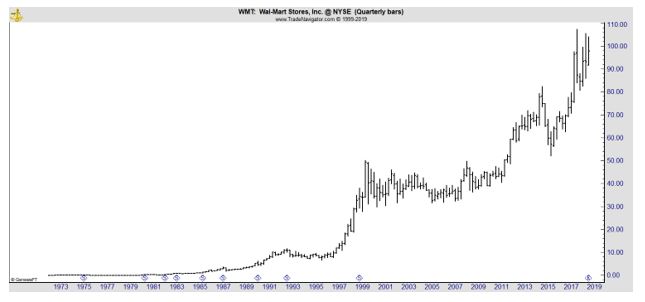 The stock has delivered a gain more than 2,000% since it opened its 1,000th store in the 1980s. By that time, the company's success seemed to be assured and the stock carried much less risk than it did in 1972.
This could be the point that Amazon is at. The stock has gained more than 150,000% since it began trading in 1997.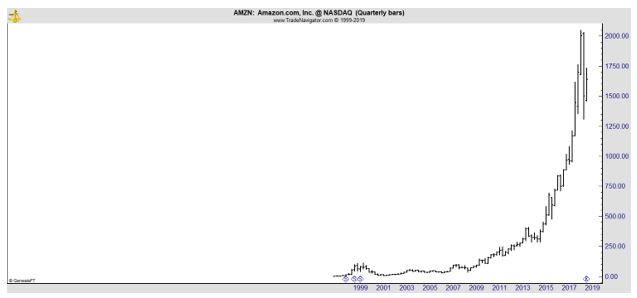 Yet it offers the potential to become a ten bagger from its current level.
A tenbagger, according to Investopedia, is an investment that appreciates to 10 times its initial purchase price. The term "tenbagger" was coined by legendary fund manager Peter Lynch in his book "One Up On Wall Street."
While tenbagger can describe any investment that appreciates or has the potential to increase ten-fold, it is usually used to describe stocks with explosive growth prospects.
Lynch coined the term because he is an avid baseball fan, and "bag" is a colloquial term for base; thus "tenbagger" represents two home runs and a double, or the stock equivalent of a hugely successful baseball play.
Amazon's expansion into new businesses carries the potential to increase earnings and that could lead to even more stock gains, even after the big gains of the past.
Did you know that dividends have rewarded investors for at least 100 years, at least since John D. Rockefeller said, "Do you know the only thing that gives me pleasure? It's to see my dividends coming in."
We have prepared a special report about dividends that you can access right here.