After a One Day Drop of More Than 50%, Is This Company a Buy?
It's unusual to see a multi-billion-dollar company lose more than half of its value in one day. But that happened when Stamps.com (Nasdaq: STMP) announced that it would be expanding its base of business partners.
While that seems to be a possibly favorable announcement, the news was bearish to investors. The company saw its market capitalization drop from over $3 billion on the announcement.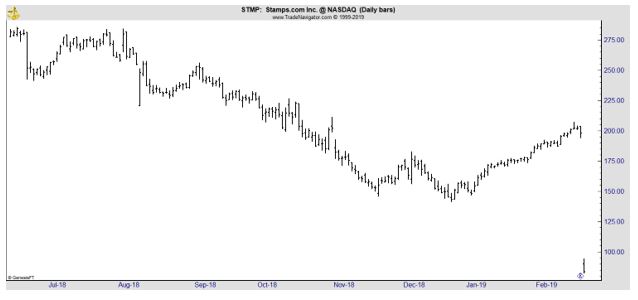 Amazon Forced the Change
CNN reported that "Stamps.com says it is ending an exclusive relationship with the US Postal Service, sending shares of its stock plunging more than 50%.
The company says Amazon is disrupting the shipping business, and it needs to do shipping deals with postal service competitors going into the future.
Amazon has popularized two-day shipping with its Prime service, and Stamps.com says its customers demand two-day shipping guarantees. FedEx (NYSE: FDX), UPS (NYSE: UPS) and DHL offer those guarantees. The Post Office doesn't.
"One of our nonnegotiable items is that … we will no longer be exclusive to the USPS," said CEO Kenneth McBride in a call with analysts on Thursday evening. "USPS has not agreed to accept these terms or any other terms of our partnership proposal."
McBride said Stamps.com opted to discontinue its shipping partnership with the Postal Service so it can "fully embrace partnerships with other carriers who we think will be well positioned to win in the shipping business in the next five years."
The CEO added that "Our customers are demanding and need 2-day delivery guaranteed" and "In the last month … Amazon came out and they said, 'Hey, we're going after shipping'"
Stamps.com will still allow its customers to print out stamps, but McBride said that decision to end the exclusive deal will cause "some short-term pain for us over the next few years."
He said that it now expects revenue to fall as much as 8% this year. Analysts forecast had forecast sales would grow by more than 16%.
McBride said a key reason why Stamps.com made its decision to end the Postal Service partnership was Amazon publicly stating it will get into the delivery business itself.
"Amazon's track record of disrupting an industry is well established. So their threat should be taken very seriously by every player in the shipping industry," he said. "We are setting our corporate strategy assuming Amazon will be a big global player in shipping."
New Opportunities
Barron's noted that "the company will no longer use the Postal Service to deliver stamps to customers, and instead will seek to make shipping deals with companies such as FedEx (FDX) and United Parcel Service (UPS). Customers can still print their own postage using the online provider.
Amazon's Prime service has popularized two-day shipping among customers, and FedEx, UPS, and DHL offer similar guarantees. The Postal Service doesn't."
The news "wiped out $2 billion in Stamps.com's market value and sent its shares to their lowest level since August 2016 even though the company reported a 29% year-over-year jump in revenue, to $170.2 million, for its fiscal fourth quarter.
Stamps.com ended its USPS deal so it "fully embrace partnerships with other carriers who we think will be well positioned to win in the shipping business in the next five years," CEO Kenneth McBride said on a conference call with analysts."
But this could be a transformative event for the company. "in its annual 10-K filing, the e-commerce powerhouse made it clear it is adding "transportation and logistics services" to the arenas in which it competes.
At least two analysts cut their ratings on Stamps.com.
The company's strategy shift "will take heavy investment in order to re-establish new deals with strategic carriers in order to restore growth over the long-term," Roth Capital Partners analyst wrote in a research note on Friday. He downgraded the stock to Sell from Buy and slashed his price target to $78 from $260."
Investors could consider the companies STMP plans to partner with, including FDX.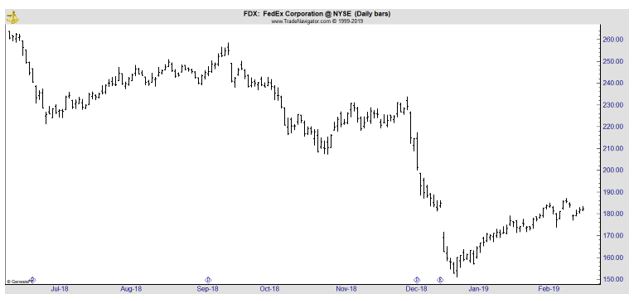 Analysts expect FDX to report earnings per share of about $16 this year and $18 next year. This could be a bargain since the price of the stock is just about 10 times next year's expected earnings.
The long-term chart of UPS shows that the stock is in a down trend that began last year.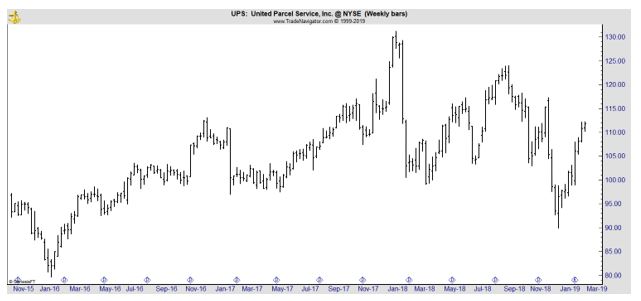 A down trend is defined by a series of lower highs and lower lows. That is visible in the chart above. The company is expected to report earnings of about $7.50 this year and $8.22 next year. At the recent price, the stock is trading with a price to earnings (P/E) ratio of about 14 based on next year's expected earnings.
Depressed valuations in the shipping industry could indicate that investors expect an economic slowdown. These companies would be likely to experience declines in revenue and earnings in an economic contraction.
The decline of STMP demonstrates the problem investors face when buying growth. Prior to the news, the company had delivered growth in revenue averaging about 32% a year over the past five years. Earnings per share grew by about 31% a year over that time.
That type of growth could justify a higher than average valuation for the stock however any slowdown in growth could lead to a sell off. That is what happened, but the selling could be overdone. The stock is now trading in line with the broad stock market and could deliver some growth in the long run.
Bottom fishing, or buying after a large decline, carries a great deal of risk because there is no way of knowing if additional declines are ahead. However, cautious investors could place STMP on a watch list and consider buying if the stock consolidates at a lower level or even turns up.
The consolidation could indicate the selling pressure has dissipated. The up move could indicate buying pressure developed. Either pattern could decrease the risk.
Did you know that dividends have rewarded investors for at least 100 years, at least since John D. Rockefeller said, "Do you know the only thing that gives me pleasure? It's to see my dividends coming in."
We have prepared a special report about dividends that you can access right here.