A Whole New Group Develops in the Stock Market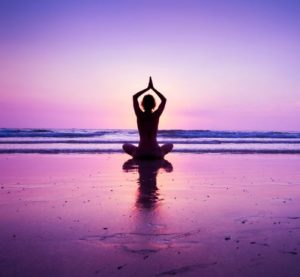 Investors sometimes think of groups as relatively unchanging. There is the mining sector, the railroads, auto makers and other clearly defined groups of stocks. The truth is that at one time, all of these were new industries and it took time for the companies to grow into a group.
In recent years, several new industries have appeared. Their appearance is largely due to consumer demand rather than specific inventions which led to new industries in the path. Among the new groups is the athleisure sector.
This is a fashion trend where clothes designed for workouts and other athletic activities are worn in other settings, such as at the workplace, at school, or at other casual or social occasions.
Athleisure outfits include yoga pants, tights, sneakers, leggings and shorts, that "look like athletic wear" and are characterized as "fashionable, dressed up sweats and exercise clothing." The general concept can be summarized as "gym clothes making their way out of the gym and into everyday wardrobes."
The idea has been covered extensively, including reporting done by NPR.
Athleisure Becomes Mainstream
NPR reported in 2015 that, "The NPD group says sales of athleisure apparel were more than $35 billion last year and that athletic apparel now makes up 17 percent of the entire American clothing market.
H&M, Urban Outfitters, Aeropostale and TopShop have all launched athleisure lines. Certain collections have gotten endorsements from celebrities like Kanye West and Beyonce. Chanel even makes a couture sneaker now.
How did all of this happen? Will McKitterick, an analyst with IBIS World, says there are two big factors at play in the rise of athleisure: yoga and the cyclical nature of blue jean sales.
First, McKitterick says, there has been what he calls "a change in what's appropriate to wear." Think yoga pants. Over the past decade or so, women have led this charge, specifically in their embrace of yoga pants outside of yoga studios. Now yoga pants, tights and leggings have moved from the gym to just about everywhere. That only helped make room for men's sweatpants to leave the couch.
McKitterick says declining jean sales are part of the equation as well. Reports say sales of denim in the U.S. were down 6 percent last fiscal year. "Men, and people more generally, have a lot of jeans," he says. "Jean sales have done really well over the last 10 years, and we've gone through a number of different fads surrounding jeans, perhaps most recently skinny jeans.
"But, fashion denim is cyclical," says McKitterick. "So it seems we're in a downturn period right now, and that's not too surprising coming off the large amount of sales we've seen over the last 10 years."
Athleisure apparel helps fill that void. For what it's worth, McKitterick says jeans have faced competition before, from corduroys in the '70s, and khakis and chinos in the '90s. Jeans bounced back both times."
Growth Offers Opportunities
Any new trend offers potential opportunities for investors. In the case of athleisure, the opportunities could be significant.
Morgan Stanley has predicted a growth to $83 billion by 2020, stealing the market share from non-athletic apparel. The graph below charts the rise of the trend globally, with sales climbing from $197 billion in 2007 to over $350 billion by 2020.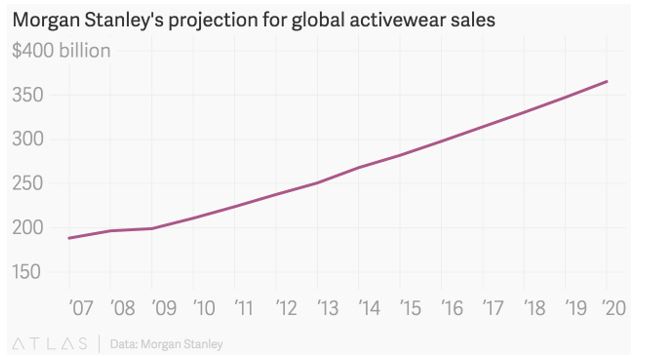 Source: Forbes
Analysts with Deutsche Bank note that athletic clothing is hurting regular clothing's sales.
"We see athletic apparel boosting the industry, up 4.1% from 2008-2015 on average," the authors write. "Meanwhile, non-athletic apparel was up only 0.2% during that timeframe and lagged overall apparel in seven of the past eight years.
As we believe the athleisure cycle is a bona fide trend with further dollar share shift ahead, we expect the disparity between athletic and non-athletic growth to widen in upcoming years."
Investors should consider buying industry leaders which include Lululemon Athletica (Nasdaq: LULU). Shares are already up sharply but some analysts see significant room for growth and expect short term gains in the stock.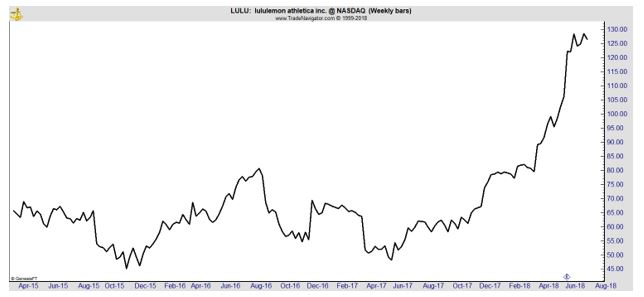 Brokerage firm William Blair named the stock among six with high potential for "appreciation over the next 60 days." The call was part of a "Consumer Near-Term Focus List" it publishes every two months.
"We believe strong sales trends have continued in the second quarter driven by good execution and product newness, including expanded streetwear (tees, wraps, skirts, and joggers) and shibori dyed prints," the analysts wrote.
They cited management's suggesting strong same-store sales in Q2 and said they expected it to beat Wall Street's consensus for quarterly comps while beating the consensus EPS estimate of $0.49. (The company guided investors toward $0.46-$0.48.)
"We believe investors will applaud the company's healthy sales trends when second-quarter results are reported in late August/early September," William Blair wrote.
"Longer term, we continue to believe Lululemon has an enviable competitive position with a powerful combination of highly productive small-format stores, aspirational proprietary product, a healthy e-commerce channel, and the potential to ultimately nearly triple revenue as the concept continues to expand across the globe," the analysts wrote.
Analysts expect LULU to grow earnings at an average of about 16.7% in the next five years, putting it in the top 30% of growth estimates.
Bargain hunters might be attracted to Skechers (NYSE: SKX) which is also expected to grow earnings at about 16% a year.
Skechers is a designer and marketer of Skechers-branded lifestyle footwear for men, women and children, and performance footwear for men and women under the Skechers Performance brand name.
It also offers apparel, accessories, eyewear, scrubs and other merchandise. Its lifestyle brands include Skechers USA, Skechers Sport, and Skechers Active and Skechers Sport Active. The company's products are available in over 170 countries and territories around the world.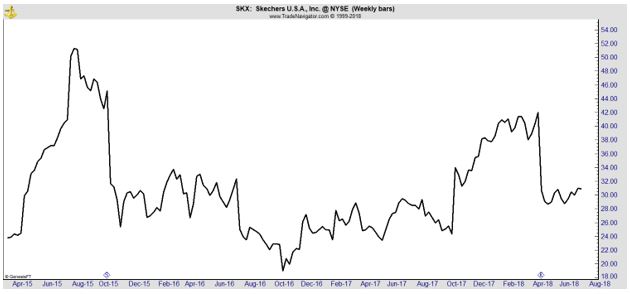 This chart shows a stock that is basing with clear support in the $23 to $25 range which should limit downside risk. SKX trades with a price to earnings ratio of just 16.5, well below the industry average of 25.3.
Whether you are comfortable with growth or value stocks, there are opportunities in the athleisure group. The biggest names on Wall Street expect the trend to last for several years and consumers are unlikely to abandon comfort. That makes these stocks potential winners in the long term.
You can find more market related tips and products by clicking here.