A Different Way to Invest in Amazon

Source: Amazon.com
Warren Buffett has frequently written about his investment strategies. One, value investing, is well known. Buffett searches the world looking for assets he can buy below their true value. This is the goal of value investors and Buffett has been more successful than others in the field.
Generally, Buffett is buying for the long run, having famously said that his favorite holding period is forever. But, Buffett will also seek gains from value investing for the short term when those gains are available.
One of the strategies for short term investing that he has been known to use is mergers and acquisitions arbitrage trading.
Reduce the Risk of the Market By Using Multiple Markets
Buffett is known for investing in announced deals. This involves following the news. Takeovers are frequently announced and an example based on an announcement may be the simplest way to explain this concept.
When a takeover is announced, traders might learn that Company ABC plans to buy Company XYZ at a price of $100 a share. The deal is expected to close in six months, subject to securing financing and regulatory approval.
Sometimes, there are significant risks associated with the closing conditions. This will be reflected in the stock price of XYZ. Although the deal is for $100 a share, the stock price might move up to just $92. The difference reflects the risk of the trade and the fact that the trade will not close for some time.
Assuming the deal closes on schedule, investors buying now can make $8 a share. This would represent a significant gain in most market environments.
This an example of mergers and acquisitions arbitrage. Traders can also pursue more traditional arbitrage trades, which involve making a risk free profit on the different prices assets might trade at in different markets.
Here, again, an example might help. Assume you could buy shares of a stock like BP in New York and sell it in London at a higher price, after accounting for transaction costs and currency exchanges. This would be a risk free profit involving two separate markets.
Although these opportunities are difficult to benefit from, they are possible and there are some hedge funds that do specialize in arbitrage.
Web Sites Also Offer Arbitrage Opportunities
It's also possible to trade items in different markets using the internet. In some ways, this was the intent of online auction sites like eBay when they began operations.
The idea was that collectors could find items they wanted in markets far from their home. The auction would also bring new sellers into the markets, allowing them to benefit from markets beyond their local areas.
When the markets started, there were questions about how the new technology would affect the price of collectibles. There was an increase of demand from collectors around the world. There was also an increase in supply from collectors and others around the world.
This was a new laboratory for economists and the answer was what the answer always seems to be in markets, it depends. Some prices went up, some went down but there was general agreement that markets become more efficient.
That efficiency could provide a source of passive income for many individuals.
Amazon Arbitrage
It's now possible for any individual to buy and sell on web sites like Amazon. While the buying process is well understood, the selling process may be less understood. Amazon does make the process simple with a service known as fulfillment by Amazon, or FBA.
Amazon describes the service, "You sell it, we ship it. Amazon has created one of the most advanced fulfillment networks in the world, and your business can benefit from our expertise.
With Fulfillment by Amazon (FBA), you store your products in Amazon's fulfillment centers, and we pick, pack, ship, and provide customer service for these products. Best of all, FBA can help you scale your business and reach more customers."
The process makes Amazon the warehouse and shipper for small businesses. Amazon can handle displaying the product on their web site, taking the order, processing payments, shipping products and handling returns.
Source: Amazon.com
These services are not free, but they are reasonably priced especially considering the cost of arranging for all services on your own.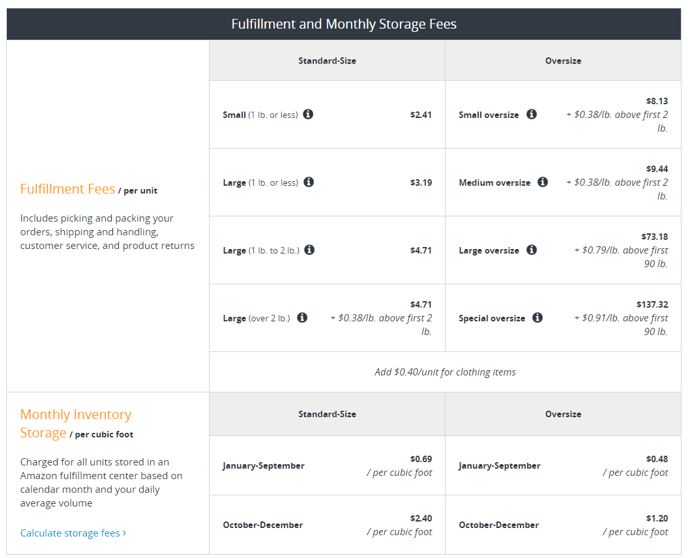 Source: Amazon.com
The prices shown above are an example and could change at any time. They are what is shown on the Amazon web site in May 2018.
There is a great deal to learn about this strategy, such as understanding how Amazon provides information to consumers which includes multiple ways to buy.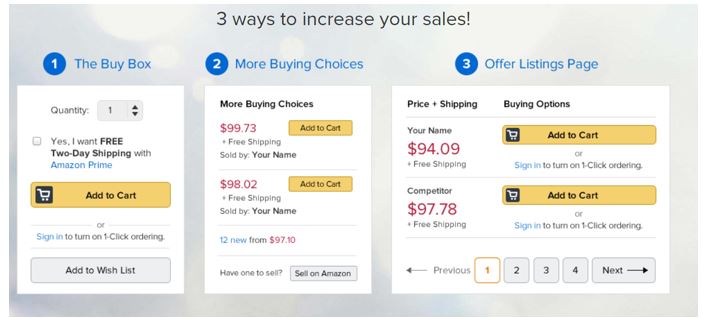 Source: RePriceExpress.com
This illustrates that it is important to research this and all income investment opportunities.
Stocking Your Store
Now, to generate income, there is a need to find and maintain inventory. There is a wealth of ideas online. Some sites recommend stocking up on clearance items at local stores. These items tend to be available locally rather than nationally and bargains can be found.
There is a wealth of ideas on how this process can work. One example that is available online covers buying a stylus pen for a smart device at a local target and then reselling the items through Amazon. This example could help explain the process and help you determine if this passive income strategy is right for you.
While this strategy could provide income, it is not a risk free arbitrage. There is the possibility there will not be customers for the products that you are attempting to arbitrage. There is also the possibility that the costs may increase or delays in sales can result in higher than anticipated costs.
There is also the possibility that Amazon can change its rules and make it impossible for an individual to resell certain products. This has happened with some suppliers in the past and is a risk that cannot be ignored.
However, there is really no source of income that carries absolutely no risks. It is simply important to consider potential rewards and risks when reviewing any income strategy.
To learn more about this potential source of passive income, consider searching online for "Amazon FBA" or "Amazon arbitrage." This process could also be considered for implementation on eBay or other web sites in addition to Amazon.