A 5G Investment Hidden in Plain Sight
Fifth generation, or 5G, wireless systems are set to change the way cell phones connect to the world. The truth is that many investors will attempt to benefit from 5G by finding the best technology providers.
5g is a step in an evolutionary process that began decades ago.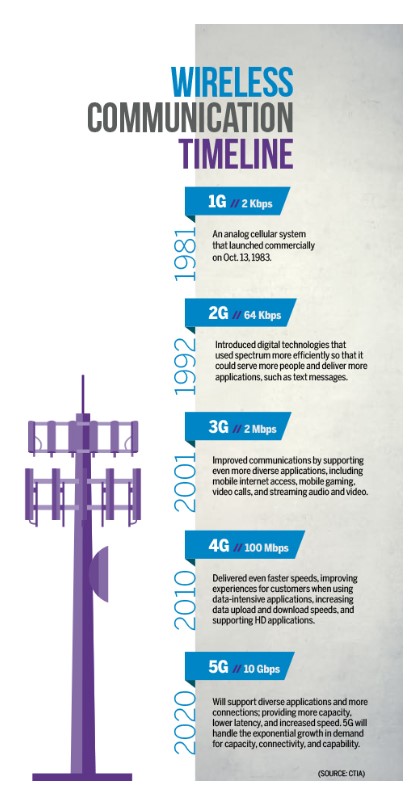 Source: REIT.com
5G is expected to help facilitate the increasing proliferation of the "internet of things" (IoT) and more advanced machine-to-machine technologies. It will bring an exponential increase in data speeds that will change how people interact with the internet.
For example, download time for an HD movie could go from an hour to a few seconds. 5G can also power up remote surgery, and some say truly autonomous vehicles aren't possible without it.
They may overlook an income strategy that will benefit from 5G. The National Association of Real Estate Investment Trusts (NAREIT) explains, "as with previous "Gs," tower and data center REITs will play a vital role globally in enabling this new generation of technology to get to the market efficiently."
5G is a significant evolution from wireless capabilities that are currently available. It isn't a single technological innovation, but rather a series of advances in communication. These changes mean that speeds could be 10 times faster than the speeds attained with 4G systems.
That means it will be possible to connect everything to everything.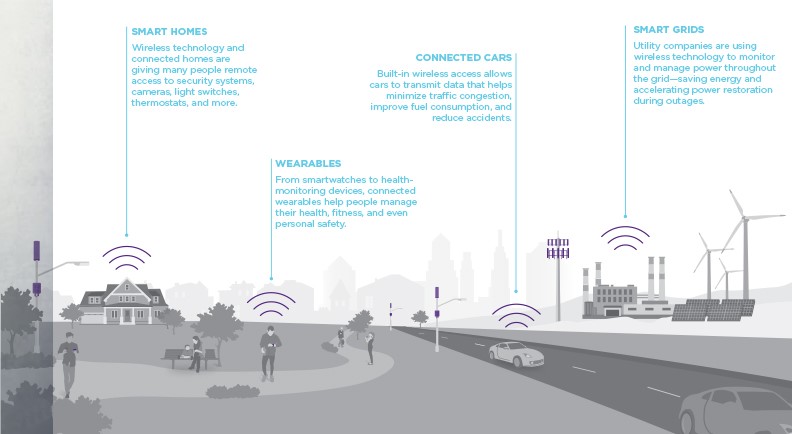 Source: REIT.com
The problem for technology investors is that "the benefits of 5G," Dan Schlanger, senior vice president and CFO at Crown Castle International Corp. (NYSE: CCI) notes, "are still not 100 percent clear. However, he expects to see developers come in and utilize the technology in ways that have never been dreamed before—much like Uber and Waze have done with 4G.
One thing that is certain is that cellular providers will need more towers. CCI has prepared for the rollout of 5G for close to a decade, beginning with owning 4,000 towers and expanding into 60,000 small cells, with 60,000 miles of metro fiber throughout the top metro markets in the United States.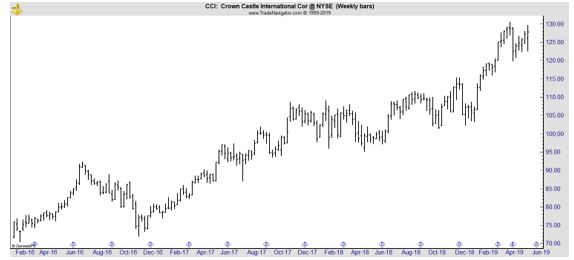 "We are very well positioned for what 5G will become," Schlanger says. "The way we define it is [as] really ubiquitous, high-speed, low-latency coverage to allow people to access their data wherever they are and however they want it."
Jim Poole, vice president of business development at Equinix, Inc. (Nasdaq: EQIX), says this is where the data center REITs come into the picture.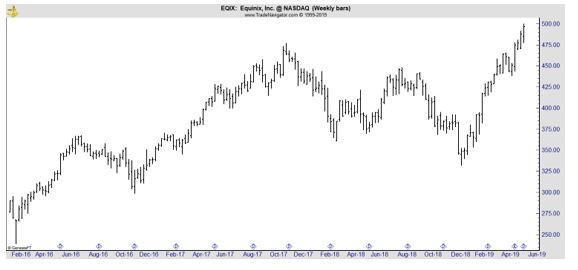 "We deliver interconnection to companies, which is the private data exchange between businesses," Poole says. "It is the fastest, most secure, lowest-latency connectivity there is, and will be a critical part of the 5G revolution."
Equinix's global interconnection platform allows companies to access their clouds, networks, data, and partners directly, so they can connect to whatever they need, wherever they need it, he adds.
Evan Serton, senior vice president and portfolio specialist at Cohen & Steers, says one should consider the wireless network as a toll road: 5G will have significantly larger lanes for wireless traffic and dramatically higher speed limits than the current 4G technology.
New 5G capabilities can be used by service providers to extend their reach for their enterprise mobile customers. In turn, enterprises can harness wireless-based technologies such as the IoT to provide new services to mobile users. 
This technology comes with technology challenges as Forbes explained,
"5G brings a suite of new technologies, and among the most popular contenders are small cells, millimeter waves, massive multiple-input multiple-output (MIMO), beamforming and full duplex.
Essentially small cells are miniature cellphone towers that can be placed in inconspicuous places such as light poles and the roofs of buildings. They don't require as much power as full-sized towers, and perform better when clustered together.
For investors, Connected Real Estate's Rich Berliner says, "Delivery of 5G service will require wireless carriers to invest in more cell towers, as well as in small cell and fiber networks to broadcast 5G signals into specific areas. Implementation of 5G should be a massive home run for cell tower REITs and is expected to buoy revenue growth for the better part of the next decade. Companies with a specific focus on small cells may benefit the most."
American Tower told Bloomberg "(that) 'single tenant' towers have gross margins of 40% from rentals… two tenants have 74% margins…three tenants have 83% margins.
As with anything, tower REITs will need to diversify and grow in any areas they can, possibly on an international scale. American Tower is looking into that aspect, as Crown Castle International is focusing on building up on U.S. soil, before 5G comes to fruition."
Clients implementing public wireless internet connections may prefer 5G, with speed gains, cost reductions and ease of deployment—leaving behind big fiber-optic cable providers such as Uniti Group (UNIT) and Zayo Group Holdings (ZAYO)."
Forbes recommends considering American Tower (NYSE: AMT), "which was founded in 1995, is the fastest-growing player in telecommunications infrastructure. Its global portfolio includes more than 160,000 tower sites (40,000 U.S.) in various stages of wireless network deployment.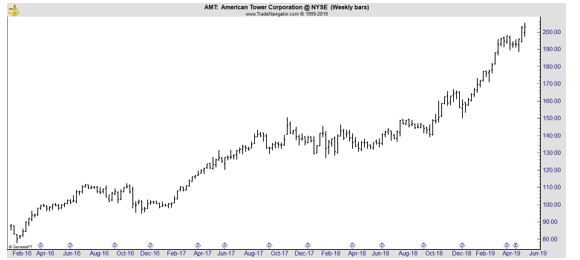 The $61 billion market cap company had first quarter 2018 consolidated adjusted funds from operations (AFFO) of $807 million, up 11.9% from first quarter 2017. American Tower has paid and increased dividends each quarter since 2012, has a current yield of 2.2% and a 43% payout ratio.
Recently, AMT tried to prevent contractors from constructing new towers within a half mile of existing tower sites, FierceWireless' Mike Dano reports, but suspended the effort after opposition from industry players including AT&T and Verizon.
Dano says it's due "to increasing competition in the cell tower industry…hoping to cash in on the wireless industry's collective move to 5G…and increased network densification."
CCI is another possible investment in the sector as is Landmark Infrastructure Partners LP (Nasdaq: LMRK), which has a current yield of about 9% and leases assets to companies in wireless communication (70% of revenue), outdoor advertising (20%), and renewable power generation. This could provide diversification along with income.
5G will change many things but the technology will create winners and losers. Income investors may want to consider the companies that provide the towers to benefit from the technology while waiting for the winners to become clear.