This Is Why Crypto Could Be a Buy
Cryptocurrencies were a trader's favorite in 2017 but then a crash destroyed significant value in the sector. That crash could be a reason to consider investing now.
The crash was significant, wiping out the gains of the bubble. The depth of that decline can be seen in the chart below. It can also be seen that the price began to stabilize near the end of 2018 and could be forming what technical analysts consider to be a basing pattern on the chart.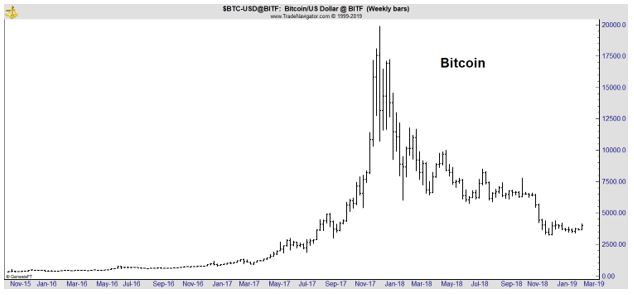 Basing, according to Investopedia, "refers to a period in which a stock or other traded security is showing minimal upward or downward movement. The resulting price pattern looks like a flat line or slightly rounded.
Often, 'basing' is a term used by technical analysts to describe a market that is consolidating after a period of rapid growth or decline. A market that is basing has equal amounts of supply and demand.
Basing is a common occurrence after the price has been in a lengthy decline or had a significant advance. In other words, the market is taking a break. Some markets can form a base that lasts for several years before the trend reverses.
Basing periods are accompanied by declining volume as prices consolidate. Volatility also contracts as a market trades sideways.
Markets that are basing establish clear support and resistance levels as the bulls and bears fight for control. Institutional traders may use a basing period to accumulate a large order they are buying for a customer.
Many technical analysts believe that basing is crucial, especially for markets that have had a rapid advance. They view basing as the "breather" that allows the issue to continue climbing."
The site notes that basing can represent a trend continuation or a reversal.
"Traders who are using a basing period to find an entry point in a trending market should place a trade when price breaks above the high of the consolidated range (for a long position). The breakout should occur on above-average volume to show participation in the move.
Ideally, a commonly used moving average, such as the 20-day or 50-day, acts as support at the bottom of the basing period; this allows the moving average to catch up to price. The moving average acts as resistance for a short position.
The narrow range of a basing formation allows for a healthy risk/reward ratio. Traders can place a stop-loss order on the opposite side of the consolidation period.
Because the market is expected to start trending again, profit targets that are many multiples of the stop amount can be set to capture the bulk of the move.
On the other hand, contrarian traders may use a basing period to find potential bottoms or tops in a security.
If a market has been consolidating for an extended time, a breakout in the opposite direction to the previous trend often triggers stop-loss orders and attracts breakout traders which can cause a reversal.
As with the trend continuation strategy, the trade should be exited if price crosses the opposite side of the basing range. Traders could use retracements of the previous trend to set profit targets."
The next chart shows the details of the recent basing formation in bitcoin.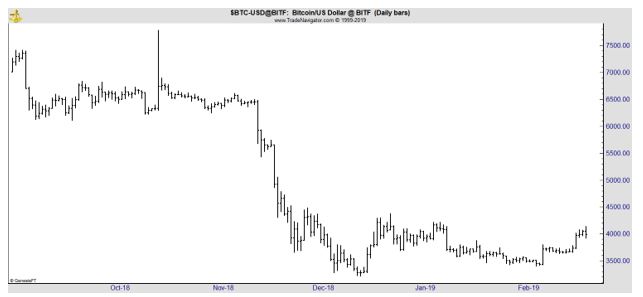 The Decline May Have Boosted Bitcoin
One expert recently told CoinTelegraph.com that the sell off could have created a buying opportunity as money moved from speculators, or weak hands, to more entrenched investors, or smart hands.
"Alexis Ohanian, co-founder of Reddit and known crypto bull, claimed that the crypto hype is gone, leaving space for true crypto believers. Ohanian spoke on the subject in an interview with Yahoo Finance [that was recently released].
When asked if he is still a big believer in crypto, Ohanian acknowledged that the current state of the market is undoubtedly still considered to be a crypto winter, which means crypto prices are depressed.
However, citing Coinbase CEO Brian Armstrong, Ohanian emphasized that the bear market has contributed to the elimination of speculators, while true crypto believers have stayed to build real crypto infrastructure.
Ohanian elaborated that in his opinion, the extinction of the hype around the crypto and blockchain space is actually a good thing for industry development. He said:
"Now, it's still to be seen. But what's a strong signal to me is still some of the smartest people I know in tech are working on solving these problems. They're building companies that are built on blockchain. The hype is gone. The fervor is gone. But I think that's a good thing."
Ohanian was also asked about the announcement from banking giant JPMorgan Chase concerning the launch of its own cryptocurrency JPM Coin, a blockchain-powered asset that is expected to increase settlement efficiency within the bank's operations.
Answering the question, Ohanian stressed that the recent move by JPMorgan is just another indication that there is real innovation happening since the wild speculation is gone.
Considering the upcoming release of the coin to be a good thing, Ohanian still noted that JPMorgan CEO Jamie Dimon had previously called major cryptocurrency Bitcoin (BTC) a scam.
Recently, Dimon has since clarified his stance towards Bitcoin, claiming that he had not intended to become the spokesperson against the biggest cryptocurrency.
Born in 1983, Alexis Ohanian became a 23-year-old multi-millionaire in 2006 after selling Reddit along with the second co-founder Steve Huffman back in 2016. The internet entrepreneur and investor is also a co-founder of early-stage venture capital firm Initialized Capital.
In July 2018, Ohanian maintained his prediction that Bitcoin and top altcoin Ethereum (ETH) will hit $20,000 and $1,500 respectively in 2018.
However, since July 2018, the highest price points of the two cryptos have been maximum thresholds of around $7,200 and $400 respectively, according to CoinMarketCap."
A chart of ETH is shown below.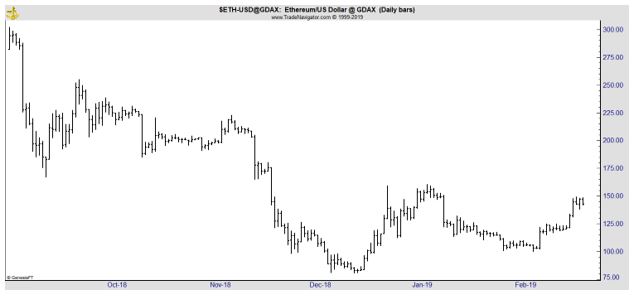 Given the dynamics of the market and the chart pattern, now could be an ideal time for individual investors to consider making modest commitments to the crypto markets by buying either BTC or ETH. The lower price of ETH could make it more appealing to small investors. 
Did you know that dividends have rewarded investors for at least 100 years, at least since John D. Rockefeller said, "Do you know the only thing that gives me pleasure? It's to see my dividends coming in."
We have prepared a special report about dividends that you can access right here.