This Could Be the Season for Video Games
While they were once popular just among teens, video games are increasingly popular among all age groups and demographics. It may be surprising, but games can even benefit senior citizens.
According to APlaceForMom.com:
"Researchers at North Carolina University discovered the benefits of video games for seniors, after some seniors improved their cognitive focus while playing the video game World of Warcraft or WoW for two hours a day, over a two week period."
WoW is one of the games developed by Activision Blizzard, Inc. (Naadaq: ATVI). The company's games include the following list: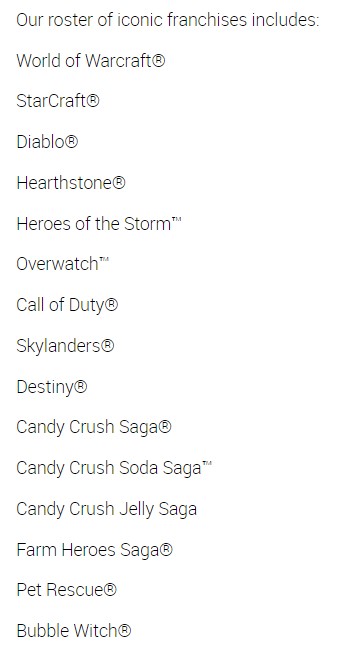 Source: ActivisionBlizzard.com
According to the study cited by APlaceForMom.com:
"WoW was proven to be good for seniors and is currently ranked as the world's most popular multiplayer role playing game with more than 15 million subscribers, according to stats from Guinness World Records.
The benefits of the video game were assessed by Anne McLaughlin and Jason Allaire, psychology professors at North Carolina State University who run a "Gains Through Gaming Lab" to determine whether the game could make peoples' "brains work better who were at a relatively advanced age."
The Findings? Intriguing, To Say The Least…
The gaming study involved over 30 older adults, aged 60-77, to play the video game WoW for roughly two hours a day over a two-week period. There were two groups involved in the study:
Test Group — A group given a cognitive exam both before the test period began and after the experiment ended.
Control Group — A group given the same cognitive exams, that didn't play the game.
At the end of the two weeks, the people who had scored well on the baseline test had little change to their scores. But the people who had initially scored low showed significant improvement in both spatial ability and cognitive focus, after their exposure to the video game.
"The people who needed it most — those who performed the worst on the initial testing — saw the most improvement," Allaire said.
Results of the study were published in the peer reviewed journal, "Computers in Human Behavior."
The researchers even complied a list of the best games for seniors, noting, "We all know that exercising the mind is important. The brain is a muscle and needs stimulation, after all. WoW, in particular, is a very engaging game.
In fact, Allaire and McLaughlin were selective when choosing the appropriate video game for their study.
"It [WoW] met the criteria we had," Allaire said. "Primarily that it is really engaging and cognitively complex, so we chose a game that we thought would have the best chance of exercising older adults' cognitive abilities and thereby improving them."
WoW's scaffolding (or tutorials that help someone who is not familiar with video games figure out how to make their way around the game) and customizable interface (allowing for larger text for game readability) also came in handy when choosing an appropriate game.
Many of the seniors who participated in the study really enjoyed the game and have become fans. Even though the study is complete, they continue to play the engaging game — a hobby that is now known to be healthy for both their IQ and mental capacities.
They also found NeuroRacer and War Thunder could benefit seniors.
The Investment Potential
The stock of ATVI has recently been in a sharp downtrend and fallen more than 40%.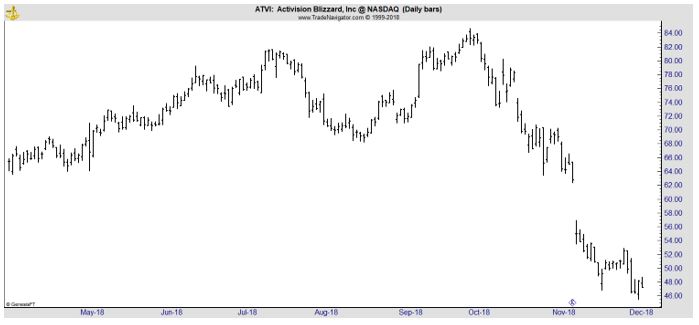 According to Barron's, JP Morgan analyst Alexia Quadrani is bullish on the stock at this level. "Investors are so focused on near-term execution, they've forgotten what got the stock to those highs in the first place," Quadrani wrote in a recent research note.
Quadrani said there is "an attractive entry point for what remains a compelling long-term story driven by a secular shift to digital, extension of core intellectual property to mobile, an expanding console and player base and continued innovation in live services."
The analyst recently upgraded Activision shares to Overweight from Neutral, though she also lowered her price target on the stock to $66 from $72, below Factset's average near $73. (Earlier this week, we covered some other analysts' optimism about the stock.) 
"The current valuation gives Activision little credit for options such as King advertising, Esports expansion and revenue growth, or new mobile titles," Quadrani wrote.
The Other Side of the Story
Analysts at Bernstein also recently issued a research note on the game makers. The analysts noted "a painful price rediscovery exercise on the videogame publisher stocks. Investors are questioning everything: what is the right baseline earnings, what is the right growth rate, what is the right multiple."
Top stocks in the sector, analyst Todd Juenger wrote, are down about 40% on average from highs, a much steeper pullback than has been projected in earnings forecasts—despite general optimism about the industry's growth opportunity.
"Six months ago the market thought of Electronic Arts (Nasdaq: EA) as a company with $6 earnings per share power, trading at 25 times earnings, [which] makes it a $150 stock," Juenger notes. "Now the market is thinking more like $5 EPS power, trading at 17 times, for an $85 stock."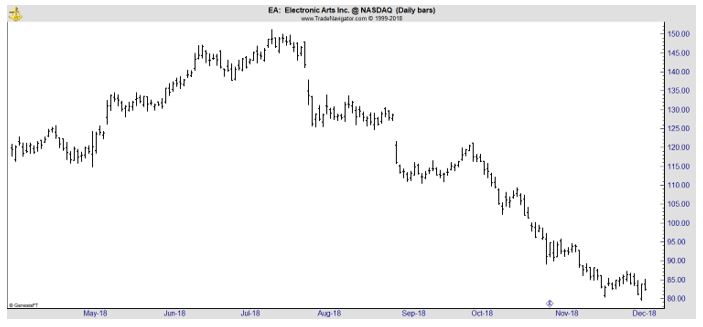 Bernstein lowered its price targets on Activision, EA and Take-Two Interactive (Nasdaq: TTWO), setting $50, $108, and $160 targets on them, respectively. The first two are below Factset's average targets, though Take-Two's is 11% higher.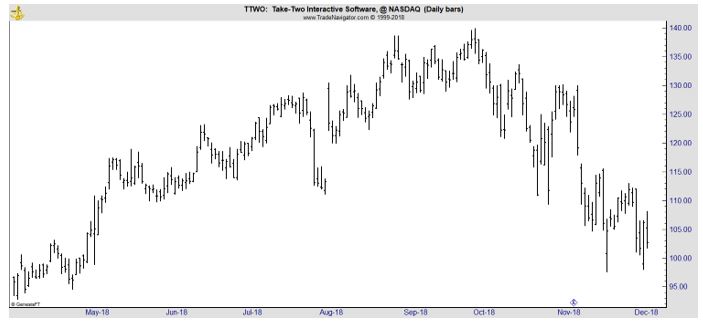 The concern, according to Juenger, is competition, best represented by the hot independent battle-royale game Fortnite. The videogaming phenomenon continues to gain players, but also shows that established players are more vulnerable to disruption than investors may have realized.
"Apparently, the barriers to entry aren't as high as we thought," Juenger wrote. "We thought they were even getting higher (bigger, more expensive games; the network effect of multi-player). Instead, Fortnite has proven it is possible for an independent studio to break through with a free-to-play game that takes significant share."
"What matters most to the sustainability of growth over time is the competitive barriers for different game franchises," he wrote, suggesting that Activision's mix of games may leave it more vulnerable than its counterparts for now.
This means there is no clear answer on the sector. In the long run, ATVI could be a bargain. EA could also be attractive. Investors may want to put those stocks on their watch lists or use options strategies to limit risk of trading the stocks now.