Shaq Might Just Be the Next Oprah
On the day that the yield curve inverted, one of the biggest winners on Wall Street was a pizza maker. As Barron's reported,
"Papa John's stock was heating up on Friday after the pizza company announced that NBA Hall of Famer Shaquille O'Neal will join its board and serve as an ambassador for the brand."
The stock was up 6.2% on the day the news was released, an especially significant gain on a day when the S&P 500 Index was off by 1.9%.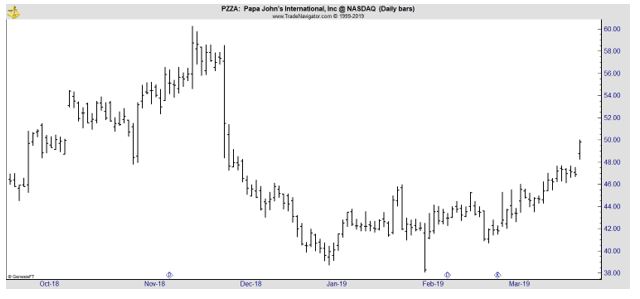 Barron's explained the reason for the rally:
"Papa John's (Nasdaq: PZZA) hopes it's on the road to recovery after a disastrous run of bad press surrounding its founder, John Schnatter.
The trouble began in the fall of 2017 when Schnatter blamed declining sales on NFL protests. He stepped down as chairman in July after revelations that he used a racial slur in a conference call. Pizza Hut replaced Papa John's as the NFL's pizza partner in 2018.
Since then, the company distanced itself from Schnatter and removed his face from its logo and branding. Papa John's has seen four straight quarters of downward 2019 earnings, earnings per share, and same-store sales revisions.
Activist fund Starboard Value is trying to turn things around. Starboard CEO Jeff Smith was named chairman of Papa John's. The company is receiving $200 million from Starboard and said $100 million will be invested in the business.
What's new. Papa John's announced on Friday that O'Neal will join the board and invest in nine Papa John's restaurants in Atlanta. He will also serve as a much-needed brand ambassador.
Since retiring from the NBA, O'Neal has become a fixture on TNT's Inside the NBA post-game show. He's also appeared in movies, videogames, and commercials.
This isn't O'Neal's first dive in the food industry. He owns a Krispy Kreme franchise in Atlanta and previously owned 27 Five Guys franchises. He also owns a fast casual fried chicken restaurant in Las Vegas and a fine dining restaurant in Los Angeles."
The news service concluded that, "Bringing in O'Neal wont's magically fix Papa John's reputation. But it might be a good step."
There's a Precedent
Celebrities have invested in companies before. They have even joined the Board of Directors of companies they invest in. The most similar precedent could be Oprah Winfrey's investment in Weight Watchers International, Inc. (Nasdaq: WTW).
After a recent decline in the stock, CNBC reported, "Winfrey's original investment, however, is still in the black. She bought 6.4 million shares of Weight Watchers at $6.79 a share in October 2015, worth $43.2 million at the time, according to a Securities and Exchange Commission filing.
She also joined the company's board of directors.
Last year, Winfrey sold some of her stake in the company. She now holds 5.4 million Weight Watchers shares, according to a January SEC filing."
The chart below shows how the company has fared since then.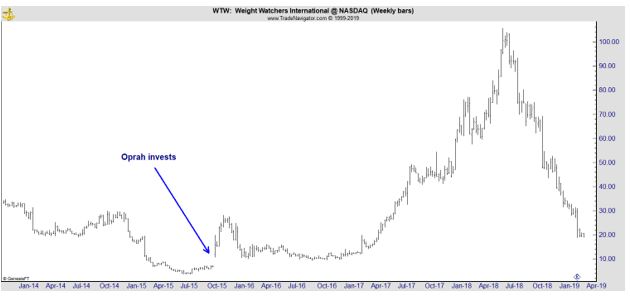 There have been good times and bad since Oprah joined the team and she has received the credit and the blame at times.
One problem is that company is attempting to rebrand. After the latest earnings, according to CNBC,
"Weight Watchers is scrambling to clarify its new name, WW, and mission after a poorly executed rebranding campaign left consumers confused and membership numbers tanking.
The 55-year-old company started using the shorter name last year in an attempt to embrace wellness — a buzzy but vague term intended to promote a healthier lifestyle that would attract and retain customers long after they achieved their target weight.
The message fell flat with consumers. Weight Watchers is now forecasting a 10 percent drop in membership during the first quarter, the crucial diet season after the holidays that can make or break a diet companies' entire year, the company said in releasing its fourth-quarter earnings…
Shares plunged by roughly 35 percent [on the news], erasing more than $48 million from Oprah Winfrey's stake in the weight loss company."
Analysts noted that,
While Winfrey is a powerful asset, the company's reliance on her celebrity status also presents a risk.
"One of the bear criticisms for the stock is that Oprah is the whole reason for the company's success," Bolton Weiser said. "If they're now saying they're tying their whole advertising to her, doesn't that fuel worries about the day Oprah decides not to be involved?"
Meanwhile, the company's started adding back references to its former self after abruptly replacing the Weight Watchers name with WW in marketing materials in September. Its website and social media accounts now say: "WW. Weight Watchers reimagined."
Branding expert Laura Ries said she was "stunned and shocked" when Weight Watchers changed its name last year. It's never a good idea to switch to initials, "especially when no one uses the initials," she said.
Oppenheimer analyst Brian Nagel said he wishes Weight Watchers would've made its changes last spring so they could've had more time to refine their messaging ahead of the key diet season.
Grossman said the company created new television and digital ads featuring testimonials from customers geared specifically to lapsed members. However, the new WW campaign failed to bring lapsed members back into the program, a key demographic the company relies on."
That has all weighed on the stock according to CNBC:
"It's gone from being a high flying growth company to being a beaten up kind of turnaround situation," said Linda Bolton Weiser, an analyst at D.A. Davidson & Co.
Weight Watchers did not respond to requests for comment.
CEO Mindy Grossman told analysts Tuesday the company stands behind its strategy, blaming the results on a poorly executed marketing campaign. It's now turning to Winfrey to help turn things around.
"If I was going to assess what the [problem] was, it wasn't granular enough," Grossman told analysts on a call Tuesday. "I think it needed to be more weight loss-focused, especially in the January season, and a more aggressive bridge from Weight Watchers to WW it needs to be more overt."
Weight Watchers strayed too far from its core weight-loss mission too fast. Grossman assured analysts the company has already started massaging its message and will launch the new ad campaign with Winfrey this spring.
That's not a bullish signal for PZZA.  The stock has been in a down trend for some time.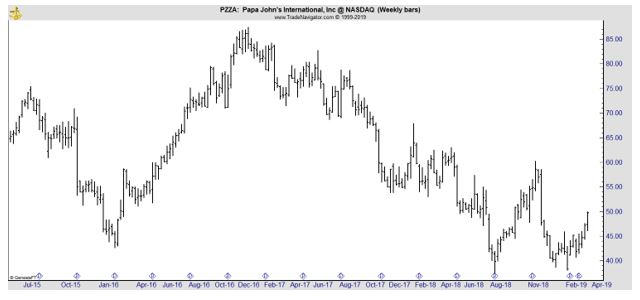 Shaq might help the company and could be part of its advertising. He does serve as a spokesman for several products and is widely recognized as engaging and entertaining. That could help PZZA recover but investors might want to see confirmation that the company has reversed course before diving in.