News Traders Can Use
Big corporate tax cut creating winners and losers as lawmakers try for reform
House Republicans are trying to come together on a tax reform proposal, but with a number of issues still unresolved, a bill is now expected to be released later this week. Some details are already starting to leak out. It would lower the corporate tax rate to 20%, keep the current top 39.6% tax rate on the wealthiest individuals and delay a planned repeal of the estate tax.
Source: CNBC
Why this matters to traders: Some companies are expected to fare well under reform. Goldman Sachs analysts provided the following list of buy candidates.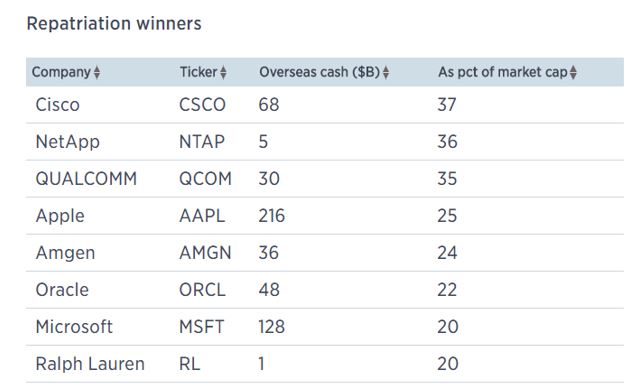 Source: CNBC
California insurance agency: wildfires losses at $3.3 billion and rising
Insured losses from this month's wildfire disaster in Northern California topped $3.3B, and the figure will rise, according to the California Department of Insurance. That's a three-fold jump from figures released two weeks ago by the state agency. Insurers affected include Farmers Insurance (OTCQX:ZURVY), CSAA Insurance Group, Travelers (NYSE:TRV), Allstate (NYSE:ALL) and Chubb (NYSE:CB).
Source: Business Insider
Why this matters to traders: Property and casualty insurers have been in a strong uptrend. A pullback related to news could provide a buying opportunity for long term investors.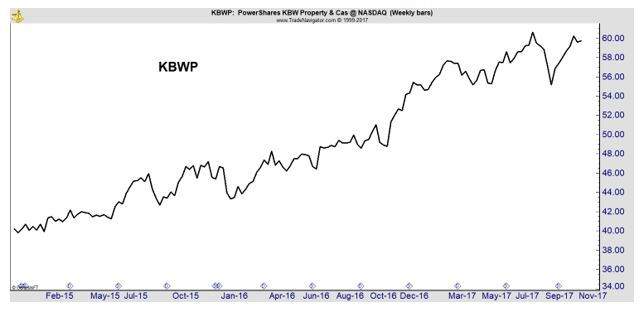 PowerShares KBW Property & Casualty Insurance ETF (NYSE: KBWP) is up about 27% in the past two years and offers a yield of about 1.9%. It provides a diversified investment in the industry.
Wal-Mart will hold parties — yes, parties — in its stores this holiday season
Wal-Mart plans to hold more than 20,000 parties at its stores over the next two months, with the first event, called "Toys That Rock," taking place nationwide this Saturday. It's part of the retailer's marketing strategy for the holiday season. Wal-Mart (NYSE:WMT) also plans to triple its online selection to 60M items, and will provide free two-day shipping when an order size exceeds $35.
Source: CNBC
Why this matters to traders: While many traders have focused on Amazon, Wal-Mart has gained more than 50% in the past two years and is trading near all-time highs. The stock could be of interest to many investors.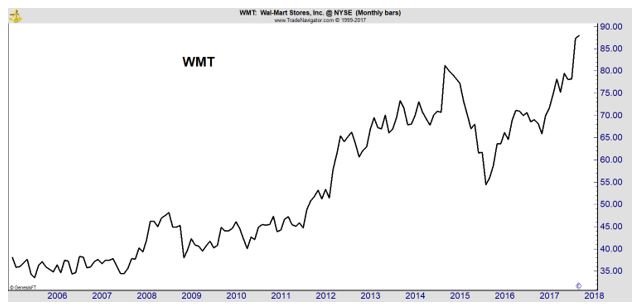 Fed keeps rates unchanged, remains on road to December hike
The Federal Reserve kept interest rates unchanged on Wednesday and pointed to solid U.S. economic growth and a strengthening labor market while playing down the impact of recent hurricanes, a sign it is on track to lift borrowing costs again in December.
Source: Reuters
Why this matters to traders: Interest rates remain near record lows and a hike in December would be another step towards normalizing interest rates.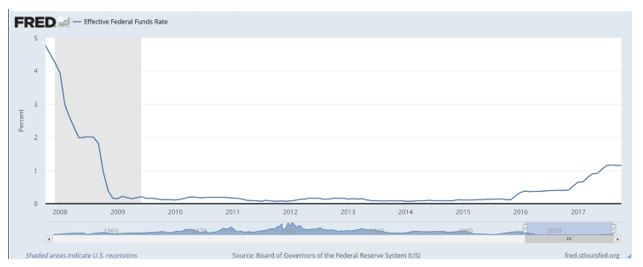 Higher rates will affect stocks at some point, buy analysts differ on when. This story needs to be followed but is a long term backdrop to the market action.
Apple's iPhone X could be make or break for the world's most valuable company
Apple opened its online store at 3 a.m. ET for pre-orders of the iPhone X (NASDAQ:AAPL). Within 30 minutes, orders promising to arrive on launch day, Nov. 3, dried up for buyers in the U.S., with shipping estimates slipping to 5-6 weeks. Analysts will monitor how the wait times for delivery develop throughout the day, giving insight into demand.
Source: CNBC
Why this matters to traders: Analysts note that "hopes are high for the $999 phone" and Apple needs strong sales to continue moving higher. The stock broke out to new all time highs as sales started. This could indicate analysts are looking for all time highs in sales as well.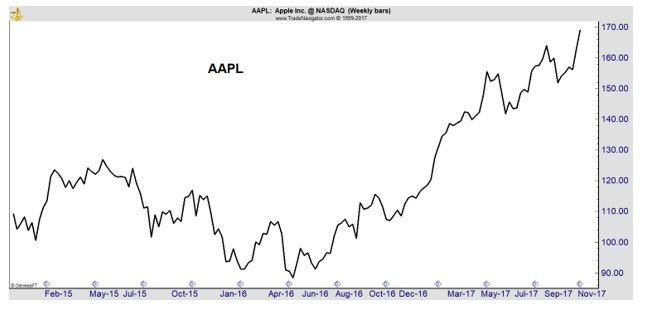 Apple Can't Make Qualcomm's Life Much Worse
Locked in an intensifying legal dispute with Qualcomm (NASDAQ: QCOM), Apple (NASDAQ: AAPL) is designing iPhones and iPads for next year that would jettison the chipmaker's components, sources told WSJ. Modem chips from Intel (NASDAQ: INTC) and possibly MediaTek would be placed in the devices instead as Qualcomm is reportedly withholding software critical to testing its chips in Apple prototypes.
Source: Bloomberg
Why this matters to traders: This long running battle has weighed on the price of Qualcomm.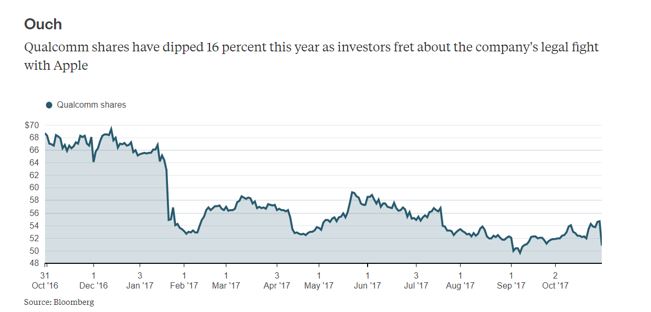 This business is important to Qualcomm. Bloomberg noted, "Stock analysts have already expected Qualcomm's revenue from Apple, which has generated about a quarter of Qualcomm's $7 billion to $8 billion in annual revenue from technology licensing, will shrink to near zero next year." Qualcomm faces significant challenges but value investors could be tempted by the decline. It could be safest to avoid the stock for now.
Tesla delays Model 3 volume production amid biggest-ever quarterly loss
Tesla posted a net loss of $619.4 million, or $3.70 per share, for the third quarter ended Sept. 30 compared with a profit of $21.9 million, or 14 cents per share, a year earlier. Revenue rose 30 percent to $2.98 billion. Excluding items, the company lost $2.92 per share. The company said it had $3.53 billion in cash and cash-equivalents as of Sept. 30, compared with $3.04 billion at the end of the second quarter.
The company also said it now expects to build 5,000 Model 3s per week by late in the first quarter of 2018, later than its original target date of December. Tesla said the main constraint it currently faced was within its battery module assembly line, where the company had to redesign part of the production process.
Source: Reuters
Why this matters to traders: Tesla is a high flying stock priced to perfection. This means there is significant downside risk if the company delivers disappointing news, as it did.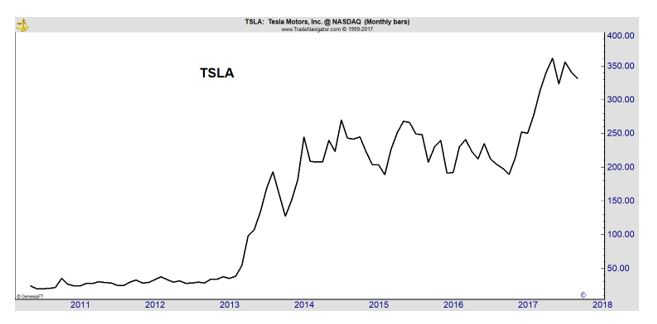 The stock has gained more than 1,200% since it began trading. However, the trend could be set to reverse and traders could consider bearish strategies such as buying puts or selling calls to benefit from the news.
GE shares are pennies away from their 2015 flash crash lows
In the midst of the August 2015 flash crash, when the Dow plummeted 1,000 points in a matter of minutes, General Electric shares fell 21 percent and touched an intraday low of $19.37 before rebounding.
Now, two years later, despite an epic bull market that has seen the S&P 500 rally 31 percent over that time, GE shares are nearly right back to where there were on that scary August morning. And some traders see more pain to come.
"I would be concerned," said Chad Morganlander, portfolio manager at Washington Crossing Advisors.
Source: CNBC
Why this matters to traders: Once again, a decline could tempt value investors. But, the technical picture does not support buying right now. "The stock has already been hit, but it really hasn't found footing yet," said Craig Johnson, chief market technician at Piper Jaffray.