News Traders Can Use
Canadian marijuana investors cheer dollar-per-gram tax proposal
Recently, the country's Department of Finance reiterated the government's commitment to legalizing the drug for recreational use. It also laid out a plan to levy an excise tax on cannabis products at 1 Canadian dollar per gram (USD $0.79) or 10% of the sale price, whichever is higher. The proposal sent shares of Canadian marijuana companies soaring.
Source: CNN
Why this matters to traders: Marijuana is a speculative sector in the market right now and the charts of some stocks in the sector have the same look as the charts of cryptocurrencies with large gains. Pure plays in the sector include Canadian stocks like Aurora Cannabis (TSX: ACB), a company with a market cap of more than $1.2 billion. The company produces dry cannabis and is licensed to sell cannabis oil.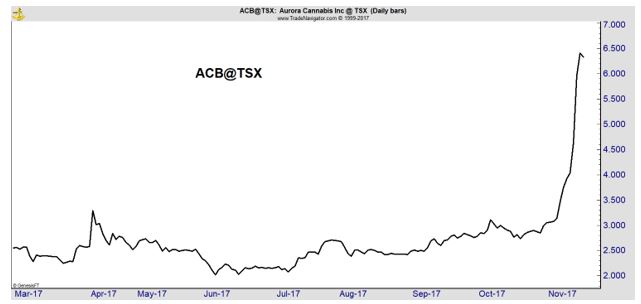 Aphria Inc. (TSX: APH) is almost a billion dollar company with a market cap of about $990 billion. Aphria claims to be one of the lowest cost producers of marijuana. The company produces dry cannabis and cannabis oil and sold a reported 852 kilograms (1,874 pounds) of product in the three months ending in August 2017.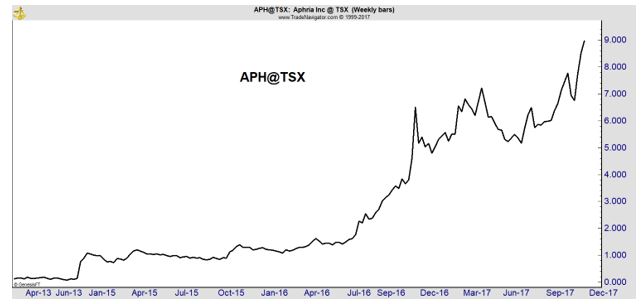 Billionaire investor George Soros dumps Apple, Snap stock but boosts stake in Amazon, Microsoft
Soros' investment fund dumped its stock holdings in Apple (Nasdaq: AAPL) and Snap (Nasdaq: SNAP) in the last quarter, a U.S. Securities and Exchange Commission filing showed. Soros Fund Management also reduced stakes in Facebook (Nasdaq: FB) and Twitter (Nasdaq: TWTR) but the hedge fund boosted its stake in Amazon (Nasdaq: AMZN) and Microsoft (Nasdaq: MSFT).
Source: CNBC
Why this matters to traders: While traders have been watching social media stocks like Twitter and Facebook closely, Microsoft has been in a strong up trend and continues setting new all time highs. The company has demonstrated an ability to compete for web services and continues integrating its Office products into more applications. MSFT offers income, along with growth, for investors.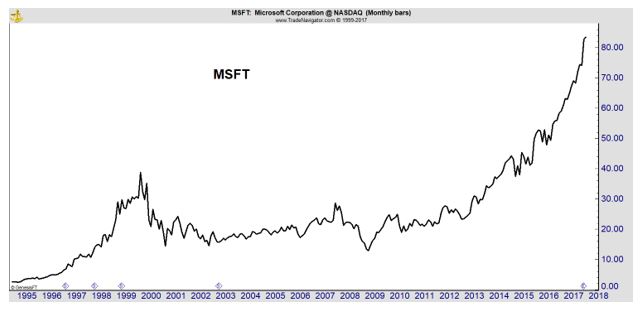 President Trump Turns Into Stock-Exchange Pitchman
Trump's tweet urging Saudi Arabia to list its national oil company on the New York Stock Exchange further complicates Aramco IPO. President Donald Trump on Saturday lent his voice to one of the thorniest issues surrounding the giant planned initial public offering of Saudi Arabia's national oil company, urging the country to list the shares on the New York Stock Exchange.
Source: The Wall Street Journal
Why this matters to traders: Aramco is expected to be the largest listing in the world and adds prestige to an exchange. This could boost the stock of Intercontinental Exchange, Inc. (NYSE: ICE). The stock has been moving steadily higher as the bull market boosts trading volume and exchange profitability.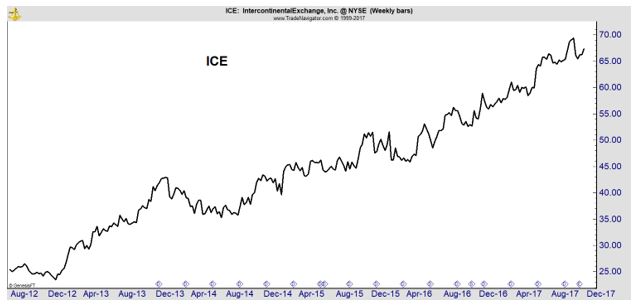 Food stocks jolted by more Whole Foods price cuts
A new round of price cuts at Whole Foods (NASDAQ:AMZN) is creating another ripple in the food sector. The grocery store chain is reported by CNBC to have dropped prices on holiday food items, including organic turkeys. There is also an increase in Whole Foods discounts for Prime members for the sector to consider.
Source: Chicago Booth Review
Why this matters to traders: The grocery sector is famously competitive. This could weigh down the stocks of competitors like Kroger (NYSE: KR) which has been under pressure for the past two years.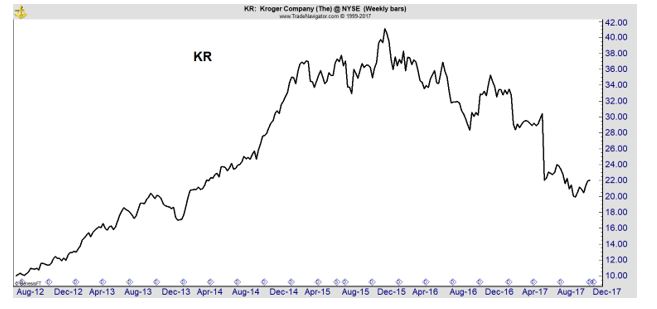 Producers could also be squeezed if Amazon demands lower prices so that Whole Foods can pass the savings on to its customers. In this sector, companies like J.M. Smucker (NYSE: SJM) have also been under selling pressure for some time.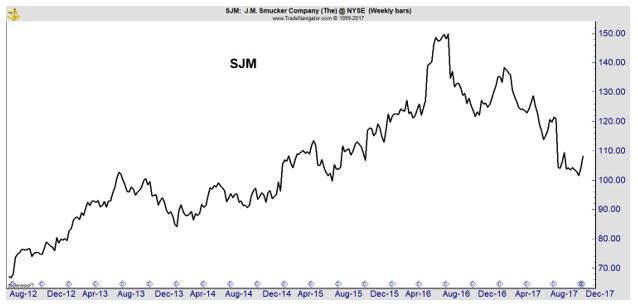 SoftBank Plans Up to $25 Billion in Saudi Investments
SoftBank Group Corp. plans to invest as much as $25 billion in Saudi Arabia over the next three to four years as the Japanese company run by Masayoshi Son deepens investment ties with the kingdom, according to people familiar with the matter.
Source: Bloomberg
Why this matters to traders: The Aramco listing cited above could boost the fortunes of Saudi Arabia. Large investments like the one from SoftBank could also boost the country's economy. Investors in the US can gain exposure to that market through the iShares MSCI Saudi Arabia Capped ETF (NYSE: KSA).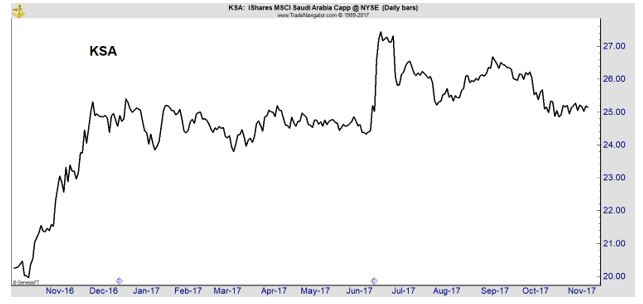 Investors could also consider an investment in Softbank which remains significantly below its all time high reached at the peak of the Internet bubble.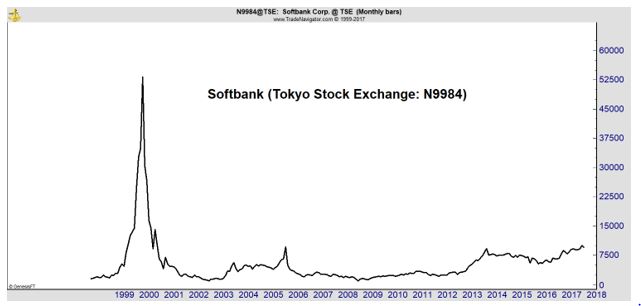 Qualcomm invests in Chinese AI facial recognition startup SenseTime
Reuters reported earlier in November that SenseTime plans to raise about $500 million in a new funding round, in what would be the biggest ever such fundraising by an AI startup. The fundraising will value SenseTime at about $2 billion and has drawn interest from prospective investors, including Singapore state investor Temasek, the report said.
The startup is one of several AI facial recognition firms in Greater China that are rapidly raising capital from local and foreign investors amid a multibillion dollar global drive to develop advanced facial recognition technology.
Source: Reuters
Why it matters to traders: This deal indicates Qualcomm (Nasdaq: QCOM) understands the need to diversify its business. The company has more than $35 billion in cash on its balance sheet that could be used to invest in new technology companies. These initiatives could allow the company to redefine itself and reduce its reliance and Apple, a relationship that has weighed on the stock in recent months.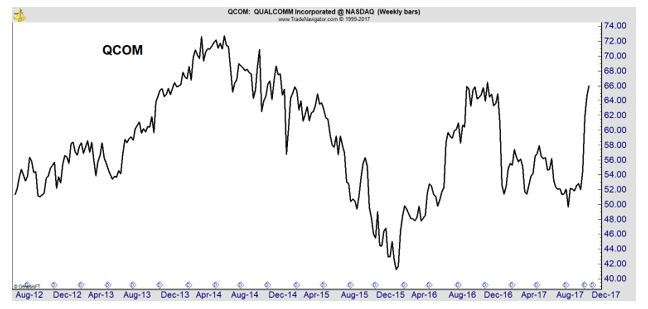 Sports Illustrated TV: Time Inc.'s First Subscription VOD Is $5 Monthly on Amazon Channels
Time Inc., in another big bet on pivoting its business toward video, is launching Sports Illustrated TV, its first over-the-top subscription-video service.
SI TV, priced at $4.99 per month, will be available starting Nov. 16 on Amazon Channels. The service has a lineup of 130 hours comprising licensed movies and documentary films — including the first five "Rocky" pics, 1975's "The Bad News Bears" and 1979's "North Dallas Forty" — along with a few original docu-series and talk shows.
Source: Variety
Why it matters to traders: For now, the channel will be different from traditional cable sports channels like those from ESPN and Fox Sports: It won't broadcast live games, the staple of other sports networks, nor will it have a highlights/recap show a la "SportsCenter."
However, the channel adds to the pressure on The Walt Disney Company (NYSE: DIS), the parent of ESPN.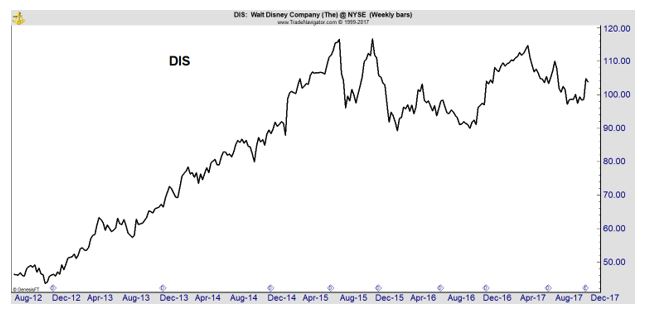 Assuming SI TV succeeds, Time Warner could compete directly for the dwindling number of viewers watching sports on television.
Shell to sell stake in Australian group Woodside Petroleum for $1.7bn
Royal Dutch Shell has agreed to sell down almost two thirds of its remaining stake in Australian energy group Woodside Petroleum for $1.7bn. The Anglo-Dutch energy company said in a statement on Monday it had entered into an underwriting agreement with two investment banks to sell 71.6 million shares, 64 per cent of Shell's interest and 8.5 per cent of Woodside's stock, at a price of A$31.10 a share, resulting in pre-tax proceeds of around $1.7 billion.
The disposal, which the company said would help reduce net debt, is part of a $30 billion divestment by the oil giant as it seeks to improve its financial performance.
Source: Financial Times
Why it matters to traders: Royal Dutch Shell plc (NYSE: RDS.A) has been an up trend for more than a year. The stock is nearing its 2014 highs, despite the fact that the price of oil has failed to recover.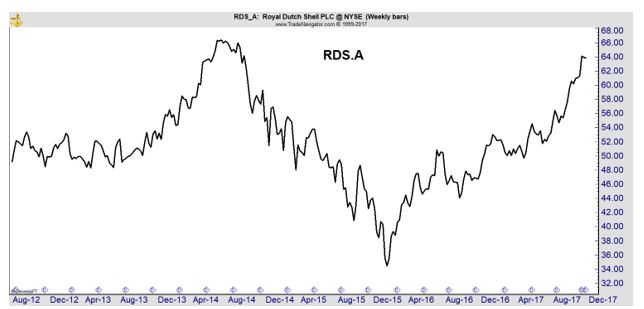 The stock offers investors a yield of about 5.8% and management has demonstrated its commitment to focusing the business. This should allow the dividend to increase in time and reward patient investors looking to be paid to wait for a bull market in oil.