Marijuana Could Be a $50 Billion Industry
For now, marijuana is in an unusual position. It is legal in some states but illegal in others and it is also illegal on the federal level. But some analysts believe sales could quickly hit $50 billion a year if the substance was fully legalized.
The legal atmosphere could complicate investment in the industry. As Barron's notes, "U.S. federal law still considers marijuana an illegal drug in the same class as heroin. Any financial service provided to a cannabis business may violate federal law.
So bankers in the Federal Reserve System, not to mention the New York Stock Exchange and Nasdaq, won't touch an American business connected to the cannabis plant. Weed outfits can't even deduct their business expenses, under the U.S. tax code.
Happily, we have federalism. Since California legalized medical marijuana in 1996, 32 other states, plus the District of Columbia, have allowed medical marijuana. Now 10 states permit recreational use.
Each state does it differently, however, so multistate operators like Curaleaf (CURA.Canada) and Acreage (ACRG.U.Canada) must pick their way across a regulatory obstacle course. And their shares can trade only on the thin Canadian Securities Exchange or the OTC Markets Group in the U.S.
No one expects the U.S. to legalize pot soon. But some federal initiatives are trying to let states do their thing.
A recent hearing before a subcommittee of the House Financial Services Committee considered the SAFE Banking Act, a bill that would allow banks to legally handle the proceeds from a state-legal cannabis business.
"Thousands of employees and businesses across this country have been put at risk because they are forced to deal with piles of cash, while Congress stuck its head in the sand," said the bill's co-sponsor, Ed Perlmutter (D., Colo.).
With no federal approval, U.S. companies face different rules in virtually every state. Here are state-by-state comparisons.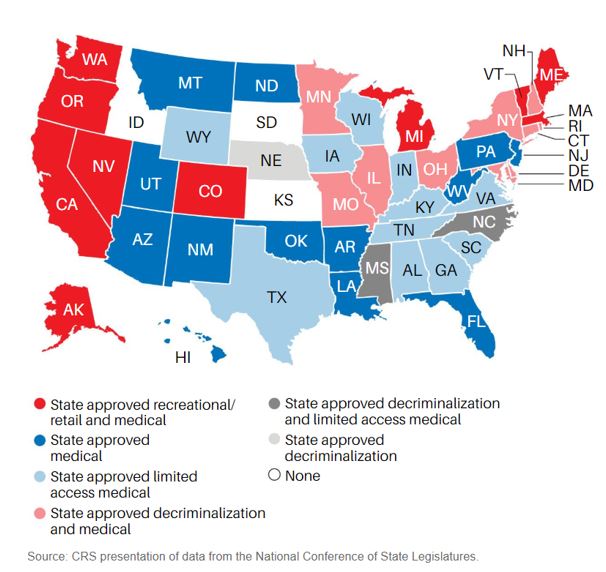 Source: CRS presentation of data from the National Conference of State Legislatures.
"The American voters have spoken," said Perlmutter, "and you cannot put the genie back in the bottle. Prohibition is over."
A broader federal reform would result from the States Act, first proposed by Sens. Cory Gardner (R., Colo.) and Elizabeth Warren (D., Mass.) in June 2018. It would exempt cannabis from most federal drug laws, within states that have legalized it.
The SAFE Banking Act might get a vote this year, but Congress isn't likely to seriously consider the States Act before next year, says Troy Dayton, who heads the cannabis investment and research firm Arcview Group.
Meanwhile, legalization continues to sweep across the states. Last November, voters in Missouri and Utah approved medical marijuana, while Michigan added recreational pot.
New York, New Jersey, and Illinois don't have voter referendums, but their governors have said they'll seek legislation that legalizes recreational sales. Advocates are gathering signatures for public initiatives in Florida, Arizona, and Ohio on recreational pot.
Municipalities have a say, too. In Massachusetts, the state's Cannabis Control Commission evaluates the suitability of licensees, says Commissioner Shaleen Title, but each municipality can vote on how many cannabis establishments it wants."
While full legalization is unlikely to come soon, investors can prepare for that event which could be a reality in several years.
Getting Ready for National Sales
In a skeptical article called You'd Have to Be High to Buy American Marijuana Stocks, Barron's presented a summary of stocks in the industry.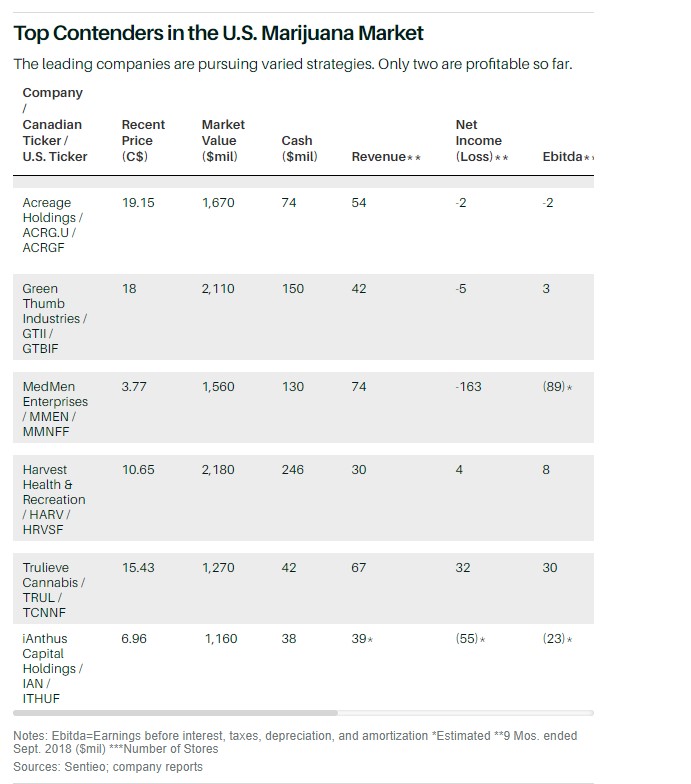 Source: Barron's
This article reviewed the risks which included the fact that "Just finding the stocks is hard. Although marijuana is legal for recreational or medical use in many states, it remains illegal under federal law.
As a result, the companies can't list on the Nasdaq or New York Stock Exchange, so they've gone to the Canadian Securities Exchange in Toronto (and the OTC Markets Group in the U.S.). Companies that sell only in Canada, like Canopy Growth (NYSE: CGC), can list in the U.S. and tap deeper-pocketed investors."
The article added:
"The U.S. companies have disclosed investment risks ranging from federal investigations to allegations of self-dealing. Heightening the risk is thin trading in Canada's market, which can scarcely accommodate both the investing public and early-stage private-equity investors—some itching to unload stock at the first chance.
These potential problems don't seem to be reflected in U.S. cannabis stock prices, which carry a hefty collective market valuation of US$14 billion, despite modest revenues and the ferocious cash-burn rates at loss-making start-ups.
"It's difficult to do due diligence on these operations right now," says Stavola's new colleague, iAnthus CEO Hadley Ford. "The store counts are small and with the massive upfront spending, free cash flow doesn't exist."
Sorting winners and losers so early on is virtually impossible. Better to wait and see how many of these outfits can turn a profit. For speculative investors who can't wait, there are two possibilities: Spread small bets across the U.S. industry, a strategy suggested by Ford, or buy one of the handful of weed-focused exchange-traded funds, such as Horizons Emerging Marijuana Growers Index (HMJR.Canada, and HZEMF in the States)."
Stocks that are listed in Canada but have at least operations in the U. S. include Curaleaf Holdings (CURA.Canada), Acreage Holdings (ACRG.U.Canada), Green Thumb Industries (GTII.Canada), MedMen Enterprises (MMEN.Canada), Harvest Health & Recreation (HARV.Canada), and Trulieve Cannabis (TRUL.Canada).
Investors can access stocks that trade in Canada and many other countries through brokerage accounts at many of the large U. S. brokers. However, some brokers may not allow investments in marijuana stocks even if they offer access to foreign markets.
If you want to buy a stock your broker won't allow, it is possible another broker will and a query to additional brokers could allow you to determine that. There are potential risks in the industry, including high valuations for some of the stocks. But there are also potentially large rewards.
For aggressive investors, the marijuana industry could be worth a look. And it could also be a reasonable strategy to take profits off the table when they are available to minimize the risks associated with the industry.
Did you know that dividends have rewarded investors for at least 100 years, at least since John D. Rockefeller said, "Do you know the only thing that gives me pleasure? It's to see my dividends coming in."
We have prepared a special report about dividends that you can access right here.