How to Trade the Change From FAANG To FAANGUP
The FAANG stocks are the market leaders, a group of tech stocks consisting of Facebook (Nasdaq: FB), Apple (Nasdaq: AAPL), Amazon (Nasdaq: AMZN), Netflix (Nasdaq: NFLX) and Alphabet (Nasdaq: GOOGL), the parent company of Google.
The chart of an index consisting of those stocks is shown below.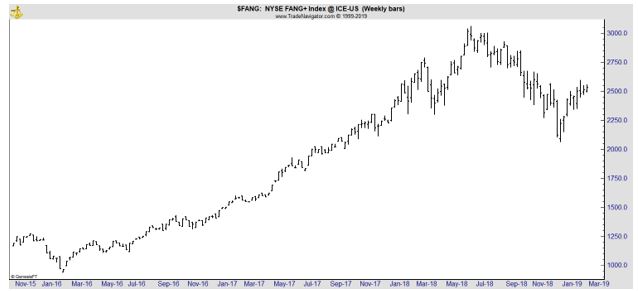 Their leadership is visible in the chart. The index gained more than 230% from the lows in early 2016 to their peak last year. But there could be a change coming to that group as some other leading tech stocks come to market.
Pinterest Could Be the First
The Wall Street Journal is reporting that "Pinterest Inc. has confidentially filed paperwork with the Securities and Exchange Commission for an initial public offering that is expected to value the company, which operates a platform for online image searches, at $12 billion or more as it joins a parade of hot tech startups planning share debuts in 2019.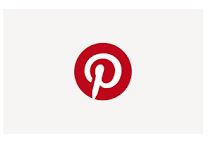 The filing is the latest example of a rush to the public markets by highly valued technology companies including ride-hailing service providers Lyft Inc. and Uber Technologies Inc., which have both also filed confidentially for listings.
Such companies had for years shied away from public markets—a luxury afforded them by a surfeit of private capital—but in recent months the tide has turned.
The shift appears to derive from the outsize gains new tech stocks have enjoyed of late. As of this week, shares of U.S.-listed technology and internet companies that went public in 2018 are up about 33% on average, according to Dealogic.
That is far ahead of the major indexes and the performance of all 2018 U.S. IPOs, which are up 11%.
Bankers and others predict that 2019 could be the busiest year ever for IPOs by the amount of money raised. The current high-water mark is 1999, near the height of the dot-com bubble, when companies raised $107.9 billion going public in the U.S., according to Dealogic.
Last year's total was barely half that, at $60.8 billion, up from $49.4 billion in 2017."
Even before Pinterest, traders could have a chance to own Lyft, which filed confidentially for its IPO late last year. The company may make the submission public next week and begin trading on Nasdaq by the end of March according to reporting in The Wall Street Journal.
Uber also filed confidentially at the same time late last year, while workplace-messaging provider Slack Technologies Inc. has since submitted paperwork for a so-called direct listing.
The Journal noted "Many of the largest companies are wedded to going public in 2019, regardless of market conditions. In some cases, like with Uber, they have told investors they wouldn't raise any additional private capital.
It is a big turnabout from last fall, when many companies that were expected to debut in 2018 delayed their plans as markets swooned amid fears of slowing economic growth in the U.S. and other concerns."
While some big-name companies still successfully launched, they had a more difficult time pricing their offerings. Two of the biggest fall IPOs were those of biotech Moderna Inc. (Nasdaq: MRNA) and music-streaming company Tencent Music Entertainment Corp. MRNA is shown below.
Moderna, which had been one of the most highly valued health-care startups, hasn't fared as well as Tencent. The biotechnology company raised more than $600 million, pricing its shares at $23 apiece in early December.
It suffered one of the worst opening days for a company going public last year. Since then, the stock has recovered somewhat but still trades near the offering price.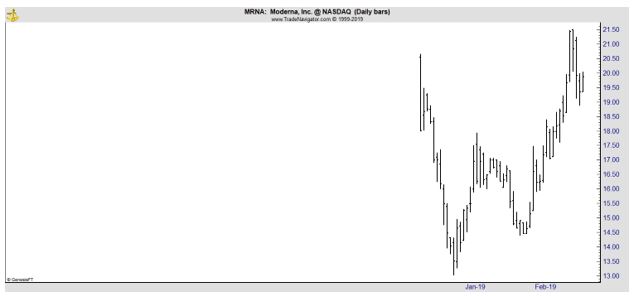 Shares of Tencent Music, which fetched a valuation of more than $20 billion at pricing, have risen by about 30% since then.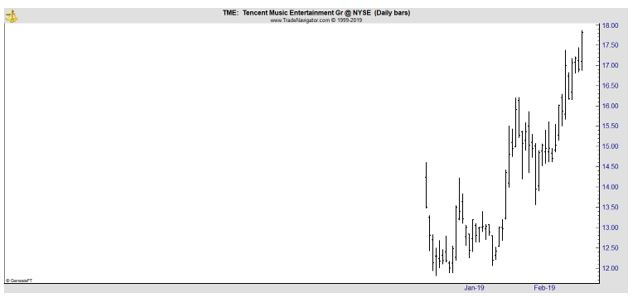 Pinterest and its underwriters, led by Goldman Sachs Group Inc. and JPMorgan Chase & Co., are eyeing a late-June listing, according to people close to the deal. They warned that, as always with IPOs and unpredictable markets, the timing or valuation could shift.
The social-media company's chief executive, Ben Silbermann, has said the company would look to debut in 2019 and The Wall Street Journal reported in December that it was preparing for an IPO that could take place as soon as April.
In September, Pinterest, which launched in 2010, surpassed 250 million monthly active users, who visit the site to browse through and share billions of images on topics ranging from living-room furniture to dinner recipes and tattoos.
The company generates revenue from ads scattered across its site and notched more than $700 million in 2018, up 50% from the prior year, according to a person familiar with the matter.
Lyft Also Offers Potential
Lyft, according to The Wall Street Journal, has been in a race with rival Uber Technologies Inc., which has also filed privately for an IPO, but it is now clear Lyft will provide the first major test of how public investors value the ride-hailing industry.
Lyft is planning to launch its roadshow pitch to investors in mid-March, the people said, which could mean the shares start trading by the end of the month. There is no guarantee that timing will hold, as it will depend in part on cooperation from the markets.
Lyft is expected to pitch itself to potential investors as a comprehensive ride-hailing service offering access to cars, bikes and scooters, mostly in the U.S., and one that won't be saddled with losses from competing globally.
Like many fast-growing technology companies, Lyft is planning to debut with supervoting shares that will give the company's founders near-majority control, despite together owning a stake of less than 10%, The Wall Street Journal has reported.
The question for investors is whether or not they should chase these shares if they open up on their first day of trading. In the long run, the companies could struggle financially and there could be a pullback that allows for a better entry later.
These will almost certainly be highly publicized events but they might not be the best deals for individuals until a few months after the offering so that insiders can complete selling their shares.
Did you know that dividends have rewarded investors for at least 100 years, at least since John D. Rockefeller said, "Do you know the only thing that gives me pleasure? It's to see my dividends coming in."
We have prepared a special report about dividends that you can access right here.