Here's What Berkshire's Oracle Buy Really Means
For at least some Berkshire Hathaway (NYSE: BRKB) watchers, the recent news from the company might have been surprising. Like all large investors, Berkshire is required to report on its portfolio holding every three months.
These reports are filed with the Securities and Exchange Commission (SEC) and some are closely watched. In particular, Berkshire's have been closely watched to see what the company's chairman Warren Buffett, has been buying and selling.
Buffett is perhaps the world's greatest value investor and also may be the world's best known long term value investor. Buffett has traditionally bought companies with businesses that are relatively easy to understand. As CNBC has noted, Buffett has long said that technology is outside his expertise.
Uncharacteristic Moves Show What's Going on Behind the Scenes
Barron's recently highlighted changes in the Berkshire portfolio that offer insights into what could be happening behind the scenes at the firm. The site noted,
"Warren Buffett's Berkshire Hathaway appears to have a complicated relationship with technology stocks.
The Oracle of Omaha's conglomerate dropped Oracle (NYSE: ORCL) from its investment portfolio in the fourth quarter, according to a form Berkshire filed Thursday with the Securities and Exchange Commission. Berkshire exited its $2.1 billion stake in the tech company, acquired only a quarter ago."
The chart below shows there has been little movement in ORCL.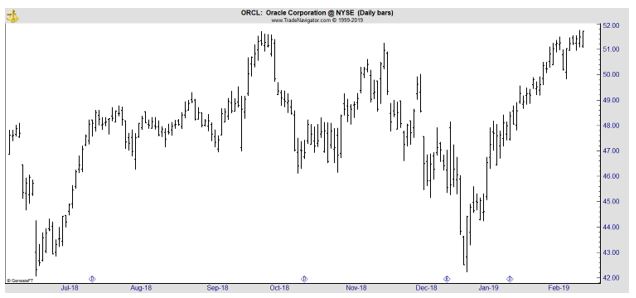 Barron's continued, "Berkshire also trimmed back in Apple (Nasdaq: AAPL), which still represents its most valuable individual stock investment. Buffett missed out on the tech-stock boom, but seemed to come around to the sector when he added Apple to Berkshire's portfolio in 2016.
Lately, Apple's stock has suffered as investors worried about slowing iPhone demand.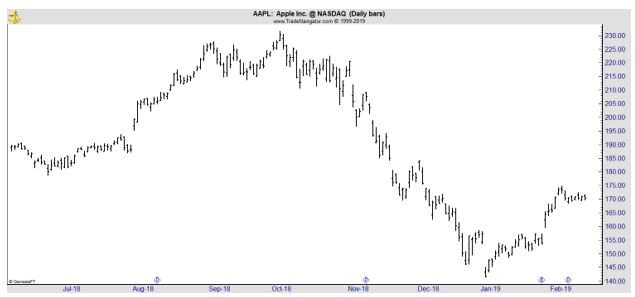 Barron's said in a December story that Apple's selloff could be a drag on Berkshire's profits.
Charlie Munger, Buffett's longtime partner at Berkshire, was asked at the Daily Journal (DJCO) annual meeting Thursday why he thinks Apple's stock has been hard hit lately.
"I don't know why Apple's stock is going up or down. I know enough about it that I admire the place, but I don't know enough to have an opinion why it's going up or down," said Munger, who is the chairman of Daily Journal.
"Part of our secret is we don't attempt to know a lot of things." Munger also mentioned that he has a pile on his desk of issues that he considers to be "too hard" to figure out.
Berkshire did add one new tech position: Red Hat (NYSE: RHT)."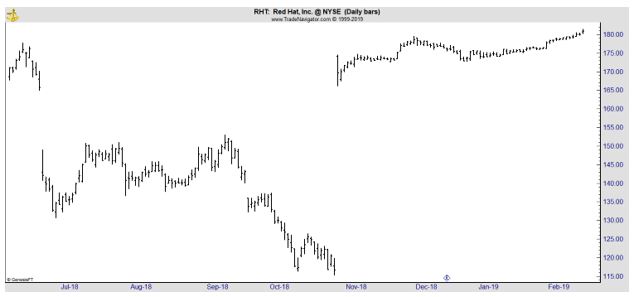 What's unusual about all of this activity is the fact that Berkshire is taking positions in tech and that Berkshire is selling more quickly than is commonly associated with the company. This could all indicate that Buffett is no longer making all of the investment decisions.
Changes at Berkshire
Last year, The Wall Street Journal reported,
"At Berkshire's annual meeting this weekend, Mr. Buffett said four executives—Greg Abel, Ajit Jain, Ted Weschler and Todd Combs—are already handling many of the day-to-day responsibilities of running Berkshire.
Mr. Buffett remains chairman, chief executive and chief investment officer, but "'semiretired' probably catches me at my most active point," he joked in front of thousands of shareholders at the CenturyLink Center in Omaha on Saturday.
In January, Mr. Buffett promoted Messrs. Jain and Abel to vice chairmen. The managers of Berkshire's 60-odd businesses now report to one of the two executives, not to Mr. Buffett.
In interviews this weekend, several Berkshire subsidiary CEOs said the new leaders have touched base, though they foresee little change, especially because both men were promoted from within the company and understand its culture.
By starting the management transition while he is still in charge, Mr. Buffett hopes to instill shareholder confidence in the next generation of Berkshire leaders, said Thomas Russo, partner at Gardner Russo & Gardner, a longtime holder of Berkshire shares.
"This is a very serious transitional year," Mr. Russo said. On Mr. Buffett's part, "I think there's a real sense of willingness to let go of things."
Fortune has offered brief profiles of the two new investment managers:
Todd Combs is one of two investment managers at Berkshire often mentioned as potential successors to Buffett. A former hedge fund manager, Combs arranged Berkshire's largest acquisition. In 2016, he was invited to join the board of JP Morgan Chase & Co. after impressing Jamie Dimon.
He's credited with working behind the scenes to spearhead a health care joint venture between Buffett, Dimon, and Jeff Bezos and has been praised for his "indifference" to attention—a trait one Berkshire investor said one would want to see in Buffett's successor.
Another Berkshire investment manager in the running is Ted Weschler. Combs and Weschler have had nearly identical performance since they each joined the company in 2010 and 2011, respectively.
They have both out-performed the S&P 500 in the course of their tenure at Berkshire, which is better than Buffett himself has done. Still, Weschler is most often mentioned as an also-ran to Combs's rising star."
The Journal had noted, "Messrs. Combs and Weschler, manage about $25 billion in stock investments and take on other projects. Mr. Weschler arranged Berkshire's 2017 investments in Home Capital Group Inc. and Store Capital Corp., and he has scouted out opportunities for Berkshire in Germany.
Mr. Combs is overseeing Berkshire's role in the health-care initiative with Amazon and JPMorgan.
Because the two managers have already arranged deals for Berkshire, Mr. Buffett said shareholders shouldn't worry about lucrative investment opportunities drying up for the company in the future.
Either Mr. Combs or Mr. Weschler was also the first to buy Apple Inc. for Berkshire's portfolio. The company is now one of Berkshire's top holdings, as Mr. Buffett started buying the stock as well."
What this is all means is Buffett watchers can not count on portfolio changes at Berkshire to tell them what Buffett is thinking. Even large deals could be the work of one of the other managers at the firm. While Buffett is still engaged, outsiders have no way of knowing how engaged he is on any decision.
Did you know that dividends have rewarded investors for at least 100 years, at least since John D. Rockefeller said, "Do you know the only thing that gives me pleasure? It's to see my dividends coming in."
We have prepared a special report about dividends that you can access right here.