Bad News Provides a Passive Income Trading Opportunity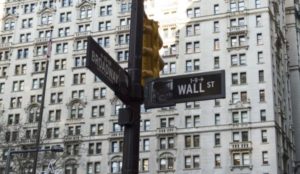 Investors know that news can move a stock. Often, the price moves that occur because of news is a short lived over reaction. When news knocks a stock's price down, that could present a buying opportunity.
Occasionally, news will affect an entire group of stocks. That was true recently for master limited partnerships, a favorite of income investors because the group is known for its high yields.
MLPs Take a Hit Over Taxes
According to The Wall Street Journal, "A federal tax ruling dealt a new blow to a group of pipeline firms that had helped finance a massive build-out of energy infrastructure, intensifying questions on Wall Street about the sector's survival."
The tax ruling came from the Federal Energy Regulatory Commission, or FERC, which decided to disallow previously allowable income tax allowances. Many MLPs fell 10% or more in the news.
MLPs are a type of business structure that exists in the form of a publicly traded limited partnership. The structure is popular because it combines the tax benefits of a partnership with the liquidity of a public company.
As a partnership, profits are taxed only when investors actually receive distributions. The MLP pays no income taxes because it distributes income to its investors who pay taxes at their personal tax rate.
The selloff occurred because of concerns that the regulator's decision reduces some of the tax benefits that made these partnerships attractive to investors seeking high income.
FERC voted to reverse a longstanding policy that allowed interstate natural gas and oil pipelines configured as pass through companies to collect corporate income tax expenses from customers.
Customers claimed it allowed pipeline owners to essentially recover income tax costs twice because regulators already allow partnerships to structure rates to ensure a sufficient after-tax return. A federal appeals court agreed with customers in 2016 and told FERC to examine the policy.
But, the Hit Might Be an Over Reaction
Several analysts were out in front of the news and highlighting the fact that the selling could be overdone. Within days of the FERC announcement, almost all of the large MLPs had issued a press release to give investors some sense of their exposure.
Companies most exposed include Enbridge Energy Partners, Spectra Energy Partners and Williams Partners, analysts wrote.
According to Matt Sallee, senior managing director at fund manager Tortoise, the average sector hit to earnings only may be around 2% and could push some partnerships to be acquired by their corporate parents.
Some companies, including Kinder Morgan Inc. and Oneok Inc. have already done just that. They previously eliminated partnerships by converting them to traditional corporations, hoping the simplified structure will make the structure easier for investors to understand which, in turn, should make it easier for the parent company to raise cash.
These conversions can be seen in the industry data. In 2014, partnerships accounted for 63% of the market value of "midstream" energy infrastructure companies, according to Hinds Howard, a portfolio manager at CBRE Clarion.
Now that's 54%, after some large companies converted into regular corporations.
The FERC decision is likely to accelerate the conversion of older partnerships into traditional corporations, according to Height Securities analyst Katie Bays. "No question about it, for older MLPs you're going to see a more fast-paced transition," she said.
Sallee, the Tortoise fund manager, points out that for investors in the top income tax bracket, the net effect of corporate and personal tax changes is a wash.
While investors focus on yield, they could be missing the bigger picture on MLPs.
The biggest factor driving future returns is valuation, and the regulatory ruling succeeded in pushing MLPs to a level that has sparked past rallies.
The selloff led to a popular MLP index dropping to an 8% discount to the S&P 500 on the basis of price to projected funds from operations over the following year, according to FactSet.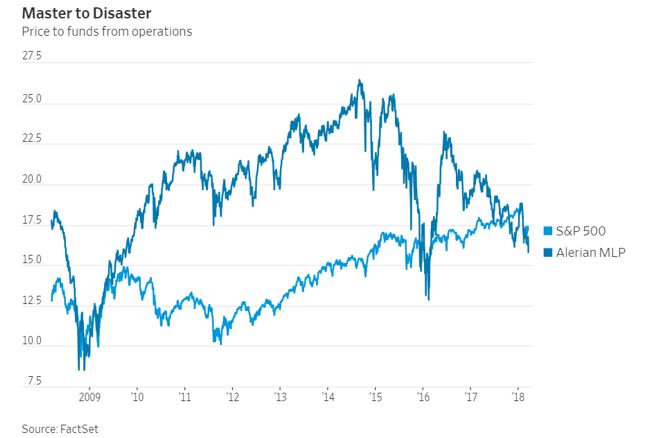 Source: The Wall Street Journal
This has happened twice before according to the research firm. The only two occasions in the past decade that saw a similar discount, in November 2008 and February 2016, preceded rallies of 50% and 60% respectively in the index over the following six months.
Buying Into the News
One way to obtain exposure to the sector is through an exchange traded fund, or ETF, the Alerian MLP ETF (NYSE: AMLP).
This ETF "seeks investment results that correspond (before fees and expenses) generally to the price and yield performance of its underlying index, the Alerian MLP Infrastructure Index. The fund will normally invest at least 90% of its total assets in securities that comprise the underlying index.
The underlying index is comprised of energy infrastructure MLPs that earn a majority of their cash flow from the transportation, storage and processing of energy commodities. It is non-diversified."
AMLP's largest holdings could also be possible investments with exposure to the sector.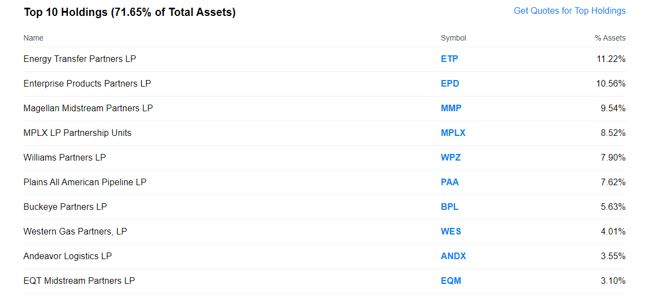 Source: Yahoo
The long term chart of AMLP shows that the ETF is near an important support level.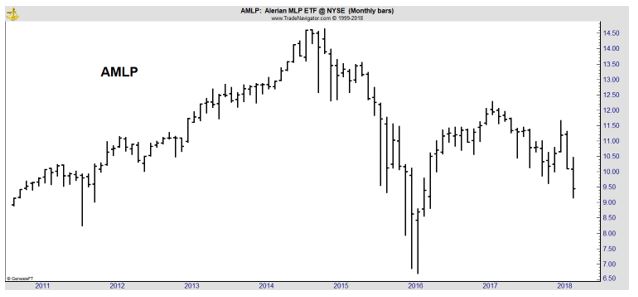 The ETF is back to its 2016 lows. The ETF's dividend yield of more than 8% is also near a level not seen since 2016.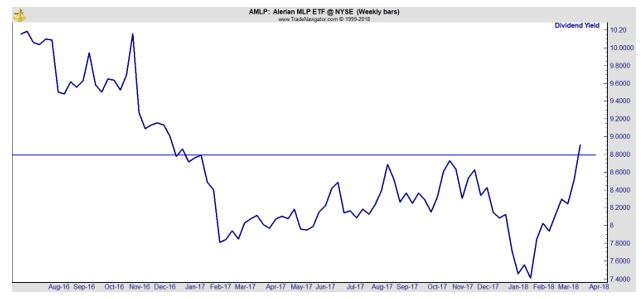 The high dividend yield could provide one source of return for the investment. The income of more than 8% is a significant level of return in the current market environment and could make the ETF attractive to investors seeking income.
A recovery in price is another potential source of return in the investment. As noted, FactSet found that when AMLP traded near this level in the past, sharp rallies developed over the next six months.
Combining the passive income of the dividend and the potential capital gains from an up move in the price, it is possible investors will enjoy a return of more than 50% in AMLP in the next six to twelve months, as they have in the past according to FactSet's research.
There are few passive income streams with this much potential right now. That means investors should give AMLP a serious look if they are seeking passive income in a low interest rate world.