News Traders Can Use
Western Digital and Toshiba to reportedly call a truce
Western Digital Corp. (Nasdaq: WDC) and Toshiba Corp. will reportedly call a truce as the Japanese company battles to sell its $18 billion chip unit. Toshiba's board on Wednesday approved a framework for a settlement, according to Reuters sources. San Jose-based Western Digital has been the primary hindrance between Toshiba and a planned sale to a group of bidders led by Bain Capital.
Apple also participated in the Bain bid, with an estimated $3 billion stake, as did Dell Technologies. The new settlement requires Western Digital to abandon arbitration claims seeking to stop the sale, per the report. In return, Toshiba will allow Western Digital to invest in a new production line for advanced flash memory chips scheduled for 2018.
As part of the settlement, Toshiba and Western Digital would also extend existing agreements for joint chip ventures in central Japan — the current agreements are set expire starting in 2021. Western Digital would also invest in a new chip plant Toshiba plans to build in northern Japan in 2018.
Source: Silicon Valley Business Journal
Why this news matters to traders:  WDC was in an up trend prior to Toshiba's efforts to sell the division. The stock has been under pressure since then.
News that the issue will be resolved could lift the share price of WDC.
Disney-Fox Combination Would Create Formidable Rival For Netflix
Internet television network Netflix (Nasdaq: NFLX) has gotten so big in streaming video that it would take a company with deep resources to give it a run for its money. Enter the rumored merger of Walt Disney (NYSE: DIS) and 21st Century Fox (Nasdaq: FOXA) assets.
Disney reportedly is interested in acquiring certain entertainment assets from 21st Century Fox, including movie studio Twentieth Century Fox, cable networks FX and National Geographic, as well as Fox's stake in UK-based Sky and India's Star TV. Fox would keep its sports, news and broadcast networks, according to media reports.
CNBC said Tuesday that a purchase agreement worth about $60 billion could be announced as soon as next week. "The acquisition of the Fox entertainment assets and a controlling stake of Hulu would make Disney a much more formidable and dangerous competitor down the road on streaming," GBH Insights analyst Daniel Ives said in a report Thursday.
The addition of the Fox assets would create a "content rich competitor" to Netflix as Disney prepares to launch a direct-to-consumer streaming video service in 2019, Ives said.
Source: Investor's Business Daily
Why this news matters to traders: Walt Disney has struggled for almost two years, since the time that investors realized the company's cash cow, ESPN, was under siege.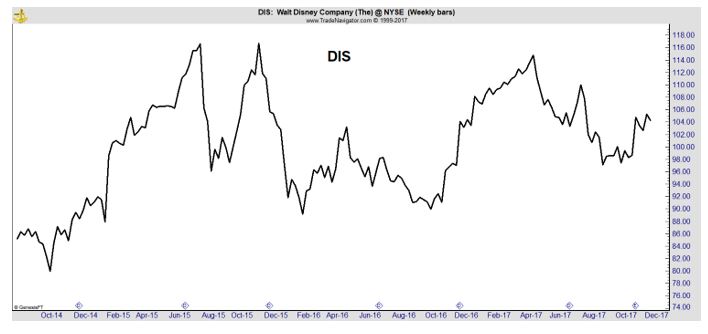 This acquisition could provide a long term boost to Disney's earnings, pushing the company into the top tier of streaming video and allowing the company to overcome the problems at ESPN.
Lululemon Stretches the Right Muscles
You don't have to look too hard these days for signs trouble is brewing in the athletic apparel business.  
So is it time for Lululemon Athletica Inc. — poster child of the now-waning "athleisure" fashion trend — to start sweating?
The company delivered upbeat quarterly results on Wednesday, including an 8 percent increase in comparable sales from a year earlier. It's that there is much to like about Lululemon's position in the marketplace relative to its competitors.
For one, Lululemon (Nasdaq: LULU) is apparently sitting out of an expensive marketing arms race seen elsewhere in the sector. Simeon Siegel, a retail analyst at Nomura Instinet, found in a 2016 analysis that Nike, Adidas AG and Under Armour each maintain rather hefty marketing budgets, spending 10 to 11 percent of total sales. By comparison, Siegel found the non-athletic companies he covered tend to spend about 3.5 percent of annual sales on marketing.
Source: Bloomberg
Why this news matters to traders: LULU is a standout in a sector that is struggling. As Bloomberg notes, "Dick's Sporting Goods Inc. is cranking up the discounts to lure shoppers back to its struggling stores. Nike Inc. is scrambling to offer more innovative products and reduce its dependence on "mediocre" retailers. The stock prices of Under Armour Inc., Foot Locker Inc., and Finish Line Inc. have been slammed this year, each tumbling precipitously in response to disappointing sales."
LULU on the other hand could be prepared to challenge its all time highs.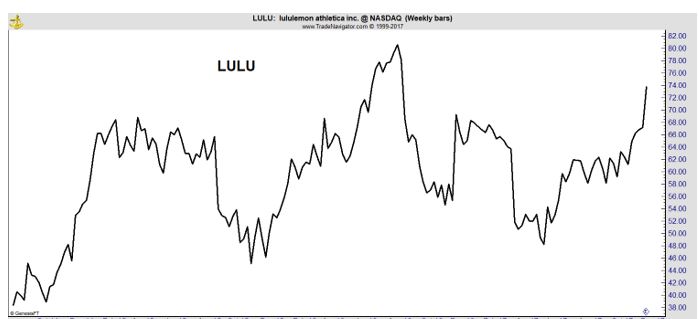 LULU has been delivering financially and as long as it continues to do so, the stock price should remain in an up trend.
UnitedHealth's Splish Beats CVS-Aetna's Splash
UnitedHealth (NYSE: UNH), a $214 billion company recently announced  that it's buying DaVita Inc.'s physician-network business for $4.9 billion. It's just the latest step in UnitedHealth's push to diversify its revenue. Thanks to deals over the past few years, the company isn't just the largest private U.S. health insurer, it's also a pharmacy-benefit manager, a health care analytics company and increasingly a provider of medical care through physician clinics, outpatient services and urgent care centers. 
UnitedHealth has proven that diversification does more than just create new revenue streams — it also offers cost, information, and convenience advantages that can in turn bolster the appeal and performance of the insurance unit.  The problem for CVS-Aetna is that UnitedHealth had the idea first, and the DaVita deal is a reminder that it has no intention of slowing down.
Source: Bloomberg
Why this news matters to traders: UNH has been moving nearly straight up for most of the past three years.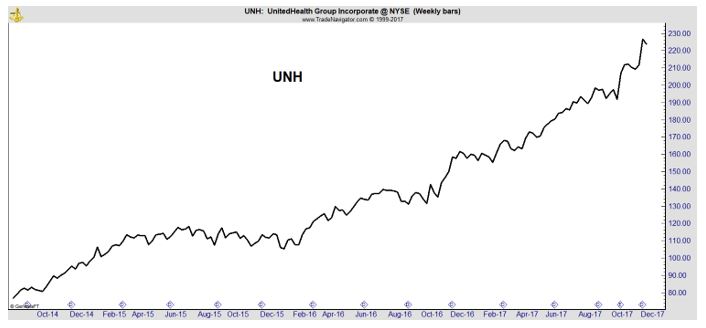 The stock could get a boost from this deal and continue its dramatic up trend.
UK to lose 10,500 City jobs as 30 per cent of firms flag plans to move staff
The UK will have lost 10,500 finance jobs to other European cities by day one of Brexit, according to new research. The number of City firms planning to shift jobs to the Continent has doubled since last year, professional services company EY said on Monday.
It tracked 222 City firms and found that almost a third of banks, brokers and asset managers had confirmed or said they are considering plans to move staff or open up new offices in centers such as Dublin, Amsterdam and Frankfurt.
However, the number of jobs estimated to be moving has dropped by 2,000 from a year ago, EY said. Many of the jobs set to go are front-office jobs rather than support functions. The latest estimate is in line with that of Bank of England Deputy Governor Sam Woods who predicted 10,000 jobs would go by the time Britain officially departs the single market and customs union in March 2019. However, a senior figure at the BoE believes around 75,000 jobs could be lost in the longer term because of Brexit, according to sources cited by the BBC.
Source: Yahoo Finance
Why this news matters to traders: As London's losses mount, other countries are gaining. Among the winners is Germany which can be accessed by US investors through the iShares Germany Index ETF (NYSE: EWG).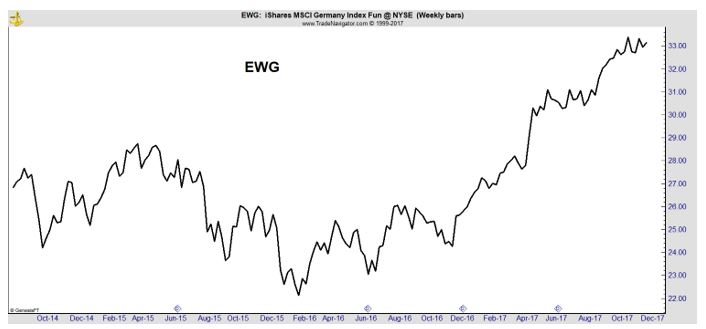 Germany will continue to be a powerhouse in the European Union and EWG could be considered a long term trade on that trend.
Brexit Secretary Downplays Importance of His Role
David Davis believes he doesn't have to be "clever" or "know that much" in order to be Brexit Secretary.
The Brexit Secretary, who last week told MPs that his department had not commissioned a single Brexit impact assessment, told Ferrari that he did not believe in attempting to judge how Brexit would impact the economy.
Davis was also pressed on comments he made on Sunday that the Brexit deal agreed last week was merely "a statement of intent" and not legally enforceable. The comments on the BBC, led to a warning from the Irish government, that they could still block the deal from ratification at the EU summit this week. Davis downplayed the row, saying that his words at the weekend had been "twisted" out of context.
Source: Business Insider
Why this news matters to traders: As noted above, ETFs can provide exposure to international markets. iShares MSCI United Kingdom (NYSE: EWU) is an ETF that tracks stocks in the UK.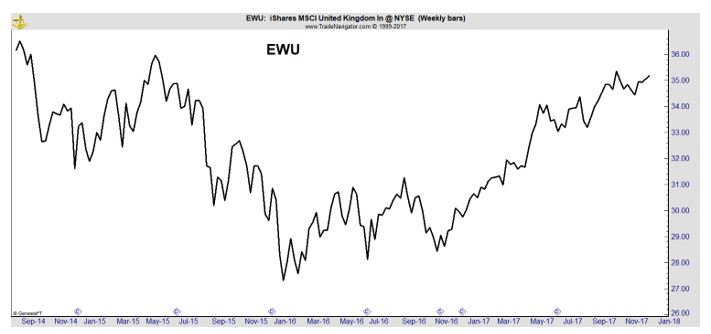 The ETF is at resistance and could stall as traders wait for news on how issues related to Brexit will be resolved. Put options on EWU could provide significant gains if EWU pulls back from this level.
Please visit our blog at InvestingSecrets.com for more stock related news and services.